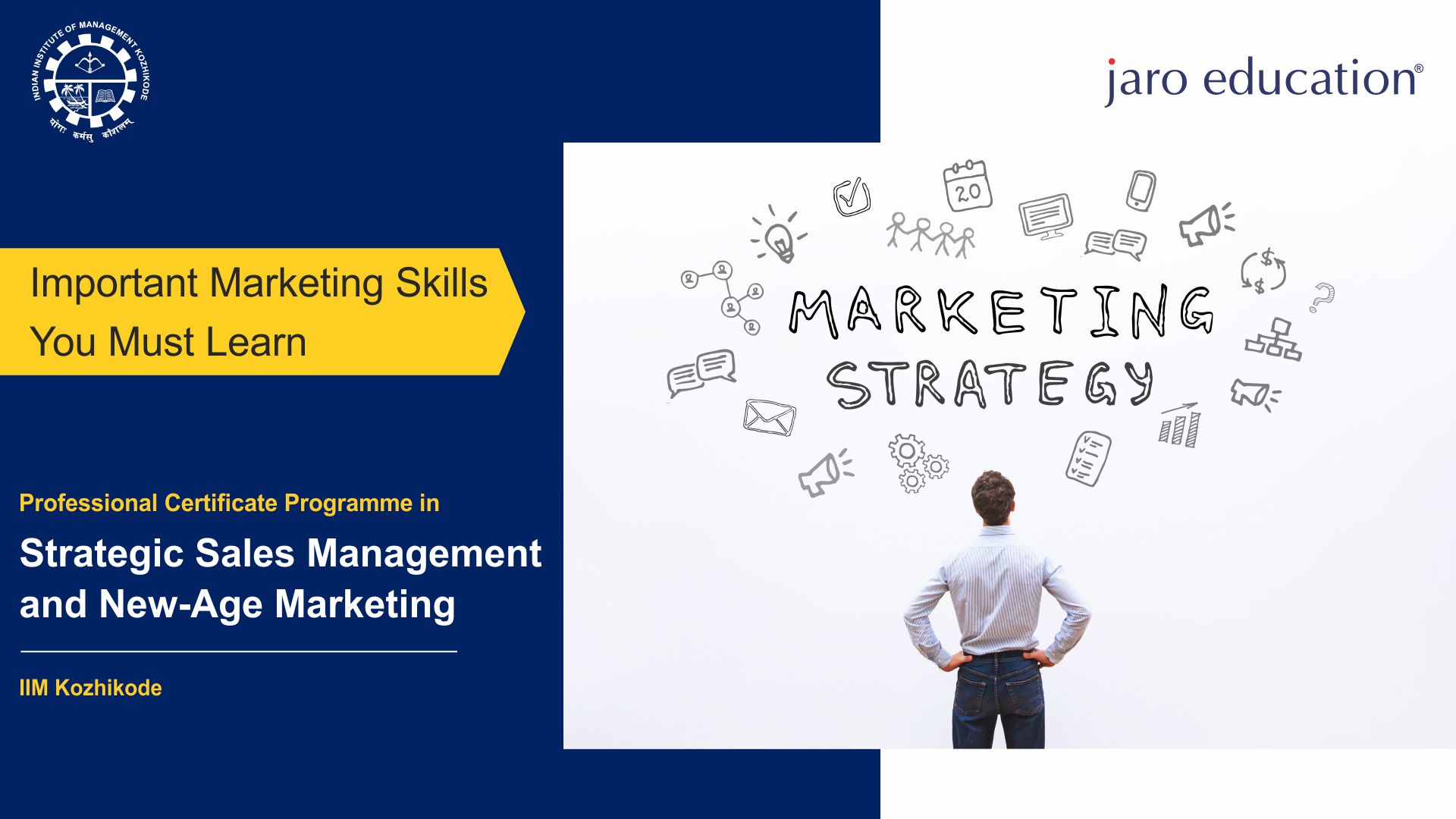 Top 10 Marketing Skills You Need to Know
Introduction
What are the marketing skills that a marketer should possess? Whatever these skills are, we are sure they will not be the same in the coming five years. It is because marketing management is a subject that is in constant evolution. New technologies and trends develop quickly, which can change the market mechanism completely. So, how can any marketer become a great marketing head? The answer is through constant learning. 
Acquiring new marketing skills can be challenging. However, if you wish to stand out from your competitors, it is a crucial task. Marketing is entirely sales-driven. Therefore, sales management is a must-have skill. Nowadays, online marketing courses are available for marketers to learn marketing management skills. 
By enrolling in these online marketing courses, people can understand the new trends in the market. They also get a clear idea about sales management and the skills required for it. Strategic Sales Management plays a vital role in building scalable solutions for any company. It helps in promoting sales and increasing revenues for the company.
Many institutes offer sales and marketing courses to enhance the skills of students. The Professional Certificate Programme in Strategic Sales Management and New-age Marketing from IIM Kozhikode is among the best Indian marketing management courses. It trains students to analyze the market and develop effective sales strategies. 
Skills That You Need to Know 
An effective marketing management strategy helps in generating good sales leads for any business. An excellent sales and marketing strategy should cover all the bases, from interesting content to effective customer service.
Without customers, no business can flourish. If you don't know who your customers are, you won't develop a good marketing strategy. Knowing and understanding your customer base is a critical marketing skill. Further, it is crucial to identify the purchasing pattern and highlight the main points for customers' reference. If a customer does not know the product, they won't buy it.
One of the best ways to promote any business is through digital marketing. With new technology coming up every day, you will have to keep yourself updated. From video advertisements to digital promotion, you will have to handle everything. Many online marketing courses teach you various digital promotion measures.
Problem-solving and critical thinking are irreplaceable marketing skills. The ability to understand the issue and come up with creative solutions is an art. As a marketing professional, you will have to develop this skill for the growth of the organization.
Storytelling plays a huge role in promoting a business. It is employed to define the company's product and brand to the customers. The marketing skill helps in keeping the audience engaged. Advertisements with storylines help customers to connect with the brand offerings.
Search Engine Optimization (SEO)
SEO is the most significant gamer charger in the new digital era. It is the technique through which you can increase the quality of your content and drive organic traffic toward it. For SEO to work, you will have to think like your customers. What are things that your customer can search on the internet? What new details do your customer want to know about the product? These details will help you in developing good digital content and drive traffic.
No workable marketing strategy is developed without an effective team. Marketing relies on team effort. Markets have to work with different departments such as finance, sales, and IT to create good marketing strategies. Teamwork is a critical skill through which you effectively use your team member's calibre.
No marketer can develop a workable strategy without managing time. As a marketer, you may have to work on different strategies and projects simultaneously with the same efficiency. Therefore, this marketing skill is essential. Time management is a skill that can only be honed with practice and patience.
Marketing is not just about good communication skills and creativity. Data analysis plays a critical role in developing a working marketing strategy. With data analysis skills, you can figure out your revenue channels and review the performance of your marketing campaigns. You can also get a clear view of the review that the product is getting.
Being a marketer means having good writing skills. It is the marketer's job to write about product details and brand details for the ease of customers. Writing engaging content and bringing in organic traffic is crucial for the promotion of the brand.
Effective Communication Skills
How can we forget this essential marketing skill? Good communication skills are part of being a marketer. The marketer has to establish clear communication channels to develop marketing projects. Having good communication skills will help you manage work and generate good sales.
Conclusion
Marketing involves creative and analytical skills. A marketer has to stay abreast with the current trends and market situations to develop effective marketing strategies. These can be learned through various online marketing courses. Marketing management is not an easy job but an interesting one. So, why are you waiting? Get started with your marketing career with sales and marketing courses. The Professional Certificate Programme in Strategic Sales Management and New-age Marketing from IIM Kozhikode is developed to upskill the marketing skills of working professionals and help them become better sales personnel. Enroll today to reap the benefits!