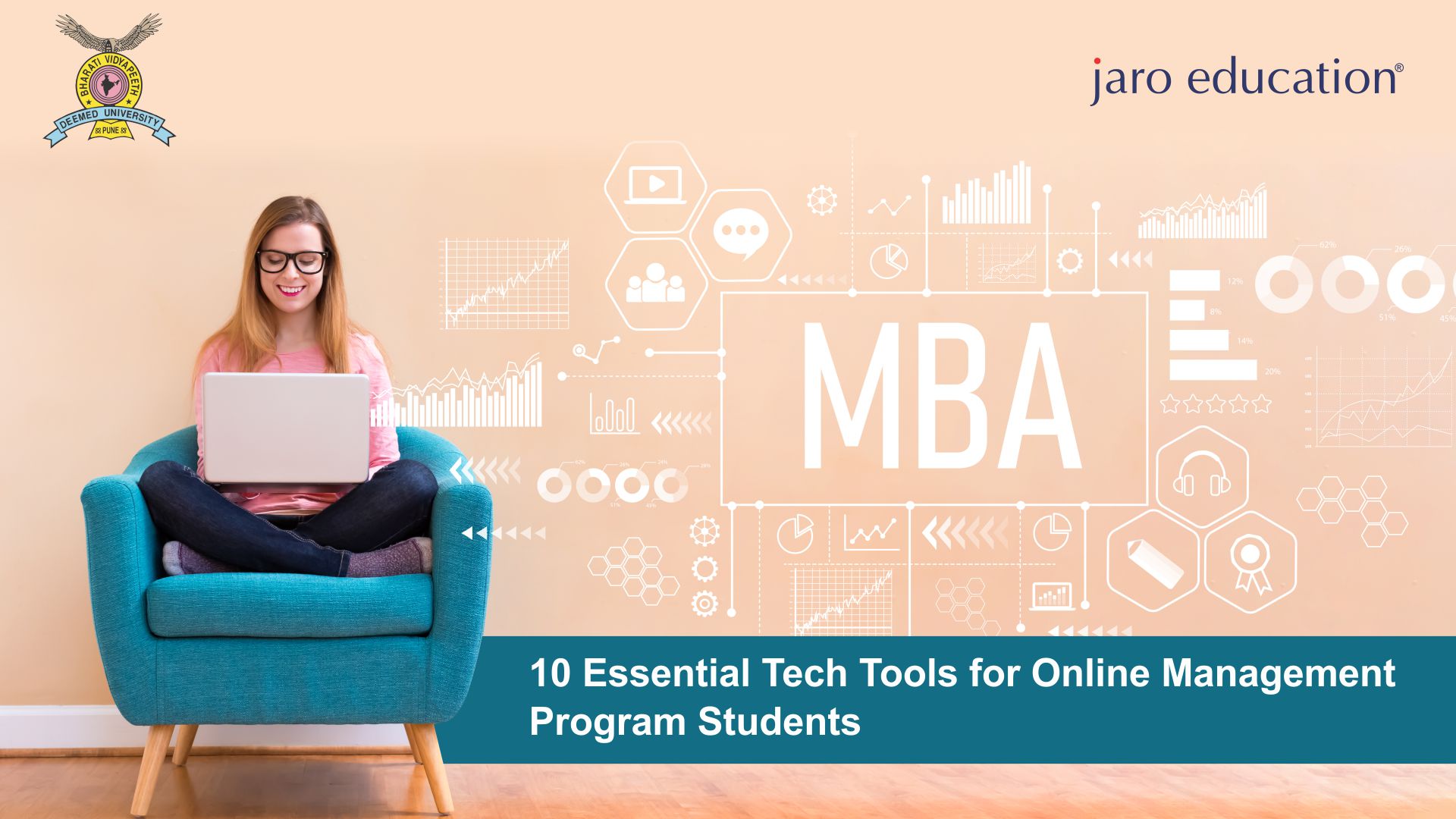 Top 10 Important Tech Tools for Online Management Program Students
Introduction
In the digital era, technology has transformed the educational landscape. There are more takers for online education today than ever before. Ever since the pandemic made its appearance, students have been compelled to opt for alternatives to the classroom-based approach. Further, online e-learning has become the mainstay of the educational sector and is likely to become the staple among schools and educational institutions.
Presently, students are no longer required to undertake contact classes for online MBA courses, with online MBA courses gaining popularity. Moreover, online MBA programs in India are being conducted online for the comfort of both students and faculty. 
With the economy recovering from the impact of COVID-19 and the job market coming around, more working professionals are opting for an online executive MBA. Additionally, technology has become robust enough to offer MBA certificates online.
With digital advancements playing such a ubiquitous role among students of online MBA programs, it becomes essential to take a look at tech tools that will make their life easier going forward. The present blog showcases 10 of the most crucial tools that can come in handy for students.
Top 10 Tech Tools for Online MBA Courses in India
It has become all the more significant as it is offered for free with all Google accounts. It helps students to store a large number of documents on the cloud. Moreover, it allows access to these files and documents anytime and anywhere through its synchronization framework. The USP of Google Drive is that it is simple and easy to use, and currently, it is the best alternative to desktop applications offered by Microsoft.
Inputting references and citations is a big part of any academic program, including online MBA programs. The practice can be made easier with EasyBib, a free bibliography-generating app that allows students to adhere to referencing rules. The app can generate citations from lengthy lists, and it permits students to choose from dozens of options. 
Retaining a lot of information is often difficult when we move from one semester to another or shift between subjects while studying. The app makes it easier to remember information with the help of mind maps, flashcards, quizzes, notes, and charts. The app also offers its users a digital library.
Students tend to get distracted while attending important lectures online. The app prevents distraction by automatically blocking any websites that might deviate the student's focus while studying. It is available free for Mac users.
By now, most people are familiar with Zoom, a free video-conferencing app that allows students to attend online classes with ease. After the pandemic, it has become widely used in the academic community for conducting lectures, webinars, and meetings. 
With so many classes scheduled online for a single day, it is common for students to miss out on classes. The app makes it simpler for students to plan their schedules with easy-to-follow organization and presentation. Students can create their calendars, to-do lists, and timetables and track their progress as they continue in their respective online programs. 
The Office Lens is an app that has become quite popular among students recently. It allows you to take instant scans of documents using your smartphone camera and sync them with MS-OneNote and MS-OneDrive. The app ensures documents, pictures, and texts are securely saved in the drive. It is known for identifying the dimensions of the document being scanned and cropping to make the image crisp and tidy. It can be downloaded for free from the Microsoft app platform.
Taking notes is a critical component of academic study, and Notability makes it seamless for online management students. The app is ranked amongst the best in the world. Students can easily annotate PDFs, GIFs, documents, and images for future reference. It also comes with an innovative feature that allows students to "record lectures" without the need for manually taking down notes. It can be synced with available cloud platforms, such as Google Drive, Dropbox, or OneDrive.
The app primarily acts as a student assistant; it follows the students when they type or sketch and records the audio of the event. It is not a typical classroom app. SoundNote is useful during group discussions or interviews for assignments and research.
Studies can be stressful, and the app allows students to cut down their anxiety associated with retention and subject matter engagement. The app facilitates studying anytime and anywhere, with access to ample study materials designed in the form of flashcards, guides, and notes for easy knowledge assimilation. It also allows peer-to-peer learning, which is crucial for students enrolled in an MBA degree online.
Conclusion
While there are plenty of MBA courses to be taken online, it is prudent that the student opts for the most credible and reputed online management course. One such course renowned for its academic vigor and pedagogy is the BVDU online MBA program. 
The BVDU online MBA program is one of the most sought-after distance education programs in India, co-powered by Jaro Education's diverse courses for working professionals. 
Contact
Jaro Education
and enroll in the online program now!