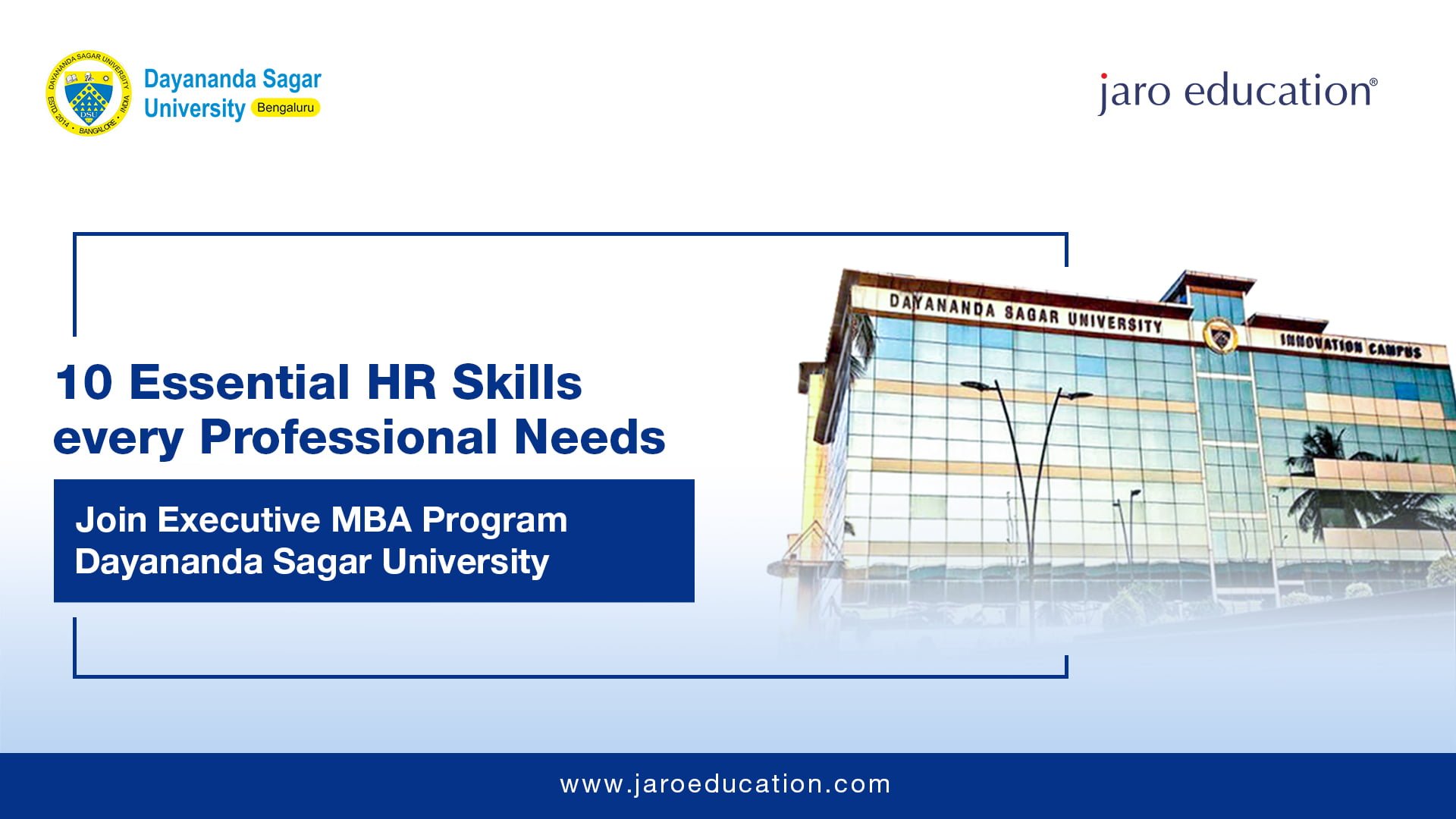 Top 10 Important HR Skills for Professionals
Introduction
HR skills are necessary for a functional and robust recruitment system. A skilled HR professional can hire the right employee for the organization. Completing Executive MBA programs online in HR also helps build you as a modern HR professional. These courses can train you in the appropriate HR methodologies with soft skills and deep knowledge of the hiring system.
In the competitive world of recruitment, it is often difficult to find the right employee for your organization. Moreover, the HR department plays a crucial role in the day-to-day and long-term activities of a company. Thus, professionals working in HR management choose to develop the right set of skills via Executive MBA programs.
To give you an insight into the ability of a modern-day HR manager, here are some skills you can focus on developing.
The primary responsibility of an HR professional is to communicate with the employees, and hence, communication skills are crucial. An HR professional is the main information source for the employees and, therefore, they must have excellent communication skills.
Expertise in Performance Management
The role of HR professionals in fostering their company's growth depends on their performance. The performance management skill of an HR professional indicates the development and future advancement of their organization. It also improves the performance of the employees. Promising Executive MBA online courses will help HR professionals to develop their performance skills.
Cooperation is an essential skill for an HR professional as it is required to make smooth business decisions for the organization. A cooperative HR professional can develop strategies beneficial for the employees and the organization. Besides that, a cooperative HR member is also an active listener who helps the employees to tackle their problems. The skill is extensively explored in MBA executive online programs. 
Ability to Give Good Advice
Giving sound advice is the foremost skill for an HR professional. They must have the ability to direct employees, senior managers, and line managers on solving interpersonal issues. HR professionals are responsible for listening to every query of the employees and helping them with good advice.
People analysis is complicated. However, the skill helps an HR professional to make appropriate recruitment decisions. An HR professional should have the leadership quality for the betterment of the business performance of their organization.
Risk-Taking and Risk Management
Managing risks comfortably is an important HR skill. To recognize new opportunities, they need to take planned risks. The DSU Executive MBA program discusses many risk-taking measures and offers valuable training.
The ability to work as a team is an essential HR skill. An HR professional must work in collaboration with colleagues, managers, and other employees. Working in a team is beneficial for HR and the organization.
HR reporting skills include the ability to read, create, and explain all the reports. These reports come from various HR information systems. HR personnel should know how to improve employee policies, advise managers and employees, and make evidence-based decisions.
All HR professionals should be highly organized. Organization skills are imperative for time, record, and calendar management in an organization.
Confidentiality and Trustworthiness
An HR professional should know to maintain the privacy of the employees. They must refrain from disclosing employees' sensitive details, such as salary, budgets, contract terms, and offer letters in front of other employees.
Conclusion
The 10 skills presented in this article are not the only HR skills for professionals. An HR professional must imbibe many other crucial skills to improve their job performance and personality. Nowadays, the job market is highly competitive, and employees are demanding. Hence, HR professionals must have expert skills to fulfill employees' wishes and the company's requirements.
Are you a working professional? Do you want to improve your key human resource skills? If you are a graduate with at least one year of work experience, you are eligible to pursue the UGC-approved online DSU Executive MBA program co-powered by Jaro Education. 
The 17-month online Executive MBA Program by Dayananda Sagar University is the best course to opt for developing a career in the management field. Most importantly, online classes are flexible as they are carefully designed for working professionals. HR personnel can learn the contemporary and progressive curriculum with the help of industry leaders and subject matter experts from global business schools.
So, what are you waiting for? Stay tuned to our blog to gain the latest insights on the Executive MBA Program.