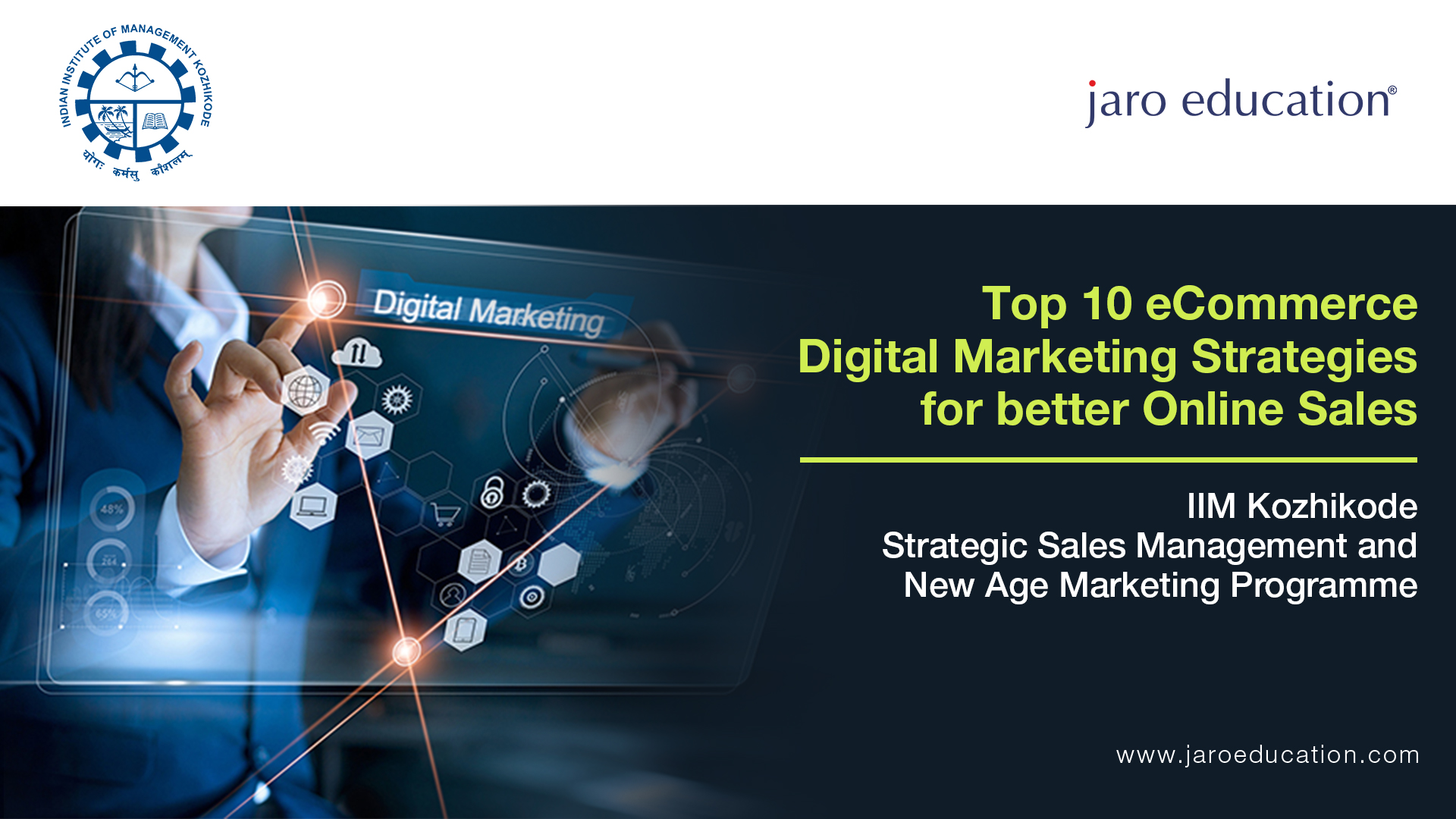 Top 10 Ecommerce Digital Marketing Strategies for Better Online Sales
Even before the pandemic hit the entire world and forced us into an extended lockdown, many companies and startups were already in the process of digitizing their business. The lockdown however, accelerated this process for businesses to sustain. While many businesses were quick in adapting to this new change, some of them took their own time in giving up on their traditional selling ways and adjusting into the modern marketing world.
By 2021 around 30.8% of business owners have taken their business online and numbers seem to keep increasing (as per IBIS World). To ensure steady sales, just an online selling platform doesn't cut it. You need to master strategic sales management techniques as well as marketing management techniques. Here are some of the most popular digital marketing strategies for better online sales.
Make you ecommerce website attractive and user friendly
If you want your users to be intrigued by your brand and its products, and spend enough time on your website to learn more about them, make sure to build an attractive website. Depending on your brand category, choose the most appealing colors, animations and smart communication to connect with your audience.
Invest in social media marketing
Social media marketing has become a boon when it comes to boosting online sales. It helps you reach out to the right target audience and promote your products with the right communication. It also helps you resolve customer queries the easy way and receive quick feedback. Strong product marketing management through social media platforms has time and again proven to be a fruitful investment.
Spend on quality product images and videos
If you're planning on promoting your products or services on social media, putting up good quality images and videos are quite important. Uploading poor quality images with bad positioning or lighting will not only confuse your customer in regards to what you are offering but will also tarnish your brand image.
Send newsletters and emails to loyal customers
Keep your loyal customers in the inner loop by announcing your product launches or sales via custom mailers or newsletters. This will make your customers feel special and encourage them to buy more.
Be honest with your brand claims
While promoting your products or services, don't go overboard with your claims. Claim exactly what your product is all about and what it can do. If you offer too many benefits and while buying from you the customer doesn't receive what he/she is expecting, it will lead to a disappointing overall experience and will make you lose out on business. It is important for the marketing management team to ensure the right information is conveyed in each case.
Build trust through customer reviews and testimonials
The best way of boosting sales is through word of mouth. When it comes to online selling, reviews and testimonials work well in building the trust factor. Make sure to display your best testimonials and reviews on your website and social media.
Make sure to have CRM team in place
Having a CRM team or a department in your company has become more important than ever. A CRM strategy will not only let you decode the mindset of your consumers but also help you know where your product or service is lacking and fix the issue at the earliest. Building a strong CRM is essential to ensure smooth sales and to keep up with the ever increasing competition.
Provide multiple payment options to users
To make customer shopping experience a simpler one, provide multiple payment options to users. Downloading multiple payment apps and giving away confidential information can be quite daunting for customers. With multiple payment options they can easily choose what's more comfortable for them.
Boost online sales with mobile optimization
One cannot be in front of their laptops all the time but they are constantly on their phone during their free time. That's when the shopping happens. Ensure to optimize your shopping website for mobile users as well to boost online sales.
While these strategies are perfect to boost online sales for any business, you must be able to customize them as per your target audience and brand personality. The best way to ensure strategic marketing management is by taking up advanced online marketing courses like Strategic Sales Management and New Age Marketing Certificate Programme by IIM Kozhikode. This online sales management and marketing programme not only provides you with an in-depth knowledge on new age marketing and sales techniques but also presents you with a prestigious certification by the end of the course. For more information regarding the Strategic Sales Management and New Age Marketing programme, or other such programs, subscribe to our blog!