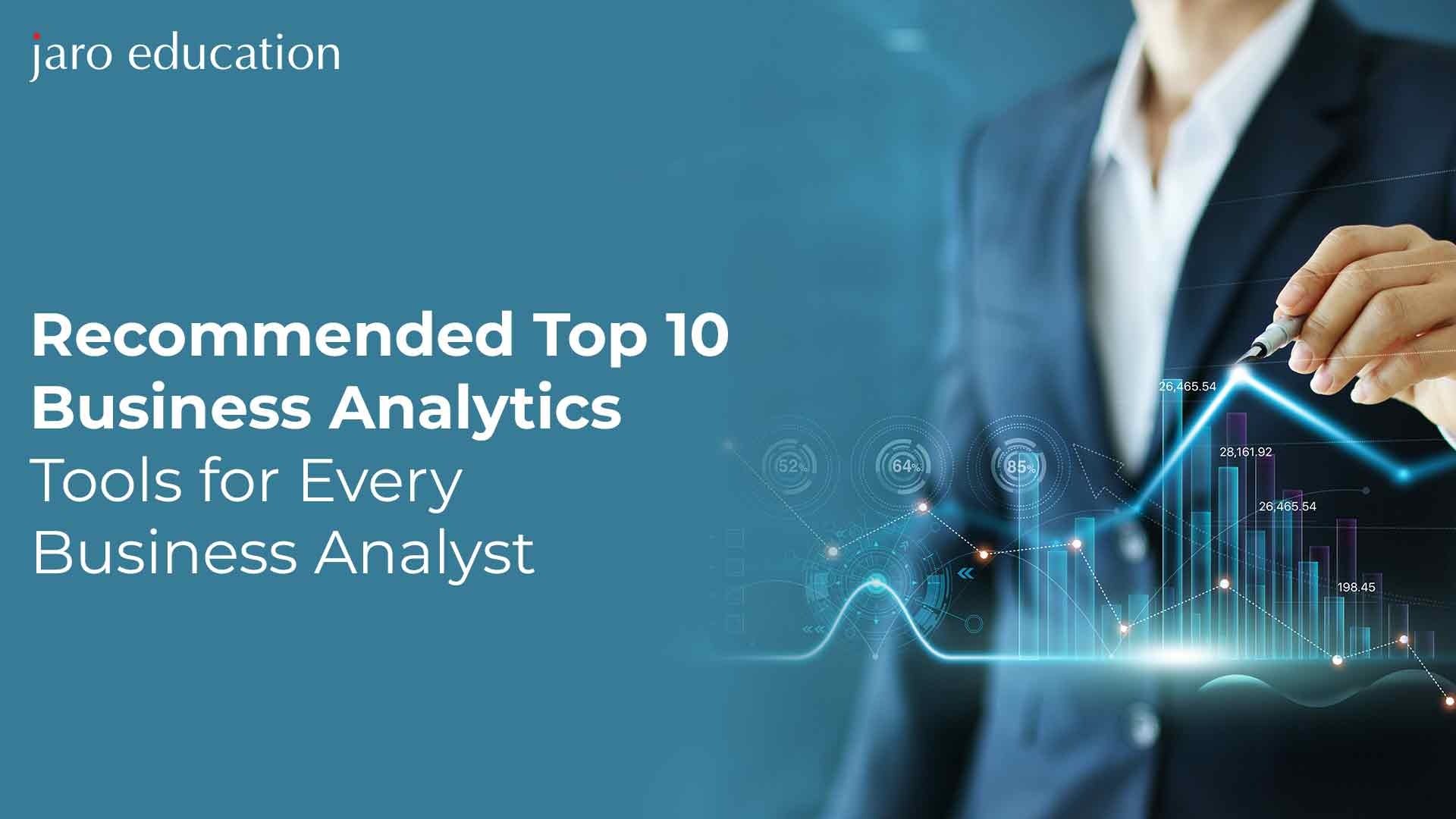 Business Analytics is the process of analysing data to gain insights and make better, more informed decisions about a business. It involves collecting, organising, and analysing data to understand trends, correlations, and other insights that can be used to inform the business's decisions and strategies. Business Analyst role often involves using predictive analytics and other statistical analysis techniques to uncover patterns and trends in data that can be used to make predictions about future performance.
Business analytics tools are used to analyse data and help businesses make better decisions. These tools can help businesses uncover insights from their data, create forecasts, segment customers and markets, monitor performance, and optimise operations. Examples of business analytics tools include predictive analytics, data mining, machine learning, artificial intelligence, statistical analysis, and data visualisation.
This blog post will focus on the top 10 business analytics tools that every business analyst should learn while pursuing a business analyst course.
1. Tableau:
Tableau is a business intelligence and analytics software that helps people to visualise and analyse data. It offers a wide range of features, including data visualisation, interactive dashboards, and advanced analytics. Tableau enables people to explore data, uncover patterns, and find insights quickly. It can be used to explore and analyse data from multiple data sources, such as spreadsheets, databases, and online services. With Tableau, businesses can gain valuable insights into their data and make informed decisions.
2. Microsoft Power BI:
Power BI is a powerful business analytics tool from Microsoft that enables users to uncover insights from their data. With Power BI, users can explore, visualise, and analyse data to gain valuable insights. It provides an interactive dashboard, reporting capabilities, and natural language querying and AI-driven insights. It also allows users to create interactive dashboards and reports that can be shared with colleagues and management. Furthermore, they can use it to create data models and set up automated data refreshes.
3. QlikView:
QlikView is a business intelligence (BI) tool that has been designed to help organisations make smarter, faster decisions. It is a powerful, interactive data visualisation tool that enables users to explore, analyse, and interpret data from multiple sources. QlikView is used to uncover insights and answer questions about data that weren't possible with traditional BI tools. With QlikView, users can quickly gain a comprehensive view of their data, uncover trends and patterns, and identify opportunities.
4. SPSS:
SPSS is a powerful software suite used by many organisations to gain insights from their business data. It can be used to analyse large amounts of data, detect patterns and trends, and create predictive models. SPSS provides a comprehensive set of tools for data management, statistical analysis, data visualisation, and reporting.
5. SAS:
SAS (Statistical Analysis System) is a powerful and versatile analytics software for data management, statistical analysis and predictive modelling. SAS can be used to analyse data from any source, including databases, spreadsheets, text files, and weblogs. The software also offers powerful capabilities for data visualisation and advanced analytics.
6. Oracle Analytics Cloud:
Oracle Analytics Cloud (OAC) is a cloud-based business analytics platform from Oracle Corporation. OAC provides a range of advanced analytics capabilities, including predictive analytics and machine learning. It also supports data integration and data preparation, as well as enabling users to create custom visualisations.
7. Alteryx:
Alteryx is a data analytics platform that enables business analysts to quickly and easily perform data blending and advanced analytics. The platform provides a workflow-driven architecture that allows users to quickly build and share data workflows, which can then be used to create predictive models and visualisations.
8. Domo:
Domo is a cloud-based business intelligence platform that helps companies collect, manage, and analyse data from multiple sources. With Domo, businesses can create custom graphs, dashboards, and reports to gain insights into their performance. Domo can also be used to automate processes, track KPIs, and identify trends. Domo helps businesses gain a better understanding of their customers, operations, and performance and make data-driven decisions.
9. Looker:
Looker is a cloud-based business analytics platform designed to help businesses make data-driven decisions. It enables users to create data models and visualisations and explore data quickly and easily. With Looker, businesses can easily access and analyse data from multiple sources and gain insights into their company's performance.
10. Google Analytics:
Google Analytics is a free web analytics service provided by Google. It provides valuable insights into website traffic, user behaviour and marketing performance. Businesses can use it to measure the effectiveness of their marketing campaigns, understand customer behaviour, and optimise their website for better results.
Adani Institute of Digital Technology Management's Executive Program in Business Analytics teaches students how to use data to gain a competitive advantage. The program covers topics such as data analysis, predictive analytics, data mining, and machine learning. Students also learn how to develop solutions to business problems through the use of analytics.
Conclusion:
Business analytics tools enable you to make informed decisions that drive growth and profitability. With the right tools, you can quickly and accurately analyse data, uncover trends and correlations, and forecast outcomes. The Top 10 Business Analytics Tools for Every Business Analyst help you choose the right solutions for your organisation.