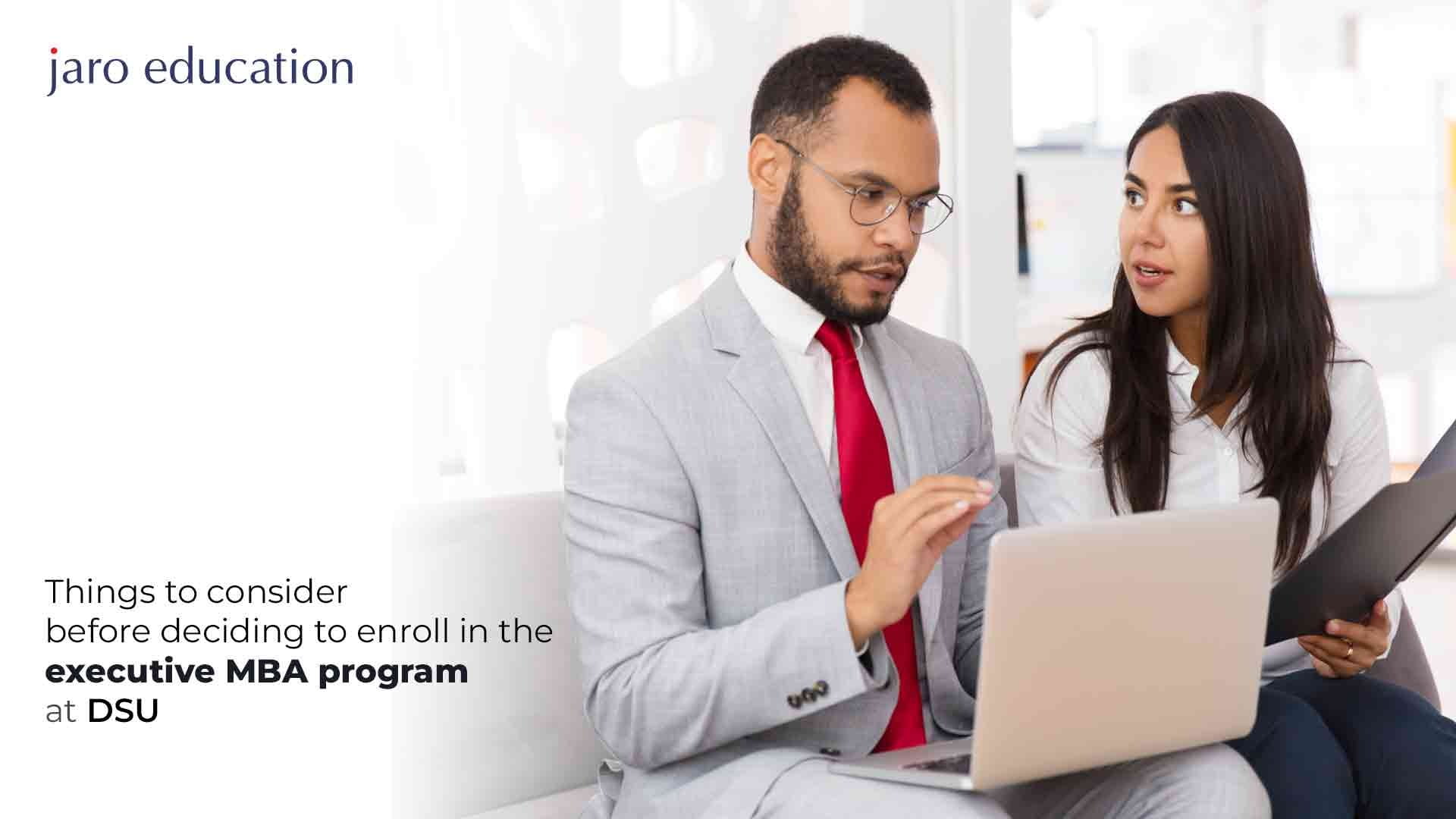 In today's rapidly changing business world, it is important to stay up to date with the latest skills and developments in order to remain relevant in the job market. The Executive MBA course has become an increasingly popular option for professionals who are already established in the corporate world and looking to take their careers to the next level. It offers a comprehensive education in the areas of business, management, and leadership, while also providing a platform for networking with other successful business professionals.
An executive MBA, or EMBA, is an advanced business degree designed for experienced professionals looking to further their careers. Those who pursue EMBA often have a specific career goal, such as securing management roles or gaining the skills necessary to start their own business. 
Dayananda Sagar University offers an exclusive executive MBA program for professionals looking to advance their careers and gain an edge in the competitive business world. With its flexible course structure and experienced faculty, you'll be ready to take your career to the next level.
In this article, we will learn about the factors you need to consider before seeking admission to DSU to pursue an executive MBA in India.
Advantages of the program
Pursuing a course alongside a full-time job may seem very hectic and tiring. But if you enroll for an online EMBA from Dayananda Sagar University, it will become easier for you to manage both simultaneously. DSU offers benefits like flexible online classes, on-campus sessions on alternate weekends, and recorded online lectures. Those who cannot attend the on-campus sessions can also avail of them online. Such facilities make pursuing an executive MBA for working professionals an easy job.
Besides, the program offers interactive and accelerative learning, guidance from industry leaders, and 11 specializations to choose from. These features benefit the professionals seeking to level up their management skills.
Eligibility
Individuals willing to pursue an Executive MBA program must understand the eligibility criteria for seeking admission to DSU. Here is what an applicant must have before applying for the EMBA program.
Graduation degree of 3 or 4 years from any recognized educational institute. 

At least 1 year of full-time working experience
Specializations
Dayananda Sagar MBA courses are goal oriented. The same goes for executive MBA programs as well. The entire syllabus of the course is covered in three terms. You can choose from any of the following 11 specializations offered by the university.
1. Global Business:
Focuses on the strategic, financial, and operational aspects of international business, giving you the tools and understanding needed to excel in the global marketplace.
2. Marketing Management:
Designed to provide a comprehensive understanding of the marketing process and its related areas. Covers topics such as marketing strategy, consumer behavior, and digital marketing.
3. Operations Management:
Helps you to learn how to design and implement effective strategies to improve efficiency and effectiveness at the organizational level. After completing the program, you will be equipped with the necessary skills to effectively manage operations in any organization.
4. Project Management:
Ideal for any business leader who wants to gain a better understanding of how to lead and manage projects.  Covers areas such as project scheduling and budgeting, contract management, etc.
5. Business Analytics:
Designed to equip professionals with the knowledge and skills needed to analyze data, identify trends, and make decisions that will help their organizations succeed.
6. Financial Management:
Covers essential components of financial management such as financial planning, financial analysis, capital budgeting, and risk management. Provides students with the skills and tools to manage financial resources and activities in a professional setting.
7. Entrepreneurship & Innovation Management:
Offers a comprehensive look at the essential topics related to starting and managing a business, from business planning and finance to marketing and operations. Focuses on developing an entrepreneurial mindset, as well as the necessary skills to bring an innovative idea to life.
8. Information Technology Management:
Emphasises how technology can be used to support business objectives. Professionals learn to identify, analyze, and respond to technological opportunities and challenges while developing the ability to make informed decisions related to IT investments and strategies.
9. Logistics & Supply Chain Management:
Offers an understanding of how to effectively manage and analyze a company's supply chain operations in order to maximize efficiency and profitability.
10. Human Resource Management:
Provides the knowledge and skills needed to effectively manage and lead human capital, the most important asset of any organization. With a focus on strategy, this specialization prepares individuals to become more effective and efficient in their current role and to acquire the skills necessary to move into a managerial-level position.
11. Product Management:
Provides learners with the knowledge and skills they need to develop and manage successful products in the rapidly changing business environment.
Fees and duration of the program
Before you plan your admission to DSU for the Executive MBA program, you must also check the course's duration and fee structure.
Fee structure for executive MBA
Application fee: INR 1,000

Tuition fee: INR 2,00,000

Examination fee: INR 20,000

Infrastructure and library fee: INR 2,000

Convocation fee: 2,000
The total fee for the executive MBA program is INR 2,25,000.
Course duration
The duration of the executive MBA course is 17 months, which comes with a validity of 36 months. 

Those who wish to extend the validity of this course can extend it for 12 more months after paying the re-enrolment fee to the relevant authorities.
The DSU Edge
Dayananda Sagar University has established itself as a reputed university by providing its students with quality education and excellent career opportunities. It has been ranked the best Emerging University in South India for 2019 by ASSOCHAM and #4 among new universities by KSURF. The university aims to focus on quality learning with a pool of faculties from global business schools and contemporary learning modules like Business Analytics, Entrepreneurship & Innovation to make you future-ready. The university has alumni from globally recognized brands like Amazon, Google, and Goldman Sachs.
An executive MBA degree from such a reputed institute enables you to position yourself globally and provides an edge over candidates from regular universities.
Conclusion
For ambitious professionals looking to take their careers to the next level, Dayananda Sagar University's Executive MBA program is the perfect option. Join this top-tier program and unlock the potential of your professional future. This program offers a comprehensive curriculum and individualized mentorship from top industry professionals. Enroll today to earn a prestigious Executive MBA degree and start your journey to success.