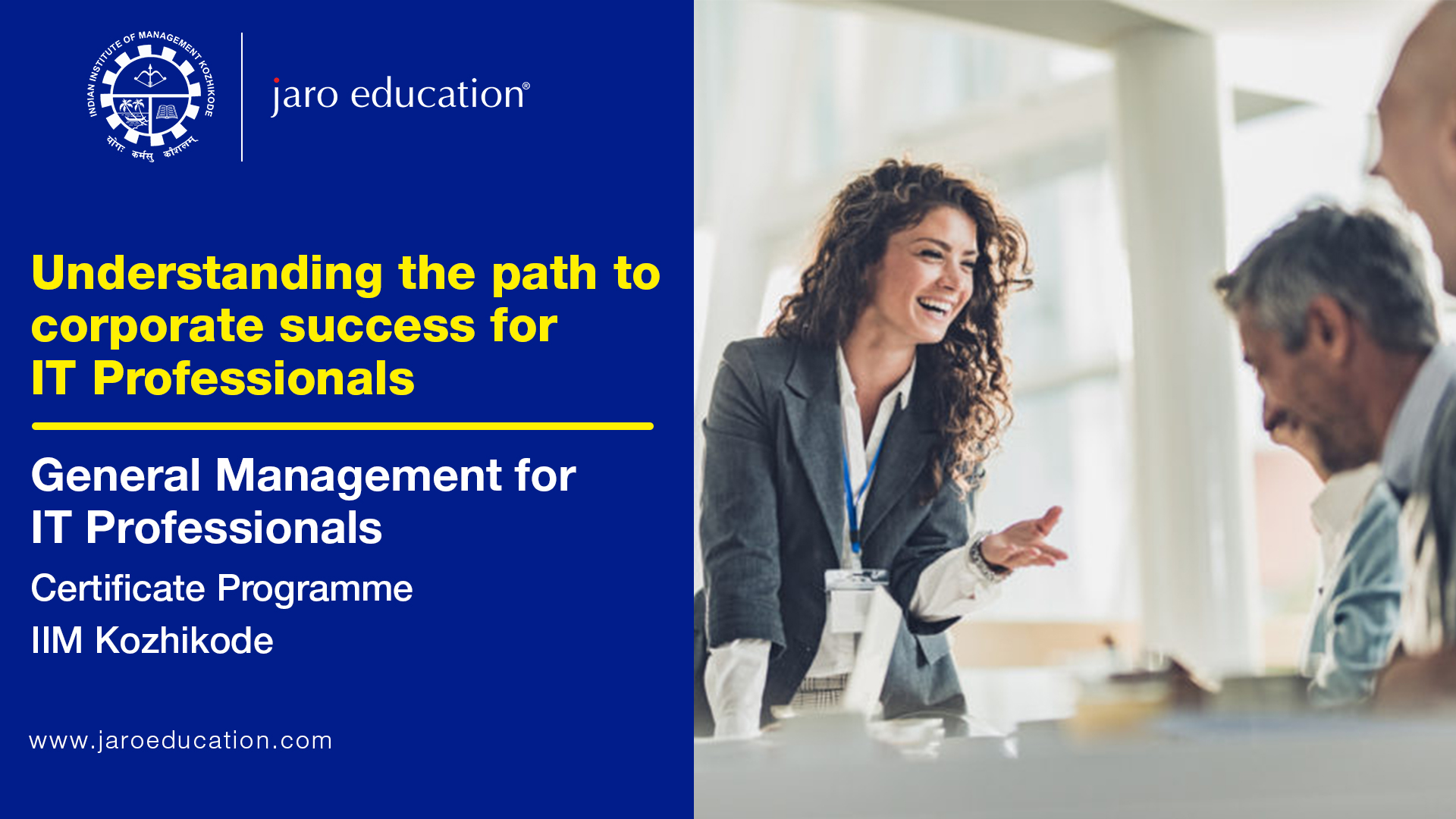 The Path to Corporate Success for IT Professionals
Introduction
The growing competition in the corporate world for IT professionals has left many individuals wondering how to advance their careers. A management program can provide the required skill set to IT professionals to expedite their career growth.
IT professionals are expected to provide quick results in a limited time by managing various responsibilities. Therefore, organizations are always on the lookout for dedicated professionals who are willing to upskill themselves. This general management program, aptly named General Management for IT Professionals offered by IIM Kozhikode has been designed by experienced faculty to provide state-of-the-art training to candidates, giving them an edge in the IT industry. 
General Management in IT
Due to rising competition in the professional world, the path to corporate success for an IT professional is challenging. After a certain period, their growth in their organization tends to stagnate or slow down. Therefore, to set themselves apart from their peers, IT professionals should think about expanding their knowledge base and their abilities, looking into incorporating managerial skills. There are various ways to upskill. Enrolling in a General Management programme or any General Management course under the mentorships of experienced faculties gives a much-needed boost to the career. 
As we have discussed, to rise in any organization's ranks, the crucial step-up for an IT professional is often to a managerial level. For this, the candidate needs to understand the nuances of the corporate world through the eyes of management professionals. By pursuing a management programme, IT professionals can gain detailed insights into the global markets and add value to their organization. 
About General Management for IT Professionals – IIM Kozhikode
General Management Program for IT Professionals, offered by IIM Kozhikode has developed a curriculum in line with the world's best industry standards that ensure innovation, business education, and quality pedagogic practices. The program has been created following a strategic approach to catalyze learning through an interactive teaching environment. 
This IIM general management program introduces various innovative methodologies critically oriented toward discussion, learning, and association. It covers several management studies aspects, such as marketing, finance, IT, organizational behavior, and operations management.
The General Management for IT Professionals (GMIT) Programme offered by IIM Kozhikode is conducted online every Sunday, from 6 pm to 9 pm. In GMIT, education is imparted through an interactive medium, where all the candidates have to participate actively in the discussions. The course includes multiple online exams and is also evaluated based on class participation. Furthermore, students have to undertake projects and individual or group assignments. It helps in the overall development of applying conceptual learning in real-life business scenarios.
The entire course is divided into nine different modules spread across 12 months. The last module is conducted on campus.
The GMIT Programme offered by IIM Kozhikode has been designed to provide candidates with expert guidance and direction for their professional careers.
The general management course provides a detailed understanding of entrepreneurship and international business. It has a comprehensive business leadership module for experienced IT professionals. Furthermore, it applies to candidates in the IT industry with at least one year of experience.
Conclusion
The path to corporate success for IT professionals starts with General Management for IT Professionals – IIM Kozhikode. The course is designed to give the candidate a holistic understanding of the management world, touching upon all the branches of management. Enroll in GMIT – IIM Kozhikode today and allow your career to grow exponentially! Grab the opportunity before registration closes.