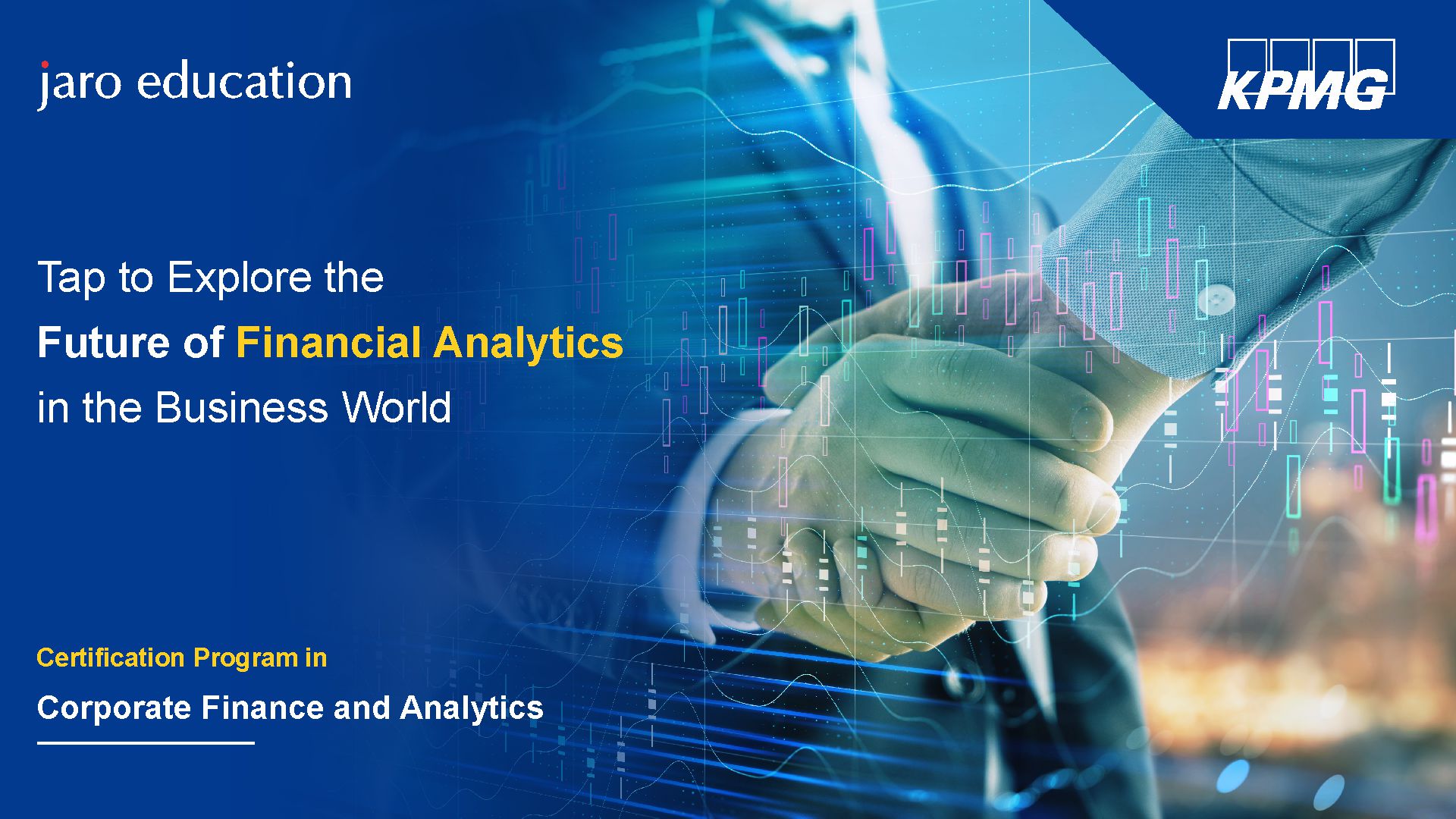 The Future of Financial Analytics
Introduction
The world of Finance is rapidly evolving. The future of the financial world is analytics. With the development of various tools and technologies, it has become easier and more efficient to analyze financial statements and make core business decisions. 
With that, the way an organization examines Finance has changed. Time and again, organizations have introduced various technologies to analyze Finance in a way that benefits them. Online courses for Corporate Finance help a Finance professional upskill in analyzing financial statements using the latest tools and technologies.
The Certification Program in Corporate Finance & Analytics by KPMG India provides an environment for professionals to enhance their financial knowledge with support from experienced faculties and various interactions with industry experts. This Corporate Finance course provides strategic and analytical skills to analyze the financial segment of the organization.
Let us understand why Financial Analytics is beneficial in the long-term development of the organization.
Role of Financial Analytics
First and foremost, Financial Analytics can help determine if an organization is a profitable venture. It can automate and optimize financial decisions. This has made online Corporate Finance institute courses appealing and driven up their demand in India. 
Financial Analytics provides a unique viewpoint on the organization's financial data. It furnishes a detailed understanding of a financial report to make a well-informed decision. Hence, it plays an integral role in generating profits for the organization. With a Corporate Finance certificate course, a professional can enhance their knowledge about Financial Analytics and boost their professional career.
With rising competition in the professional world, organizations are looking for candidates with experience in Financial Analytics. This requirement has led to a rise in demand for the Certificate Course in Corporate Finance in India.
Financial Analytics is the future of Finance. Here's why:
A professional can analyze a company's risks with Financial Analytics if it ventures into a new segment.

With continuous Financial Analysis, the management can get proper visibility on the financial health of the company.

Experienced professionals in Financial Analytics can analyze the financial reports and provide crucial business decisions for the company's development.
Certificate Course in Corporate Finance in India
The Certification Program in Corporate Finance & Analytics at KPMG is tailored for financial professionals with over three years of experience as a Finance manager, corporate/ self-employed Finance professionals, CAs, FRMs, CFMs, and MBA in Finance candidates. This certification is conducted under the guidance of the experienced faculties from the Advisory and data analytics team of KPMG in India and the KPMG Learning Academy.
Corporate Finance & Analytics provides the required skill set to a broad spectrum of Finance professionals. It helps them connect business strategy with Financial Analytics to predict future financial outcomes of the organization.
The Corporate Finance & Analytics program is conducted to cover the essentials of Financial Analytics to enhance a professional's financial skills. The KPMG Corporate Finance India course is designed to cover the topics mentioned below:
Financial Modeling

Planning, Budgeting, Forecasting, and Financial Decision-Making for an organization

Financial Planning and Analysis

The role of the Finance Function in an organization

Power Skills

Financial Analytics, which covers data interpretation, business analytics, visualization, and storytelling

Technical Accounting
The Certification Program in Corporate Finance & Analytics helps a professional interpret financial statements analytically for a better strategy and business plan. It enables the professional to link Corporate Finance to strategic decisions and understand the principles of Finance. The professional is equipped with knowledge on technologies like RPA, AI, ML, FinTech, and blockchain. These technologies of the future are already shaping industries beyond Finance – from healthcare to retail and education.
With over 100 hours of interactive learning with experienced faculties and various industry experts, the Certification program in Corporate Finance & Analytics can provide a professional with the right tools and required exposure to learn about Financial Analytics. 
This course can also help the professional understand how business decisions based on Financial Analysis affect the organization's external and internal performance. The Corporate Finance & Analytics program provides hands-on experience with the latest tools and technologies used in Financial Analysis.
The 6-month online Certification Program in Corporate Finance & Analytics has been divided into seven different modules that cover the essentials of Corporate Finance and Financial Analytics. After completing the course, the candidates will receive a certificate, which is recognized by all the major leading financial firms in India.
Conclusion
The online Certification Program in Corporate Finance & Analytics by KPMG India provides professionals with the proper knowledge of Financial Analytics to help them boost their professional careers.
Are you a Finance professional gearing up to take the next brave step in your growth? Or are you looking for hands-on training that will get you up to speed regarding the state-of-the-art financial technologies dotting the Corporate Finance sector? Then this Corporate Finance course is the ideal choice for you. Enroll in this program if you are curious about how analytics shape strategy in the long run in the Corporate Finance space.