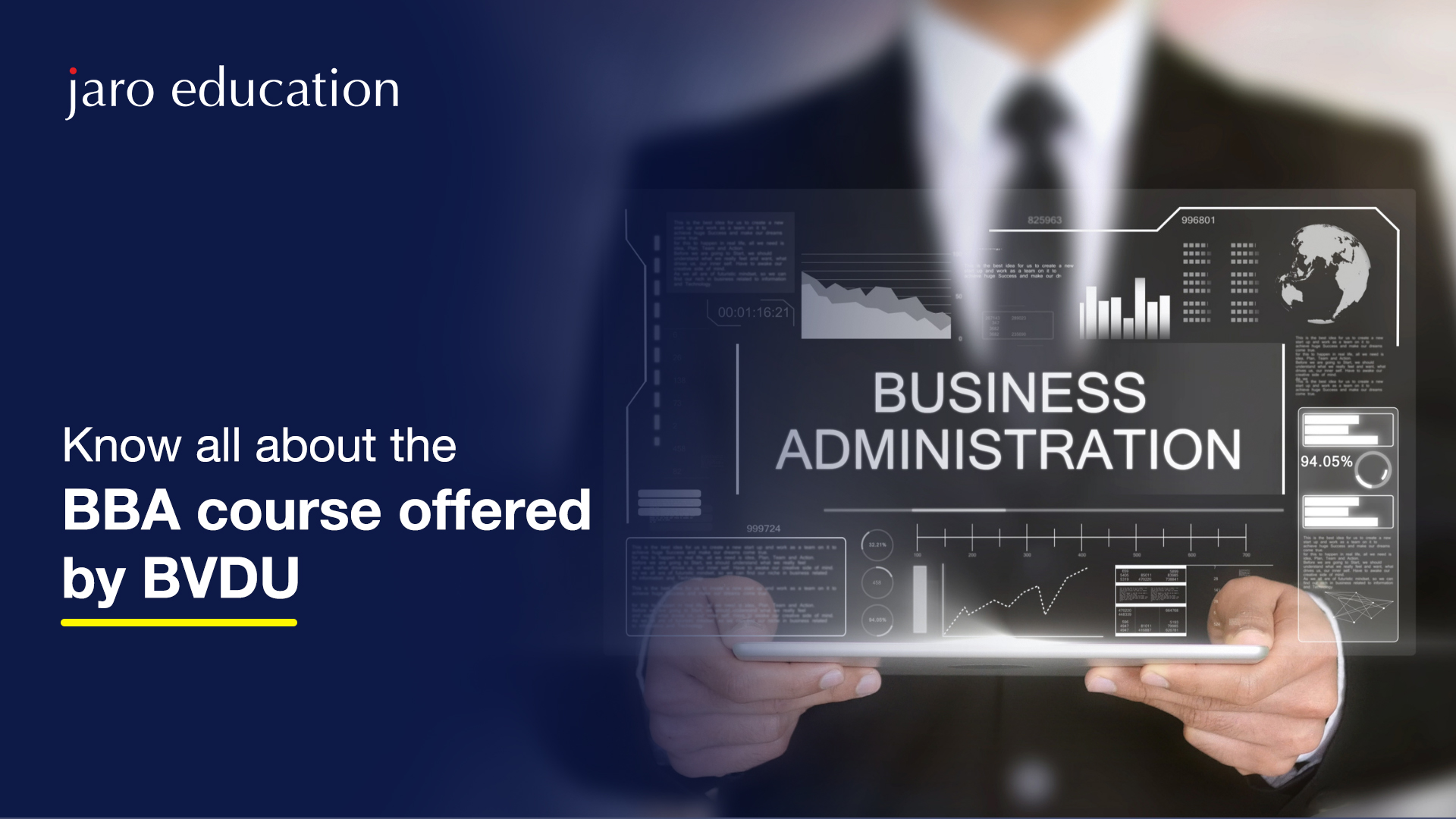 Introduction
Does learning about the dynamics of business operations, number crunching, and other aspects of running a business successfully interest you? If the answer is positive, pursuing a Bachelors in Business Administration is one of the best bets in gaining in-depth knowledge on the subject and making it big in the corporate world. Whether students wish to land a high-paying job or tread down the path of an entrepreneur, BBA courses can help to understand the intricacies of business operations.
Bharati Vidyapeeth Deemed to be University (BVDU), a highly renowned educational institution, offers an online BBA Course in India as one of its most popular distance learning courses. It is a three-year program that facilitates learning of business principles, theories, and functional areas. With students increasingly moving towards digital learning, it has become one of the most sought-after offerings of the University.
Overview of the Online BBA Program
The online BBA program offered by BVDU is an interactive 36-month, divided into six semesters, 128 credit hour program that has distinct 38 courses. This program aims to render students exceptional leadership and analytical skills, using various teaching and learning techniques like interactive lectures, assignments, case studies, and discussion forums. In addition, it offers the students a world-class learning experience along with high-level collaboration opportunities and global exposure. 
Eligibility of the Program
This program is specially designed for working professionals. For the online BBA program by BVDU, students must have a 10+2 degree in any stream or equivalent from a recognized board. 
Features of the Program
BVDU offers this program with a vision of social transformation through dynamic education. But what truly reinstates its popularity as the best online BBA course in India are the many features of this program. So l Let's take a look at them.
Industry Oriented Program
What makes this course different from other Bachelor of Business Administration Online programs is its approach to learning all conventional subjects, such as mathematics, accounting, etc., from an industry-necessity viewpoint. Students learn practical aspects of these subjects, such as industrial setup, products, services, and business operations.
Practical Business Training
Theoretical knowledge is essential, but its application in the real world and real-time problems holds much higher value in business administration. With internships, real-life case studies, and opportunities to work on projects, the online BBA program at BVDU offers practical business training.
The faculty and course tutors use the latest eLearning tools and specialized units to provide a great learning experience to the students. From high-quality learning content to result-oriented and effective teaching methodologies, the tutors employ innovative tactics to make the knowledge transfer as impactful as possible.
With open discussion forums, students can exchange ideas and thoughts on topics related to their course. They can clear their doubts and get to know more about fellow students, and build a solid network of future leaders from the industry. 
By enrolling in this Bachelor of Business Administration online learning program, students gain access to a repository of recorded live lectures, which they can revisit if they wish to refer to it. In the live sessions, they can interact with the faculty and ask as many questions related to the subject if they don't understand something.
Easy and Flexible Learning
The most significant benefit of this online BBA program is its flexibility that the students can take advantage of. No matter where they are and what they're doing, they can still attend the online lectures. Furthermore, students can log into the live lectures from any mobile device and internet facility. It is that simple and easy.
BVDU offers this online BBA program at a very affordable fee structure. , which is subject to change according to the discretion of the University. Students can check out the latest fee structure for the program here.
Career Opportunities Related to this Program
After completing this online BBA program from BVDU, students can either opt to pursue Masters in Business Administration or go for work opportunities. Depending on a student's interest and core competencies, they can work as a business manager, finance manager, human resource professional, business consultant, R&D manager, marketing professional, or any other profile, in the future.
Final Words
If students are looking to enroll themselves in an online BBA course in India, the online BBA program by BVDU is an excellent option. They can pursue this program even while working and from any part of the world. It is a perfect opportunity to upskill and learn from some of the best faculties in the country and add the name of BVDU, an institute of great repute, to their resume.
Enroll now in the
Online BBA Program – BVDU
, and enjoy learning at your
leisure
!