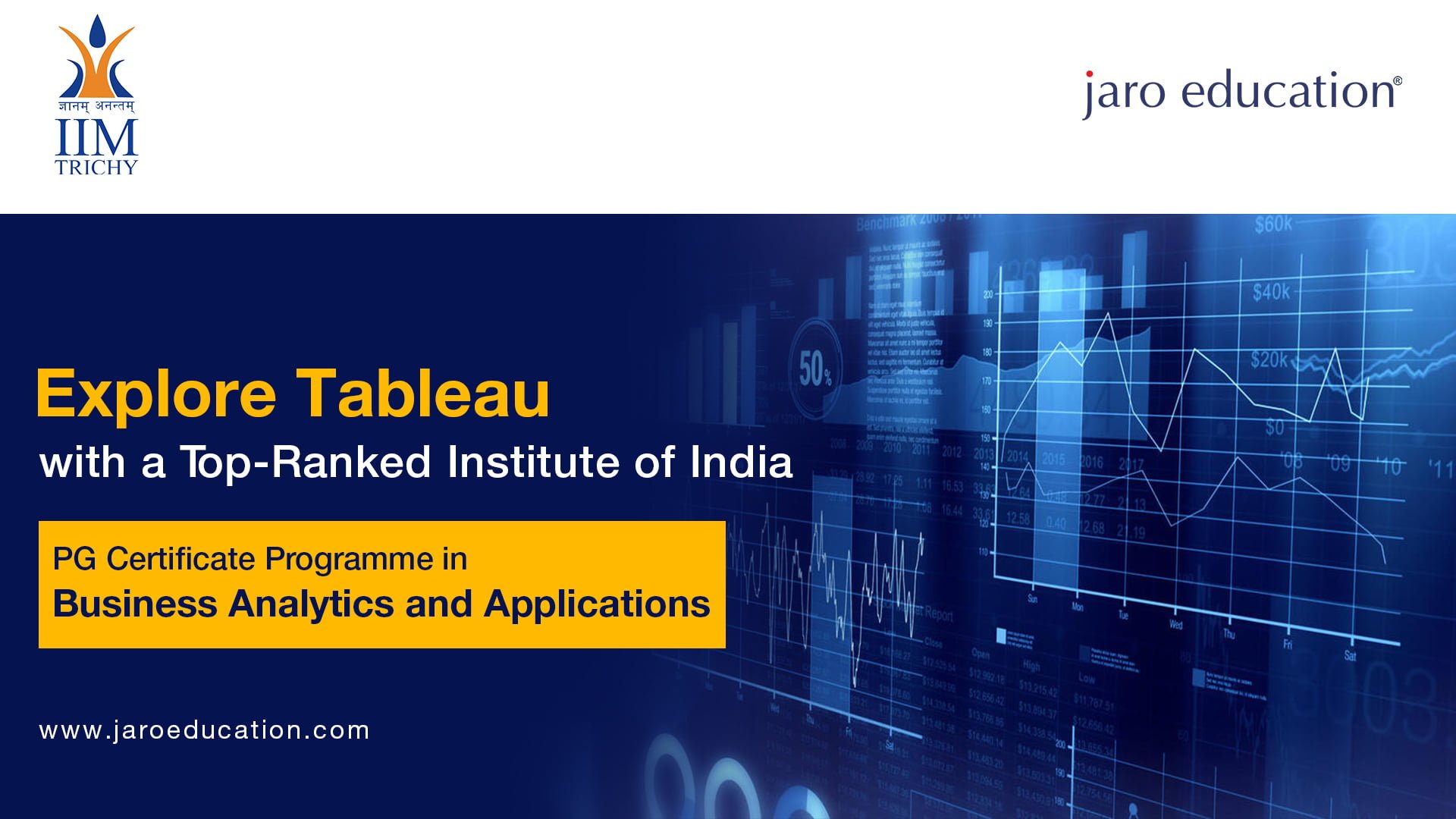 Introduction
Today, an enormous amount of data is produced by cloud apps. To manage the data, individuals need business analyst training. The scope of SLM, SCM, ERP, and CRM is tremendous and rapidly growing. You can pursue business analytics courses online to know more about it. Business analysis tools are being created by well-known technology firms all around the world.
The tools help firms to spot patterns by using large datasets and expand new business analytics models. The IIM Trichy- Business Analytics and Applications Programme is considered one of the best in India.
What Are Business Analytics Tools?
Analytics courses are coming up with ways to incorporate business administration. A business analytics course assists in the extraction of valuable data from datasets. The methods offer firms unified analytics results. Many companies utilize analytical tools to simplify real-time data collection, display, and analysis. 
Doing PG Certificate Programme in Business Analytics and Applications and getting a business analytics certification can boost your job to new heights. Business analytics tools have a variety of names in the market. However, it all refers to the same business intelligence solution, ranging from BI tools to analytics software. 
The data analytics technologies aim to provide advanced modeling-based insight into your firm. You can undertake a business analytics online course and get an business analytics certification to know more about it. The course will assist with supply sharing, tactical decision-making, and gaining information that can,
Solve pressing concerns

Scale up the rate of growth

Give a real-time view of the firm

Anticipate future outcomes through predictive analysis
Why Tableau is the Best Analytics Tool for Business
Tableau quickly and easily transforms data into actionable insights. Its enablement resources, training, and global data community are among the best in the business. In addition, it provides unrivalled customer service and support for clients' analytics investments. 
Tableau is on a quest to make data more visible and understandable. It goes above and beyond to assure client success by assisting employees in developing a data culture. With the help of a PG certificate programme in Business Analytics and Application, you can learn how to scale up your proficiency in Tableau..
Tableau is dedicated to meeting the changing demands of its customers. It has always made unparalleled investments in research and development. It was solely dedicated to the field of business intelligence and analytics and can be learned through a business analysis certification. Customer input drives a lot of its innovation. Completing a business analysis certification course will also help you boost your business.
Key Advantages of Tableau for Business
The significant benefits of Tableau are as follows.
Change-inducing Data Culture
Tableau is dedicated to assisting users in developing a data-driven culture. It makes a difference in their analytics path by prioritizing data in discussions, cooperation, and decision-making. As a result, customers discover new ways to innovate, become resilient, and effect significant transformation. Getting a PG Certification in Business Analytics and Applications degree will give you more knowledge of business analytics.
Most User-friendly Interface
Tableau's products are built with the user in mind. According to Tableau, data analysis should concern asking questions. Its built-in visual best practices allow for unlimited visual data exploration without disrupting the analytical flow. You can get a business analysis certification online to know more about the user interface of BA tools.
People Learn at a Faster Rate
Tableau is based on scientific research and makes data processing faster, simpler, and more intuitive. It swiftly analyses data by employing an iterative approach that offers instant feedback. It makes data more interesting, enjoyable, and simple to understand. Many business analytics certification courses will help you master Tableau and scale up your business. 
Tableau allows you to make the most of your existing technology investments while giving you peace of mind. As the data landscape changes, Tableau will develop with you. It has the most analytics deployment choices. Tableau can also link to all your data, regardless of where it is stored. Getting a business analyst certification India is a significant achievement.
Tableau gives you access to enterprise-level security and control. As a result, you can ensure data remains in the right hands. It is crucial to learn for expanding analytics throughout your business, especially since the administration is easy and effective. It allows IT to concentrate on the most critical tasks. An IIM business analytics training or various analytics courses online can help you manage security more effectively.
Extensibility and Integration
Tableau supports worldwide organizations across the self-service analytics lifecycle, from preparation and analysis to dissemination. Every step of the journey, from governance to data management, takes place in Tableau. Doing an analytics course online will boost your analytics skills.
Conclusion
It's becoming more challenging to focus on the data relevant to our issues. Doing a business analyst course and getting a business analyst professional certification will help grow your organization. In addition, many firms provide business analytics courses in India and give you a valuable business analytics certificate.
Business analysis tools make it easier to obtain accurate data, depicting it in a way that allows us to understand its implications. You can pursue a Post Graduate Certificate Programme in Business Analytics and Application and increase the chance of getting hired in the business analytics field.
Want to know more about Tableau and its applications in business analytics? 
Take a look at the finest PG certificate programme in Business Analytics and Applications from the top-ranked B-School, IIM Trichy.