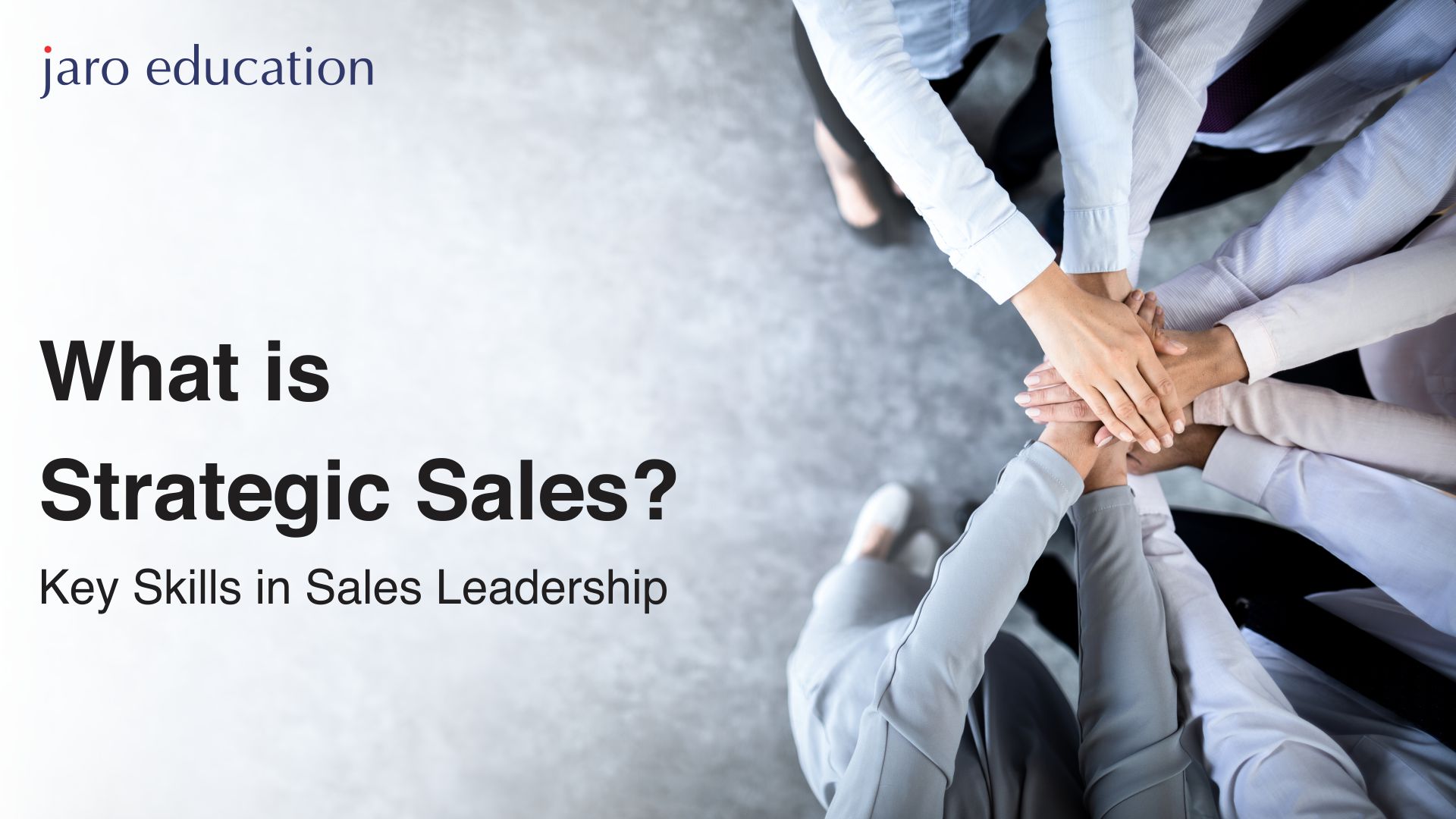 Introduction
Sales management is a challenging and exciting role to play for business professionals. Marketing Management courses are developed to provide perspectives into management methods and tools helpful in developing and incorporating strategies in different business structural areas. By integrating usable and strategic sales approaches, learners acquire a comprehensive view of making impactful decisions.
What are Strategic Sales?
Strategic sales refer to the comprehensive plan to aim for prospective buyers and efficiently sell a product or service. Strategic sales management is an indispensable element of business because sales trends change at all times. Companies must keep up with the most rapidly evolving trends necessary to reach their target customers.
A strategic sales plan is necessary for any company seeking to grow sales, raise profits, launch a new product, or expand into a growing market. Strategic sales include a plan to guide the sales team through the implementation of their overall sales strategy. It gives them access to the ideas, processes, and tools they need to prospect new accounts and better the company.
New technologies and methods improve a sales professional's ability to track and adapt to developments. Sales managers recognize trends and make critical decisions about achieving organizational objectives by collecting and evaluating data about customers and sales. To achieve those objectives, sales managers provide strategic sales decisions and encourage team members to implement those strategies. Online marketing courses provide these strategic decision-making skills for a young entrepreneur to grow into a sales leader.
Key skills in sales leadership
Each management role has a specific set of requirements. To be successful in strategic sales, the professional must meet the necessary qualities required for the role. Let us look at the fundamental skills needed for sales leadership:
Knowledge about forecasting insights
As the importance of big data in marketing grows, sales teams collect this data on customers and their buying habits and take sales decisions consequently. Managers set goals for team members using data and analytics tools. Strategic sales leaders use their knowledge from observing sales data to determine the strategies that will be beneficial to the company in the long run.
Decision-making about the effectiveness of prior strategies
When attracting customers, sales leaders planning to establish sales strategies can look back at previous efforts to see what has worked out and what hasn't. A marketing certification is beneficial to solidify the understanding of decision-making. Strategic sales demand excellent analytical abilities and the capacity to make relevant and profitable conclusions for the company's advantage. Such information predicts and establishes sales goals, besides setting corporate goals.
Understanding competition
Strategic sales representatives must know how valuable their product or service is when pitted against current and potential competitors. An online product marketing management course can help to provide the skills desired for an effective product strategy. Sales managers can research how other enterprises approach customers and create their strategic marketing plan to edge opponents.
Customer-centric approach
The requirements and interests of a customer or user should be the center of a sales strategy to offer the most appropriate product or service. Sales managers can develop effective sales strategies by getting to know their prospects and developing connections with them. They must also be able to communicate clearly and effectively with others. Through the excellent coaching, guidance, and support of sales and marketing courses, you can learn the skills for efficient sales leadership.
Team player with leadership qualities
Strategic sales managers can hire staff associates they consider perfect for their business. They sometimes encourage and coach a few team members by providing them with valuable feedback. Sales leaders must proficiently interact with all decision-makers throughout the process, from developing sales strategies to supervising team members.
As the corporate world is evolving, so is the demand for impactful sales leaders. Various organizations may introduce different kinds of strategic sales plans, but all sales executives can benefit from these strategic sales skills. Students and professionals can gain a broad conceptual knowledge of strategic sales and skillsets for successfully implementing its strategies by obtaining advanced education.
The Strategic Sales Management and New Age Marketing programme offered by IIM Kozhikode is one of the finest marketing management courses for young professionals seeking to broaden their understanding of sales to become industry experts. This 12-months online programme is for professionals with a work experience of four years. It provides these professionals with the opportunity to understand sales and leadership in the modern workplace. The curriculum aims at cultivating strong leaders who can efficiently lead teams.
Conclusion
With the IIM Kozhikode certification in Strategic Sales Management and New Age Marketing, you can aim to become a more effective, updated, and versatile sales professional. You'll learn to bring out the best in your sales team through the online program and increase revenue. In addition, learn how to improve your leadership guidance and establish a winning culture in your company.
With an online certification, you can continue working while also pursuing an executive program. So, enroll right away in the Strategic Sales Management and New Age Marketing programme to study at your own pace and learn strategic sales management to fastrack your career.