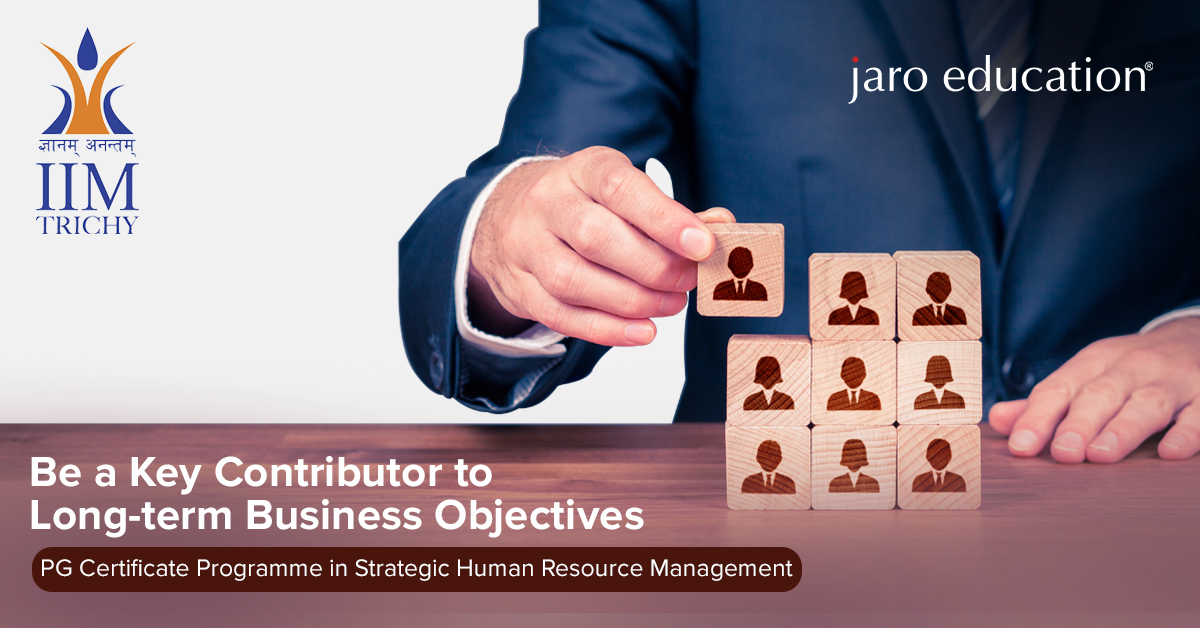 Are you an active doer, a go-getter, someone deeply interested in Human Resource? Are you a student or an aspiring HR professional or an institution harbouring the young potential who will take on the various HR management roles of tomorrow? We have good news for you! Today we discuss the specialized Strategic Human Resource Management and its implications on learners and various stakeholders.
What is SHRM?
It is the coordinated connection between the exercising human resources and the visionary objectives and goals of any business organization. Effectively, SHRM with its innovative recruiting to rewarding arch helps enhance business and personal growth. The SHRM program module will help gain a deeper insight into the operational and strategic details of the verticals of a business organization and train young minds to think likewise and help them make their dreams of becoming administrative experts in the future come true.
Salient Features of SHRM
Mutually benefiting schemes evolved for the organization as well as employees via HR initiatives.
Bridging the HR policy with the organization's goals to benefit both parties and develop a competitive culture.
The onus lies with individual performance viz-a-viz hierarchical structures of business organizations.
Benefits Of Studying SHRM
Studying SHRM will enable you to participate in contributing to your organization's goals and profits likewise:
You will be involved in planning ahead keeping in mind the organization's strategy.
It will provide you with a competitive advantage to gauge your target audience or customer's needs.
It will provide you with a timely edge over your competitors.
Developing employee productivity and enhancing the organization's growth.
Bringing an alignment in focusing on one aim as an organization.
Learn HR Planning and Redesigning.
Learn newer tools for measuring Human Capital and calculating asset values.
Develop leadership and administrative skills of managing unified functionality through the organization.
Where To Study?
Jaro Education is proud to collaborate with IIM, Trichy, and introduce to you a 1-year, hybrid, one of a kind PG Certificate Program in SHRM. If you are a graduate from a recognized university with a minimum of 50% and have at least 3 years of work experience, you are eligible to apply for this competitive degree. The program will not only make executive education accessible but also provide a holistic approach with its impactful modules pertaining to conditions in today's remote Covid19 times. With the flexibility of both on-campus and online teaching modules, the pedagogy allows both to interact as well as prepare ahead of lectures. Classes begin from 20th September 2020, so register now with Jaro Education to avail this exciting learning opportunity!
About Jaro Education
With over ten years of academic presence across 31 accessible centres pan-India, Jaro Education is the dependent partner of more than eight educational institutions and off the bat has a proud count of more than 150000 worthwhile alumni! Moreover, Jaro Education has quality collaborations with A-list B-Schools such as the IIMs (Ahmedabad, Rohtak and Trichy), American Business Management and Technology College (ABMTC) and NSE among others.
Foremost tech company, Jaro Education is the expert leader in the exclusive and in-demand space of executive education. Proficient and experienced in enabling working professionals to gain momentum in upskilling themselves, it provides the niche opportunity to partake online in executive technology-heavy degrees. Not just technology, Jaro Education also extends a platter of choice related to globally acclaimed management courses.