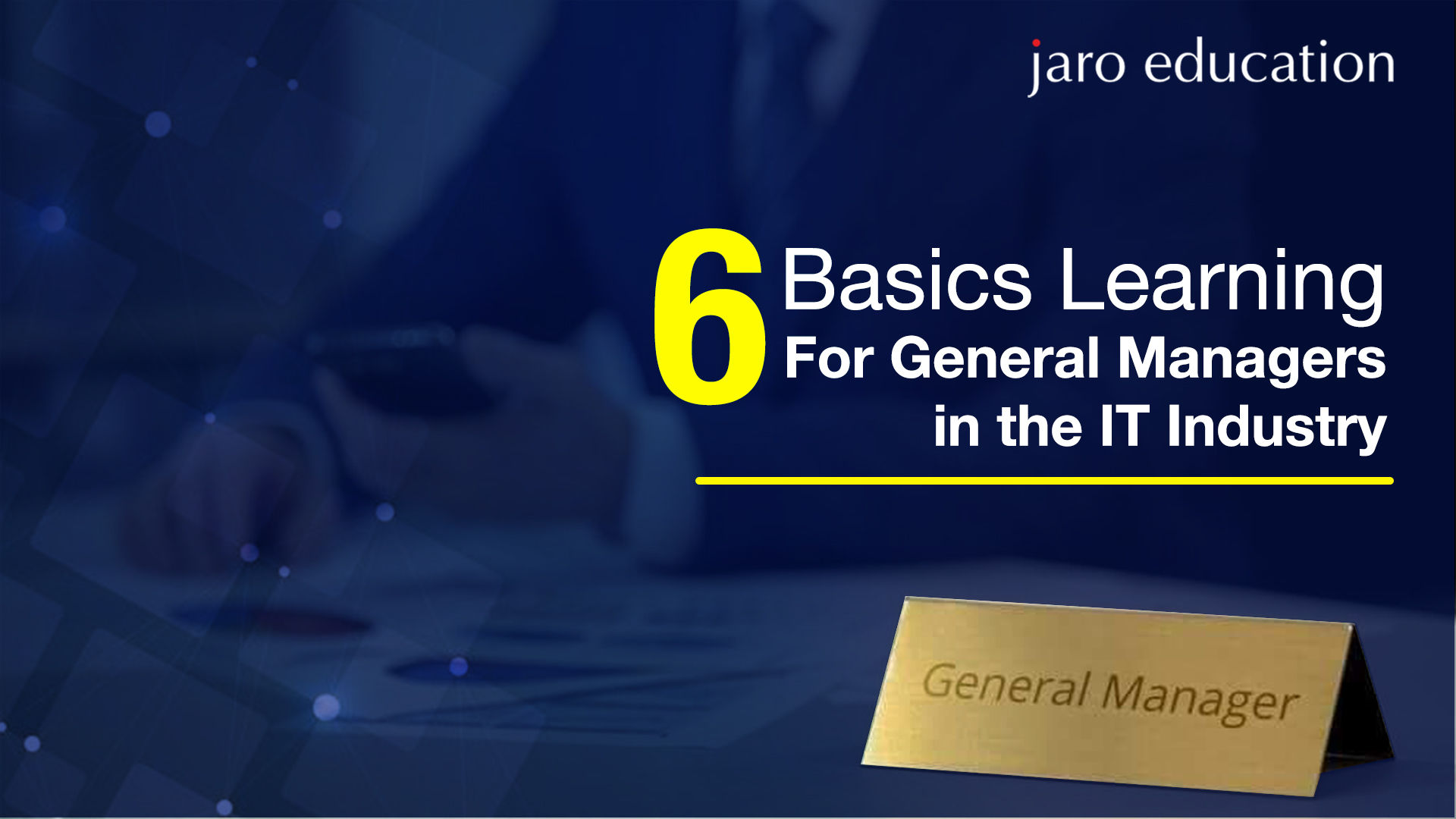 Introduction
Let's face it: the corporate world nowadays is extremely dynamic and rapidly changing. Managers who learn to expand their flexibility and flourish their managerial skills in this dynamic environment are considered successful. In today's dynamic business environment, being a traditional manager is no longer an option; instead, professionals must learn to be multidimensional general managers – willing to accept the changes and put in efforts to improve themselves and their team. 
Recently, many organizations and management institutes have started a curriculum to develop management skills through the General Management Programme. Before we talk about one of the best General Management Courses in India, let us highlight the six basic learnings for general managers.
What are the six basic learnings for General Managers? 
General Managers are the senior management executives in charge of an organization's overall duties such as marketing, sales, operations, and so on. While managing the overall operations of a firm or division, a general manager is supposed to generate profitability and improve efficiency. Controlling the budget, managing workers and implementing marketing tactics are a few other responsibilities of a general manager. General Management Programme for IT Professionals teaches the following six basic learnings for general managers.
Influencing people:

In the workplace,  professionals must have the ability to influence people. A general manager needs to influence colleagues, clients, and vendors daily. This skill is viewed as a part of our personality, but it is possible to learn it. Empathy, active listening and non-judgmental responses should be practised throughout our lives.
Building a sustainable work environment: 
Three factors that govern a work environment of a company are: 
Existing performance standards that determine the speed and quality of human effort

Business concepts that describe the company and how it operates

The ideas and existing standards and describe what it is like to work there
Performance levels are one of the most significant of the three since they determine the quality of an organization's efforts in general.
Strategic vision:

The ability to break down the problem, analyze it, and come up with solutions or guidelines for your team is important to the general manager. Having a strategic vision can help keep your focus on the larger picture, not allowing details to pass through the cracks.
Crisis management:

No one expected a global catastrophe like Covid-19; it shows that there are dangers and problems that the organization needs to be prepared for. SWOT analysis can help you prepare for such threats. The

General Management for IT Professional Programme

teaches crisis management skills to manage organizations efficiently. 
Critical thinking skills:

In today's fast-changing corporate environment, critical thinking abilities are vital. These abilities enable you to think about an issue in a new way, solve it logically, investigate your choices, and focus on relevant data to reach accurate conclusions – even when you're under pressure.
Project management skills:

A vital skill in today's industry is the capacity to properly manage commercial projects. Furthermore, project management skills are required to understand the objectives and skills of each project, recognizing responsibilities, and use project management tools to keep the project on track.
All these six basic learnings are incorporated in one of  India's best online General Management Courses, the General Management Course For IT Professionals offered by IIM Kozhikode.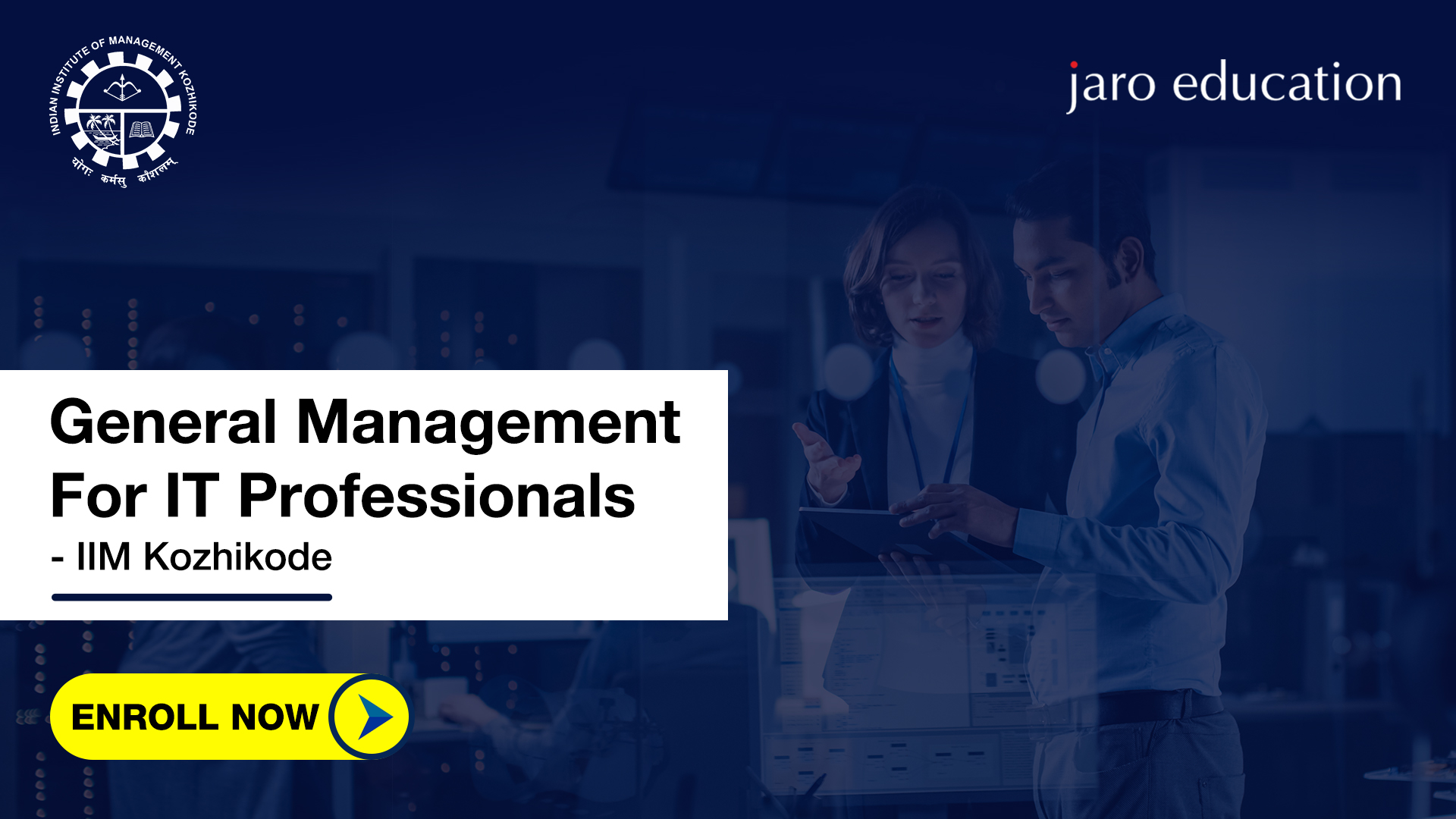 General Management Programme – IIM Kozhikode 
IIM Kozhikode is one of the major management schools created by the Government of India and is ranked 4th among the Top Management Colleges in India according to the NIRF Rankings. The institute is accredited by the Association of MBA and EQUIS, and is currently on a rapid expansion path, offering various academic programmes in management education. 
IIM Kozhikode's 12-month General Management Course for IT Professionals aims to maximize IT professionals' potential at work by providing them with digital survival techniques, global business knowledge and organizational management practices. Business statistics, data visualization, data analytics, entrepreneurship, and many more functional management topics are covered in the General Management Programme.
Highlights of the General Management for IT Professionals Programme 
Here are some insightful highlights of the General Management Certification by IIM Kozhikode:
The entire

General Management Course

is available online

for the students' convenience.

Students who complete this course are awarded an alumni status and Certification of Completion for General Management for IT Professionals by IIM Kozhikode. 

Provides real-world management situations to focus on practical knowledge.

It provides direct mentorship from IIM Kozhikode teachers and business leaders using multiple online channels.
Conclusion 
The eligibility criteria of the General Management Course For IT Professionals includes a graduation degree from a recognized university with a minimum 50% score, a minimum 1 year of work experience and preferences will be given to candidates working in the IT sector. 
If you want to expand your organization, there is no one stopping you from learning general management certification skills by IIM Kozhikode.