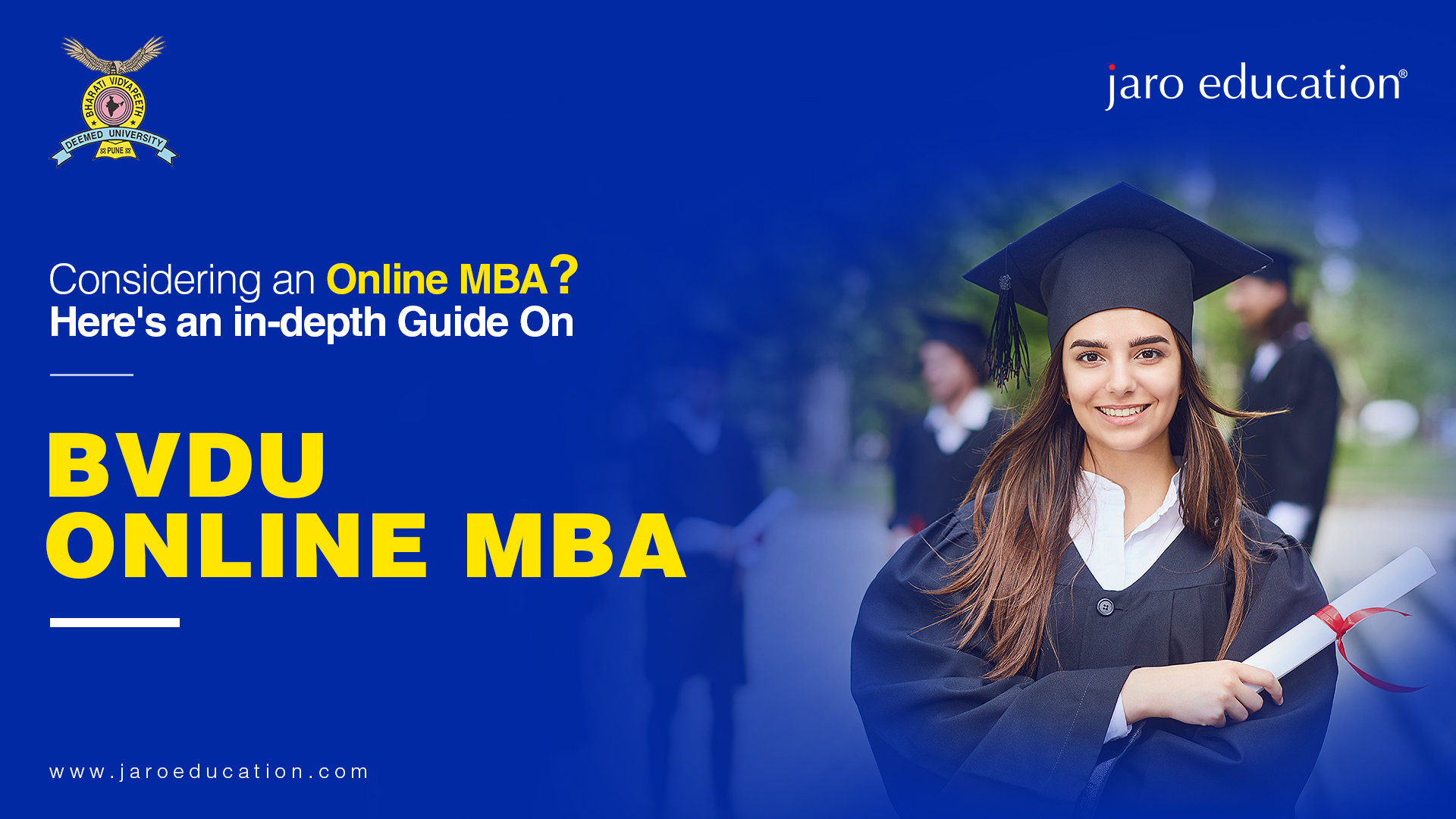 Introduction
The Online MBA (Masters of Business Administration) is one of the world's most coveted courses. Commerce students doing their graduation pursue masters in this field. Many engineering students also pursue the MBA course.
An online MBA course has the same amount of value as an on-campus course.

An online MBA curriculum is classified into semesters.

Each semester has engaging topics related to management and global business.

Online MBA courses are affordable as well as flexible in India.

Therefore, people who are working in a company and want to achieve a higher position in their workplace can apply for an online MBA program and enhance their skill set.
Online MBA Program by BVDU
The Bharati Vidyapeeth Deemed to be University (BVDU)  is an established university that provides education in various fields such as science, commerce, agriculture, bioinformatics, etc. BVDU, in association with Jaro Education, has started new online MBA courses for all aspiring graduates.
The BVDU Online MBA 2.0 is a two-year program.

It focuses on teaching business administration skills to enhance the student's soft skills and leadership qualities.

In addition, it focuses on developing the management expertise of future corporate leaders.

You can quickly study and get an MBA certificate online with a full-time job.

An Online MBA Degree from BVDU can be more economical and cost-friendly.

The faculty in this online course are experts in the management industry. They have experience of almost five to six years.
This program will help MBA enthusiasts develop skills to identify business opportunities. Furthermore, it will equip them to analyse various business challenges. It will also help them stand apart as leaders and entrepreneurs. 
About the Course 
You need not go through any MBA entrance exam to enroll for this program. The unique features of this online MBA program are:
Curriculum


The curriculum is divided into four semesters of six months each. For each semester, the students will have to read 25-course subjects. The curriculum also includes one project work in the last semester. Examinations are held at the end of each semester.
Faculty


The BVDU Online MBA program has an outstanding faculty set with excellent knowledge about the management field. BVDU also offers special classes with guest lectures.  
Fees


Firstly, to apply for this course, there is an application fee of Rs. 1,000. The program fee is Rs. 1,00,000 that can be made in instalments.

Online Library and Recorded Video Lectures


There is a full-time online library for the students. The students can access this library at any given point. They can watch the lectures according to their convenience. 
Online MBA courses in India are becoming very popular among students and working individuals.
There are several universities that offer online MBA programs in India. If you feel you cannot manage a full-time college MBA course with your job, this is the right opportunity for you. 
Conclusion
BVDU is the right choice for enrolling in an Online MBA program. BVDU has a good line-up of faculty and interesting online teaching techniques.
In addition, this online MBA program will grant you the best business knowledge. You will also learn the management skills to face the real-life world.
So, it's time for you to grab your seats in this exclusively designed Online MBA Course. Get ready to gain industry experience from some of the best instructors only at BVDU!
Subscribe to our Jaro Education's blog and stay updated with the latest information.