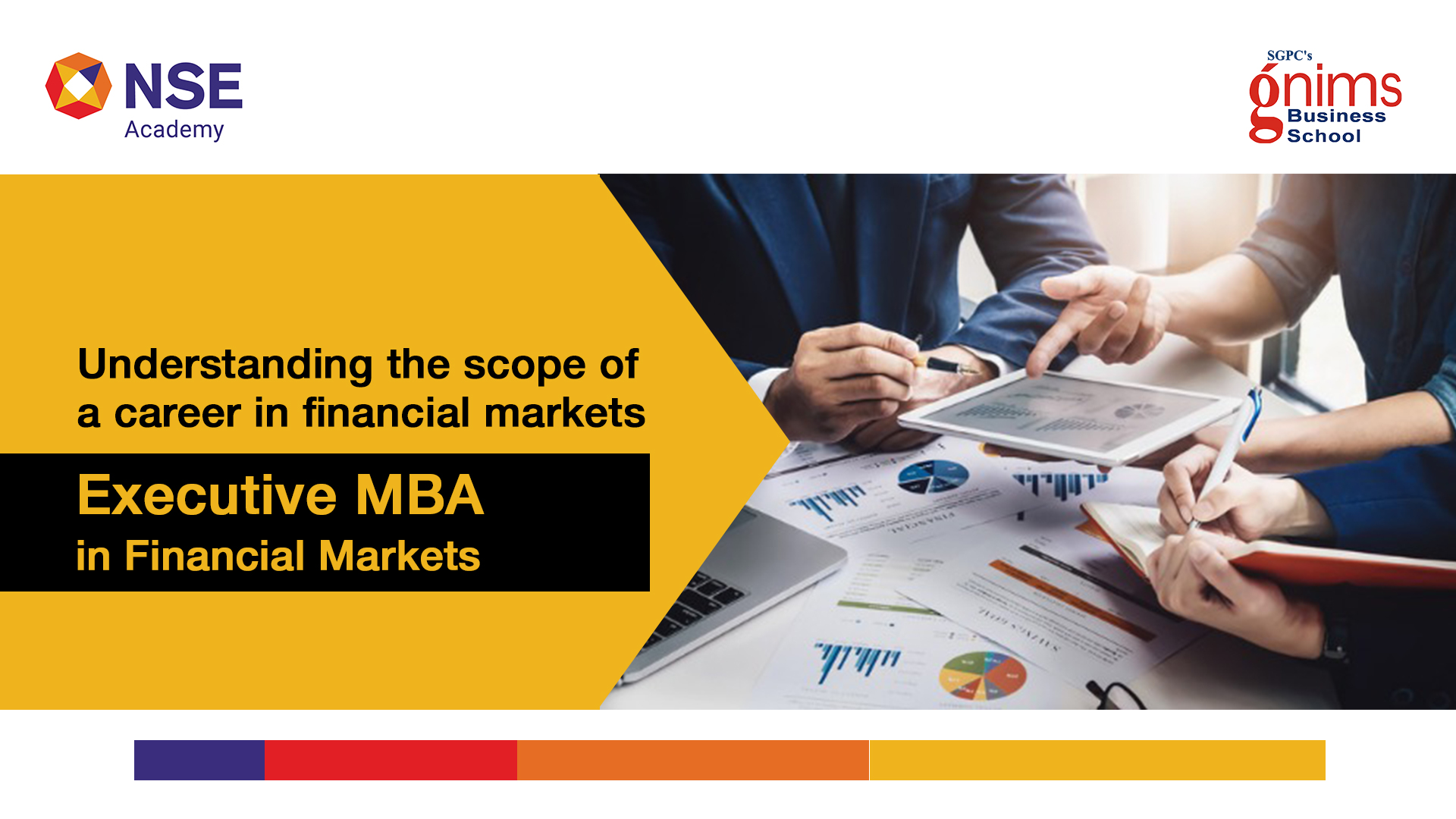 Scope of Executive MBA in Finance in 2021
Introduction
If you're a working professional looking to prime yourself for a leadership position, an Executive MBA program might be perfect for you. Through an Executive MBA, you can specialize in accounting, marketing, finance, or leadership. Courses like Executive MBA in Finance are carefully designed for people already working in financial markets and who are looking to upskill themselves for career growth. This might be your next big step toward a more fulfilling, high-paying, worthwhile career in the financial world.
An Executive MBA in Financial Markets helps you acquire crucial knowledge and skills to secure a higher position in your organization or bag better opportunities in another company. It provides a strong foundation of financial knowledge and focuses on key subjects related to financial markets. To get a high-end job, you will have to stay abreast of the current market trends. What better than an executive MBA to familiarize yourself with all of them?
About the Executive MBA in Financial Market Joint Certificate From GNIMS & NSE Academy
The Executive MBA in Financial Market Joint Certificate from GNIMS & NSE Academy is specifically curated for working professionals. The Executive MBA in Financial Markets combines in-depth knowledge of the operations of the complex capital markets with business strategies, accounting, and marketing. Further, it prepares you for challenging leadership positions in banking firms, financial institutions, brokerage houses, and regulatory offices operating within global financial markets.
The Executive MBA in Financial Markets offers real-life experiential learning in the financial market. You will delve into the working of different financial markets, trading rules, analyzing securities, and how a piece of information can affect trading. To become an expert in all the financial products in the market, an Executive MBA in Finance is the next step ahead.
Scope of Executive MBA in Finance
An Executive MBA in Finance will help in getting senior job roles in the financial sector areas. For working professionals, it is like a dream come true. According to a study, the average salary for MBA finance graduates is around INR 9 lakhs and differs from state to state. In India, Bangalore offers one of the top high-paying salaries, followed by Delhi.
You can secure the position of a finance manager, investment banker, financial analyst, or project manager after completing the Executive MBA in Financial Market Joint Certificate from GNIMS & NSE Academy.
Let us see some of these job roles in detail to understand the responsibilities and requisite skills.
In simple terms, as a financial advisor, you will handle your client's money. You will have to provide your clients with the best investment options available in the market for their benefit. Further, your job will entail keeping yourself updated and engaging with the best investment products in the market to offer the best suggestions to your clients. The starting salary of a financial advisor is INR 3.14 lakh per annum.
This job role is related to production management in both goods and service businesses. As an operations manager, you will enhance product design, strategize operations, streamline processes, and analyze reports. As an operations manager, prepare to bring home a salary starting from INR 4 lakh per annum. 
Business analysts use various tools and software to analyze the data related to businesses and plan accordingly. As a finance professional, you will have to take a deep dive into the financial aspect of data and business management decisions, guiding the business toward more profits. The starting salary of a business analyst is INR 3.5 lakh per annum. 
After completing an Executive MBA in Finance, you can secure a job as a bank manager in any leading commercial bank. You will be developing the annual expenditure and operating budget for the bank. You will also have to look into its performance regularly, analyze it, and come up with strategies for improvement. You'll be in charge of developing operational logistics for the smooth functioning of the bank. As a bank manager, you can earn INR 6.14 lakh per annum as your starting salary. 
A CFO's role is one of the top positions in a company. CFOs are required to take all the necessary financial decisions of the company. In this role, you will analyze the financial data, identify the financial strengths of the company, track the cash flow, and create a working business strategy. The CFO should also know the legalities and laws to ensure full compliance. The starting salary of a CFO is INR 10.24 lakh per annum.
Conclusion
When you complete an Executive MBA in Financial Markets, you are bound to get ample opportunities to grow your career exponentially. A recent report noted a 100% hike in the salaries for professionals who complete an MBA. ​​These candidates secure a much higher job position than people who don't have an MBA degree.
As the world is changing, MBA in Financial Markets online learning courses are becoming a popular choice. Often, these are weekend classes, making them an apt choice for financial professionals who want to upskill to secure senior job roles in finance, without letting go of their day jobs. This means you can fast-track your career in the finance sector today! What are you waiting for? Secure your future by enrolling in the Executive MBA in Financial Market Joint Certificate from GNIMS & NSE Academy.