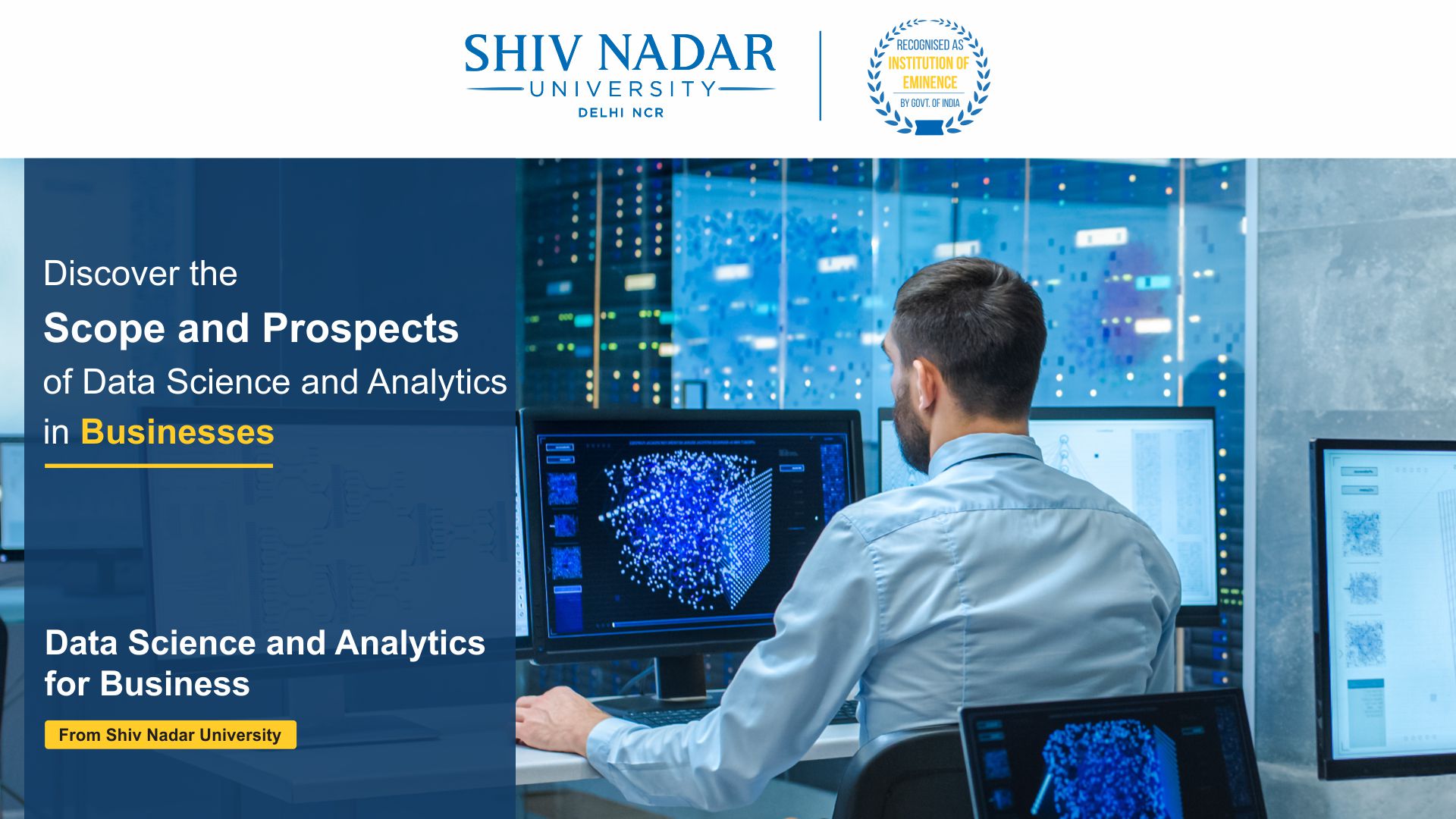 Scope of Data Science and Analytics in Businesses
Introduction
Knowledge of data science and analytics is vital for businesses to respond and grow according to market requirements. A data science certification course is highly relevant in today's era. Therefore, training in data science levels up the business. 
With new business challenges emerging, companies must develop innovative, better business strategies to ensure higher business returns and reduced operational expenses. Data science and analytics help businesses gather and analyze data. It will lead to business growth and attract customers to their products and services.
Companies have a large amount of data for research, creating customer services, deals, and much more. Hence, training in data science and analytics helps companies in numerous ways to grow their business better. Keep reading to find out about the scope of data science and analytics in a business. 
Relevance and Advantages of Data Science and Analytics
Studies in data science and analytics are at the heart of the market. It is a verified approach that helps organizations get rid of biased ideas about consumer demands. A data analysis certificate helps bring out the best market prediction to make smarter and quicker business decisions accordingly. 
Consumer behaviour prediction, latest customer trends, easy interpretation, and other vital information are implemented through data analytics. The scope of data analytics is very vast. The following list covers some points on the importance of training in data science.
Through data analytics, you can build a bridge to learn future trends. Furthermore, you can upgrade your approach and get benefits from it. Hence, the data analysis course is the future of all fields.
Know the Potential Clients or Customers
The most crucial significance of data science and analytics is that it helps a company identify its potential clients and customers. Further, it informs companies on how to attract them.
Reduces the Cost of Operation
Data analytics helps businesses cut their cost of operation and brings revenue by determining the exact type of advertisements needed to attract and reel in customers at reasonable prices.
Companies are required to have a clear picture of where their business is heading and what their future holds. Data analytics helps companies form a vivid picture of their services and how the market responds to them. It helps companies to align plans better.
Scope of Data Science and Analytics in Future
Most people get lost and confused while choosing a field to build a career in and may not be clear about their prospects. Hence, here are some of the facts about the scope of data science and analytics so you can determine if it suits your needs.
Data science and analytics will play a tremendous role in the upcoming years. They will be known as data protectors.

The Internet of Things (IoT) is expected to undergo tremendous growth.

Companies will have an attentive and critical approach toward data security and accuracy.

There will be a massive demand for data scientists.

The upcoming days will cause immense growth in cognitive analysis.
Job Profiles in Data Science and Analytics
There are plenty of job opportunities for people who have a data science certificate online. One of the most critical virtues of data analytics jobs is that companies hire people in such positions based on just a diploma and degree course. Hence, if you have numerical and data analytical skills, you have many positions related to data analytics waiting for you! 
Some of the job profiles and their average salary per year are as follows. 
| | |
| --- | --- |
| Job Profile | Average Salary in INR |
| Database Administrator  | 9 lakh |
| Data Scientist  | 7 lakh |
| Data Analyst | 4.5 lakh |
| Data Architect  | 20 lakh  |
| Statistician  | 4 lakh |
| Data Engineer | 8 lakh |
Source: Glassdoor
Conclusion
While deciding your career, it is easy to get confused about which field to choose. Always ensure that you feel confident and secure in your skill and craft. Therefore, it is crucial to choose the best courses for data analytics. Data science and analytics have much relevance today. 
Apply for the Certificate in Data Science and Analytics for Business – Shiv Nadar University (SNU). The course is designed by experts, and you can get your data analysis certificate online. Enroll today to give wings to dreams!