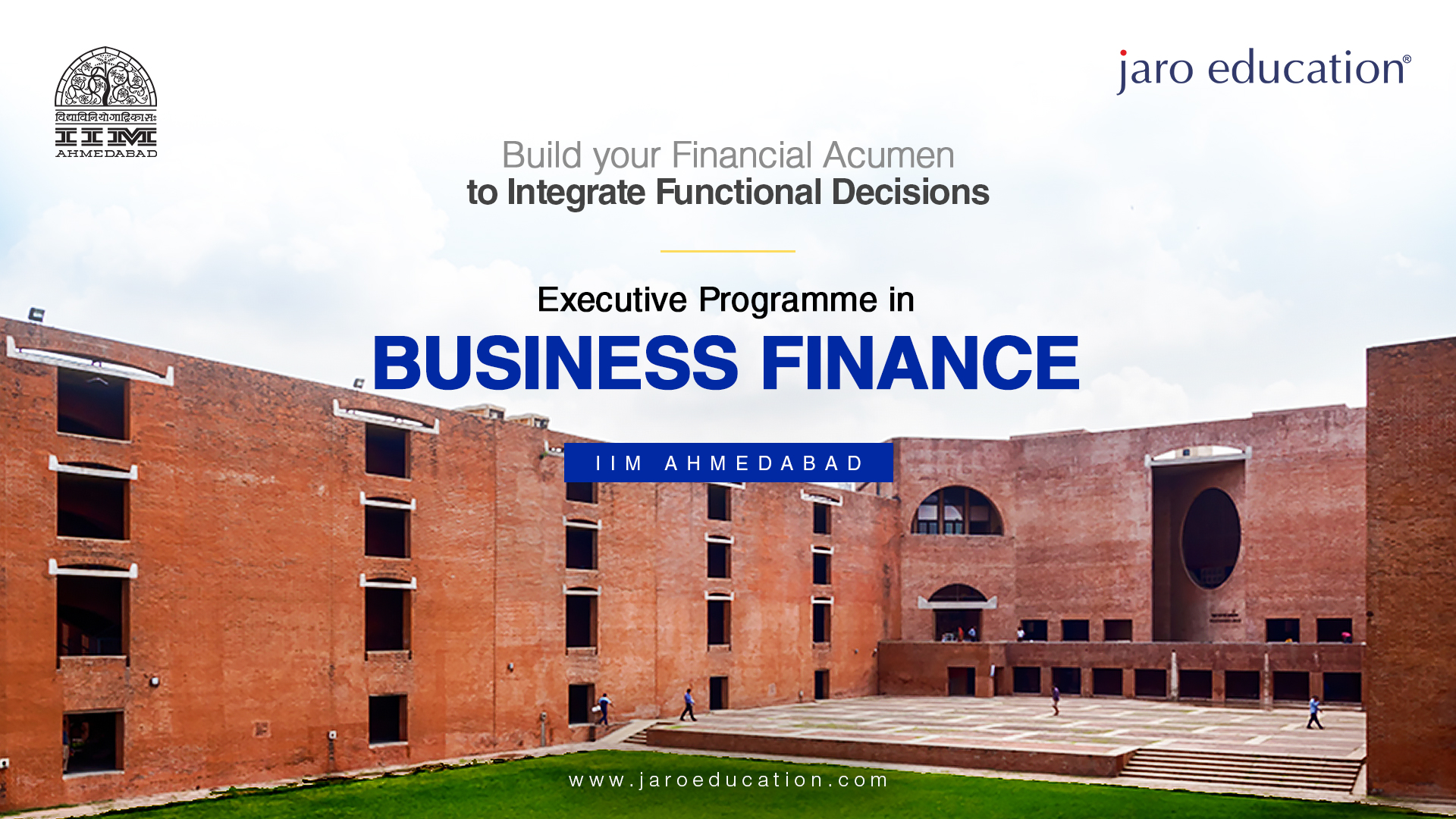 Expand your skills of Business Finances with the help of this Executive Programme in Business Finance offered by IIM Ahmedabad and Jaro Education
Introduction
The significance of the Executive Programme in Business Finance is extremely undermined, and there is an immediate need to incorporate such programs in the curriculum for improved financial decision-making. Some of the crucial financial decisions, such as investment decisions, working capital management decisions, dividend decisions, etc., need to be well thought out for business enterprises to survive over time.
The new-age management skills that are likely to be the most essential for the global business world in the coming future include global strategic thinking, cautious honesty, overseas experience, deep self-awareness, humility, etc. An Executive Programme in Business Finance will act as a great advantage for a growing career and help in inculcating these skills. 
The below diagrammatic representation gives an idea of the basic new-age business toolkit: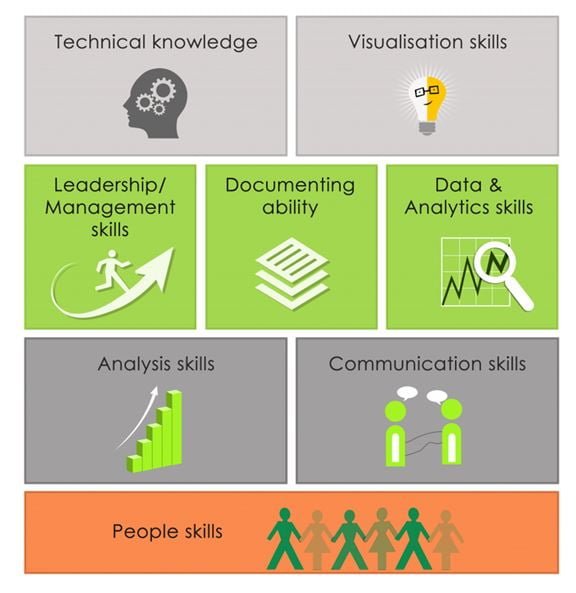 Executive Programme in Business Finance
The Certification in Executive Program in Business Finance initiated by IIM-Ahmedabad is primarily designed for mid-level and senior executives as, generally, their exposure to the finance function is limited. To assume P&L responsibility, it is essential to have a good knowledge of business finance. This Business Finance programme is also intended for managers whose basics of finance and accounting are not very strong, and yet their role requires substantial commercial acumen for actual performance in finances.
Several topics are covered in this program which includes Financial Accounting, Management Control Systems, Financial Markets, and Corporate Finance. This programme also provides a management module to bring about a larger outlook on the business context and commercial negotiations to shape better commercial skills.
This Certification in Business Finance is apt for those working executives who have a few years of work experience and are looking forward to improving their management and leadership skills. It is a five-month programme to help candidates build a strong base on tools and techniques which would further assist in escalating business finances and business management.
Programme Objectives
Some of the primary objectives of this Business and Finance course are as follows:
Business Finance programme will primarily help in understanding the

online basics of business finance

.

Business Finance programme deals with Corporate Finance, Talent Management concepts, paradigms, and theories, which are of great help for middle-level managers in medium and large corporations.

Business Finance programme helps in developing strategies and aiding in effective decision-making and other contemporary issues in management.

Business Finance programme helps in developing skills for planning, organizational design and change management, mergers and acquisitions, operational strategies, managing interfaces with the public, media, and government.
Why This Programme?
It is important to know the significance of this particular Business Finance training course from IIM-Ahmedabad.
Firstly, this is a certification from a premier B-School, and one gets the Certification of Participation of IIM-Ahmedabad.

Secondly, this programme involves two Campus Immersion of two Days each, which is a two-way interaction through HD Virtual Classrooms.

Thirdly, it helps in peer networking and learning opportunities across several industries.

Lastly, it helps individuals to acquire new-age management skills fit for the global business world.
Eligibility
To be part of this lucrative program, one has to have working experience of five years or more with 50% or more marks in their graduation or post-graduation. All participants would be selected based on their background and their application form submitted.
The curriculum of this program is highly interactive with optimum use of technology, along with lectures, real-life case studies, quizzes, and assignments. Some of the areas that this course covers include the development of financial acumen, contemporary issues in management, developing insights and customer resources, financial reporting and analysis, strategic management, and corporate governance.
Conclusion
There are quite a few options for free online Business and Finance courses available; however, there will hardly be any such course that could match up to this programme from IIM Ahmedabad. Business Finance course from India's premier B-School IIM Ahmedabad is a lucrative opportunity for managers to upgrade themselves with the best financial and managerial skills for a better and secure future.
Grab this opportunity to improve your management and finance skills and enroll in the Executive Programme in Business Finance today with IIM Ahmedabad and Jaro Education.
Subscribe to our Jaro Education's blog and stay updated with the latest information.