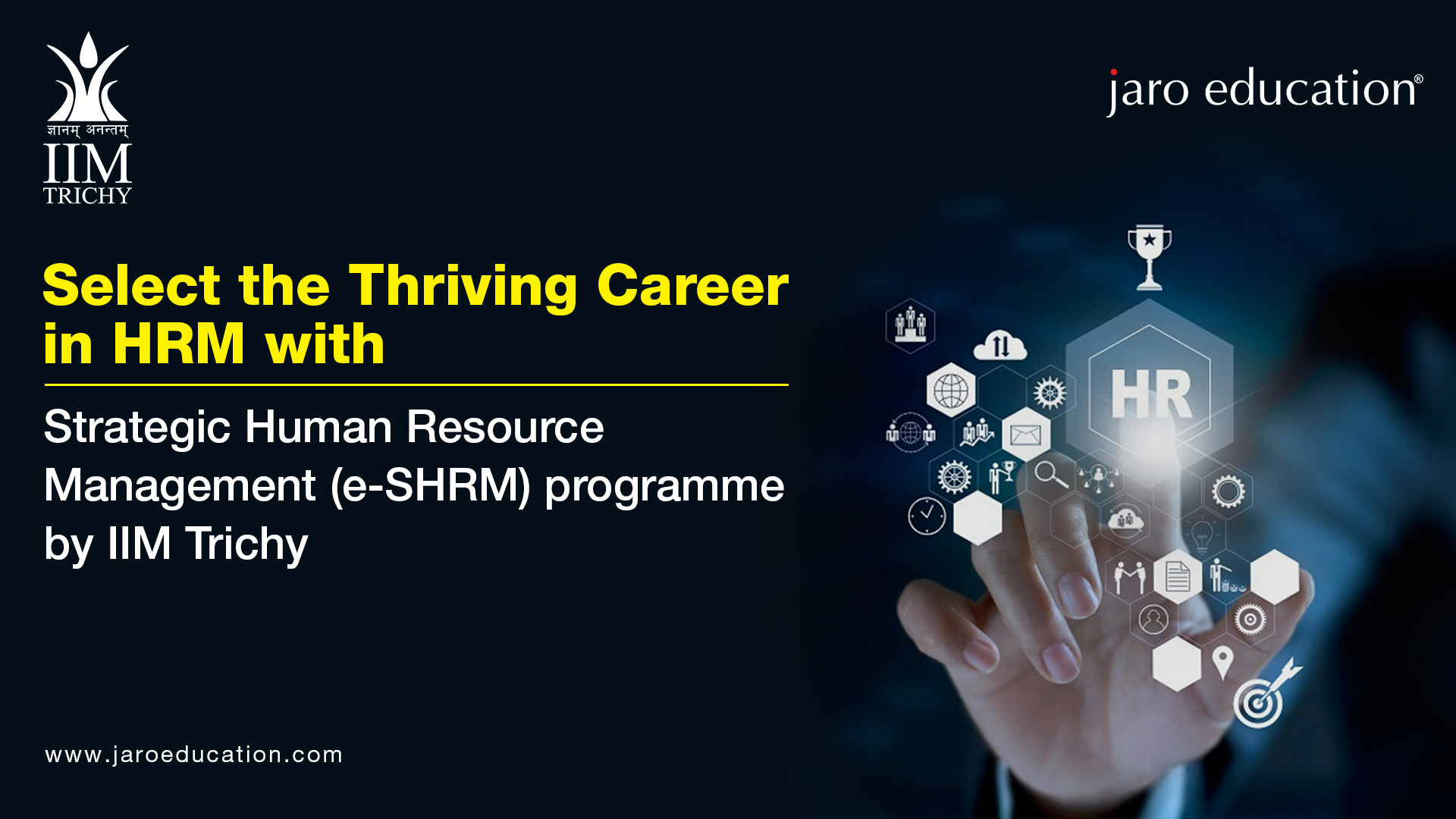 Rediscover how Strategic Human Resource Management maps your HRM career on the right notion
The Future of HR in the digital age
In the digital era, Human Resource management cannot be undervalued. The HR department plays a pivotal role in how a business performs. Human Resources roles and responsibilities are far more challenging than just hiring or paying employees in the organisation. In today's times, HR roles have become more instrumental in ensuring the stability of an organisation managing employees, training groups, recruiting and retaining, etc.
The impact of globalization is leading to a "war for talent", and to deploy this scarce talent Human Resources is disrupting significantly. Yes, HR as a career is constantly evolving shift from administrative tasks to strategic management, and now occupying a seat at the management table.
Becoming an HR Specialist requires a thorough understanding of business strategies that drive success and engage employees — adapting to a dynamic workspace. Adapting and developing in this changing business environment needs relevant skills sets and bridges a knowledge gap. 
HR specialist needs to acquire a balance of skills in design and evaluate strategies to increase the retention of personnel, learn how to build and maintain the company's culture. 
Thinking of undergoing an HR Management programme?
Professionals must learn the core functional areas in human resource management. HR as a career option is not only challenging and demanding but also rewarding. An agile HR leads to happier employees. Most of the organisations pioneering are adopting new-age HR models to demonstrate the core components of next-generation HR.
In recent times, there has been growth in the stature of the Human Resource management profile. Consequently, the HR manager's job is to create a level of excitement and inspire employees. Looking for HR courses to acquire a solid transition in your career. To match your strengths to the right strategic Human Resource levels, study with IIM Trichy- Strategic Human Resource Management Programme. 
The Strategic Human Resource Management Programme is curated to offer in-depth insights into the latest models and frameworks. All students will get exposure to operationalise and strategically align different functional dimensions of HRM. They will gain an understanding of the organisational imperatives and objectives. Students will be developing key skills to become successful HR specialists.
IIM Trichy enables exposure to cross-industry peer networking, which will provide an opportunity for the students to expand their networking. They will learn from eminent IIM faculty body but also from industry experts who will enable 
The programme is designed for working HR Professionals or aspiring executives desiring to pursue a career in HR. Even those professionals who are line managers responsible for HR roles in the organisations should opt for the Strategic Human Resource Management Programme.
Insight on the SHRM Programme Pedagogy
The pedagogy takes experiential learning methodologies, which delivers in hybrid mode with in-campus modules. Students should note that in-campus visits are subjected to pandemic conditions. The Strategic Human Resource Management Programme has two campus visits – 3 days span. The programme is bifurcated in a synchronous learning mode using state-of-the-art studio infrastructure. 
The curriculum for Strategic Human Resource Management Programme is a blend of workshop, Case Study, Experiential projects, lectures and much more. Students will also be a part of the class discussions where they can confidently ask IIM Trichy's eminent faculty for doubt solving. They will get a complete understanding of the Strategic HRM process with topics covered such as Contemporary Issues, Strategic alignment of CSR & Ethics, Managing SHRM for internationalisation, etc.
Learn from Top B-School in India
Ranked amongst the Top B Schools in India, IIM Trichy is scaling new heights in the executive education space. With a resounding footprint, the institute has capabilities in creating and disseminating management knowledge.
The scope of HRM is vast and impactful, executives looking for reskilling or upskilling measures can easily learn from IIM Trichy's top-notch faculty. HR is a sought after career field, you will learn how to make a difference for individuals and organisations.
Prestigious Alumni of IIM Trichy
All students who have successfully awarded PG Certification from IIM Trichy are entitled to receive IIM Trichy's Alumni Status. It bonafide students with the status of IIM Trichy's institute.
Wrapping Up 
HR roles are escalating in organizations. Time to become an ambitious HR expert focus on utilising talents, and filling the gaps between individuals and scale-up companies goals. 
To build a smart career in Human Resource Management — enroll with IIM Trichy.
Connect with our program experts for more information.
Subscribe to Jaro Education's blog and stay updated with the latest information on Strategic Human Resource Management programme from IIM Trichy.
Subscribe to our Jaro Education's blog and stay updated with the latest information.