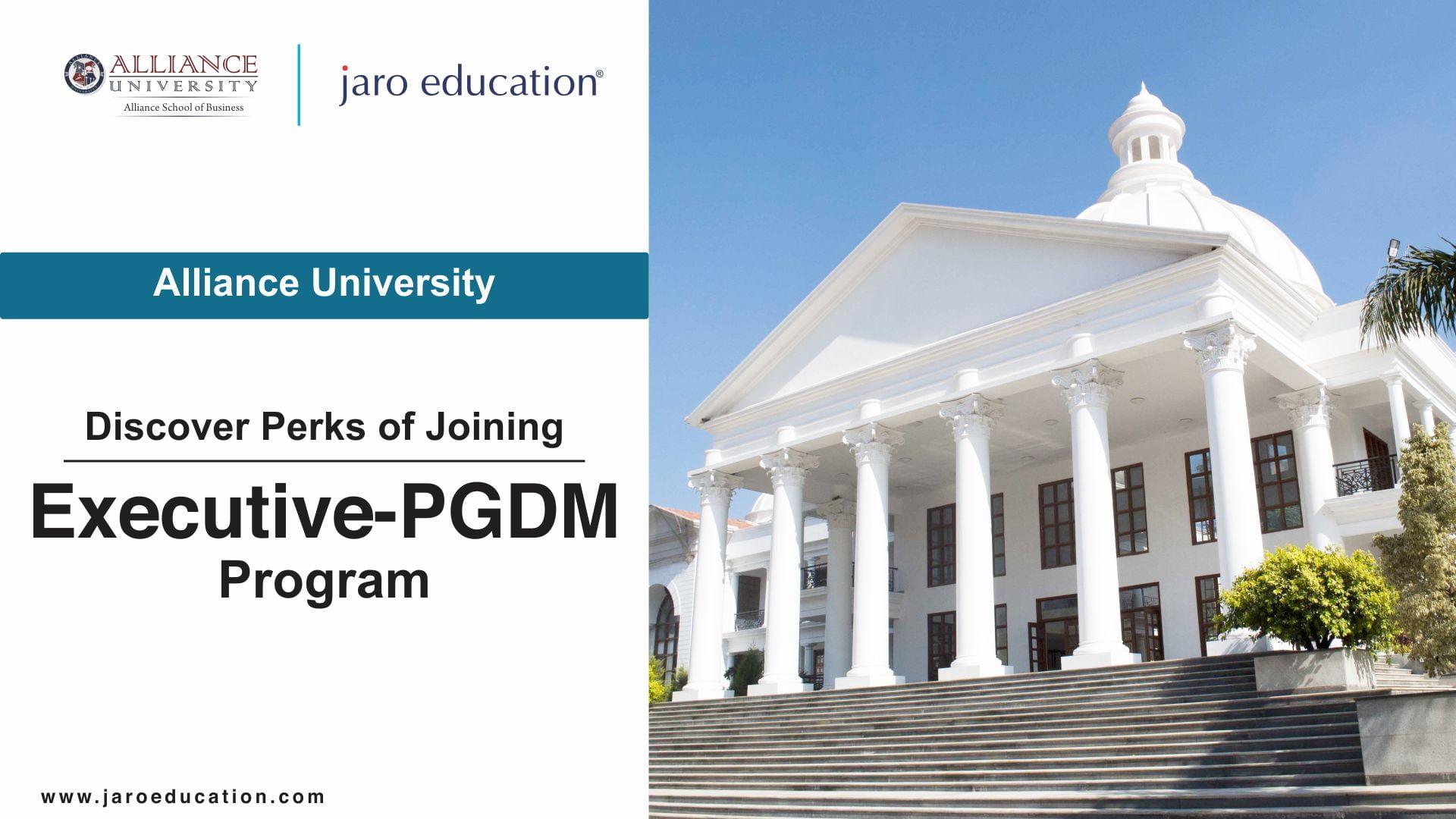 Perks of the Executive PGDM Course from Alliance University
The Executive PGDM in Management Strategy by Alliance University, is a program designed to help supervisors, executives, and others in managerial positions progress in their careers. With the help of this program, working professionals can upgrade themselves to better suit the modern corporate environment while continuing to work in their current place of employment. One can even aspire to be an entrepreneur, focus on founding a start-up or focus on the needs of different organizations across sectors. 
This multidisciplinary Executive PGDM Program offers a host of study areas related to management, namely Marketing management, Financial management, Human Resource management, Project management, Information System management, International Business management, Lean operations management and Business Analytics.
Executive PGDM vs MBA
An Executive PGDM Course is recommended for graduates with work experience of five or fewer years. PGDM programs have an updated, industry-relevant curriculum which focuses on incorporating modern technology and techniques with traditional business strategies.
An Executive MBA, on the other hand, is based on a traditional curriculum followed universally. It is not updated as frequently as PGDM course curriculums, and caters to professionals with extensive work experience under their wing.
Alliance University Executive PGDM Course
Unlike a full-time degree, this program is designed for working professionals, catering to their primary responsibilities at work by being flexible in nature. Thus, an individual does not have to compromise on their work and work experience to complete an Executive PGDM programme. It is important for the individual to consider the right course which caters to these very needs.
This is where Alliance University, one of the top B-schools in India, comes in offering it's Executive PGDM in Management Strategy.  
Executive PGDM from Alliance University: Specializations
You can pursue various specializations under this course, including Marketing management, Financial management, Human Resource management, Project management, Information System management, International Business management, Lean operations management and Business Analytics
Executive PGDM from Alliance University: Placements
In 2020, Alliance University had seen an increase in the number of campus recruiters by over 43%, with companies like Amazon, BYJU's, Ernst & Young, Make My Trip, Federal Bank, and Salesforce. More than 380 companies in total hired fresh graduates for various roles. With placement rates of about 92%, the average pay package was Rs. 7.6 LPA, which has also increased by over 25%.
Benefits of Pursuing Executive PGDM from Alliance University
Why pursue the Executive PGDM in Alliance University? 
Firstly, this course along with your current position at work helps in ensuring you complete your Executive PGDM program with relevant work experience added to your resume. The program offers a level of flexibility, which helps any professional prioritize their time accordingly. 
Secondly, the program will assist an existing professional in gaining industry-relevant knowledge, and help them strategize and perform better. As mentioned earlier, the updated curriculum of this Executive PGDM program in Management Strategy serves as a key element for someone aspiring for growth in the corporate world.
Lastly, completing this program from a reputed university like Alliance University helps in bringing two more key elements to the table. With accomplished faculty and senior industry professionals running the program, one can be assured they will gain a better perspective and have new, useful insights about managing a business. There is a special emphasis on Leadership Development as well, for those aspiring to be true leaders in the future. 
Final Thoughts
This program is one of the best management courses that you can consider pursuing as a working professional. It is a well-designed and well-executed program, combining theoretical and practical aspects of business and their applications in different real-world scenarios. For more details on Executive PGDM in Marketing Strategy From Alliance University  and other programs, subscribe to our blog.
Subscribe to our Jaro Education's blog and stay updated with the latest information.