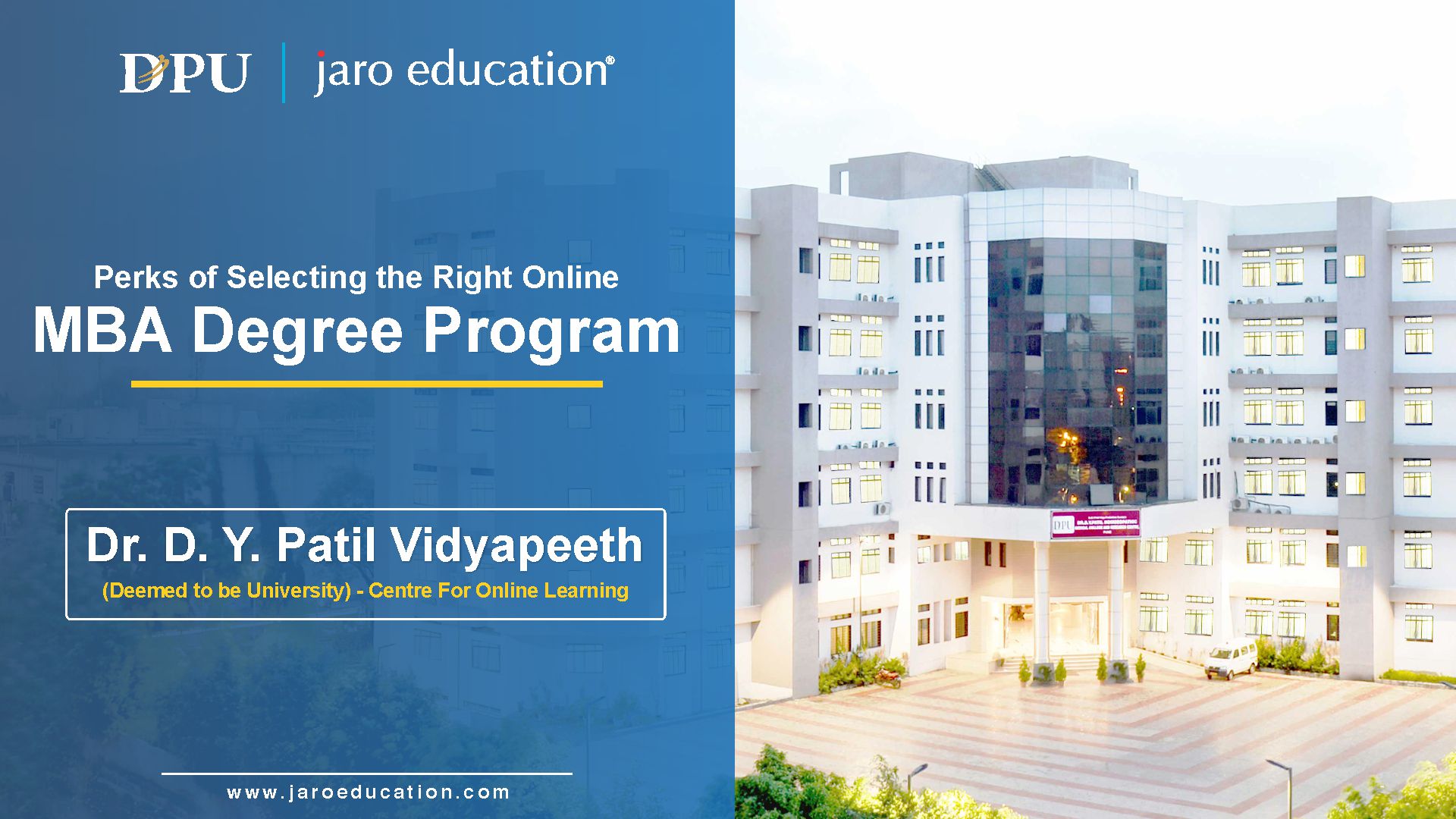 Introduction
Modern problem solving perspectives, networking opportunities, and potential to work in sectors beyond your current scope, all of these often require an MBA program. An MBA program can give you the boost in your career that you've been looking for. But ambitious individuals often face troubles with old-school MBA programs due to the 2 years course timeline and extensive on-campus class schedules. 
If there's no way you can quit work to get enrolled in a 2 year MBA degree, then an online MBA might be the best option for you. Dr. D.Y. Patil Vidyapeeth (Deemed to be University)- Center For Online Learning (DPU-COL)- Online MBA Degree Program offers an accelerated degree, learning classes and excellent coursework to professionals who choose to upgrade their education. This online MBA course comes with the same opportunities and potential as any other MBA degree, but it can be completed in a year!
Why an MBA Certificate Online? 
Recognized and respected globally, the D.Y. Patil University- Online MBA in association with Jaro Education focuses on developing skills and knowledge in individuals that want to branch out in business and climb up the professional ladder. This one-year Online Executive MBA teaches students the key aspects of business management, strategic entrepreneurship, and core management skills. The coursework also includes subjects like analytics, accounting, finance, marketing, business law and economics. Basically, it comprises a rigorous curriculum that any on-campus MBA degree would hold but offers a distance learning opportunity. 
Why choose the DY Patil University Online MBA? 
1. Recognized at a global scale:
A D.Y. Patil is recognized globally when it comes to coursework, experience and placements. The certification is authentic and gives the candidate all the professional benefits of an Online MBA degree. 
2. Cost effective:
An MBA Degree Online will surely help you save potential costs such as relocation and transportation which wouldn't be possible in an on-campus scenario. With the D.Y. Patil Online MBA Degree, you will be able to balance your current work and responsibilities in the same way without having it interfere with your life at all. At the end of the year, you will be recognized as a MBA Degree holder across the world. 
3. Hands-on experience with new tools, technology:
The Dr. D.Y. Patil Vidyapeeth (Deemed to be University) – Online MBA Degree Program offers all the course material, syllabus, reading lists, assignments, books through digital means. In the old-school MBA Degree, you need to keep track of physical forms of assignments and books, but students prefer the online model more considering it offers better accessibility to all the coursework online. The classes are also available online through recorded lectures so there are fewer interruptions and you can replay them whenever you need. 
An online Executive MBA might have its own set of benefits like lowered D.Y. Patil- Online MBA Fees, more accessibility and ease of working, but an MBA program is never easy! You need to commit and dedicate yourself because the curriculum is extensive and the expectations from a candidate remain the same.
An online MBA makes the process of getting an MBA degree much easier on the candidate due to saved costs and flexibility, and this is why many students are now opting for the online model rather than the on-campus MBA programs.
Subscribe to our Jaro Education's blog and stay updated with the latest information.