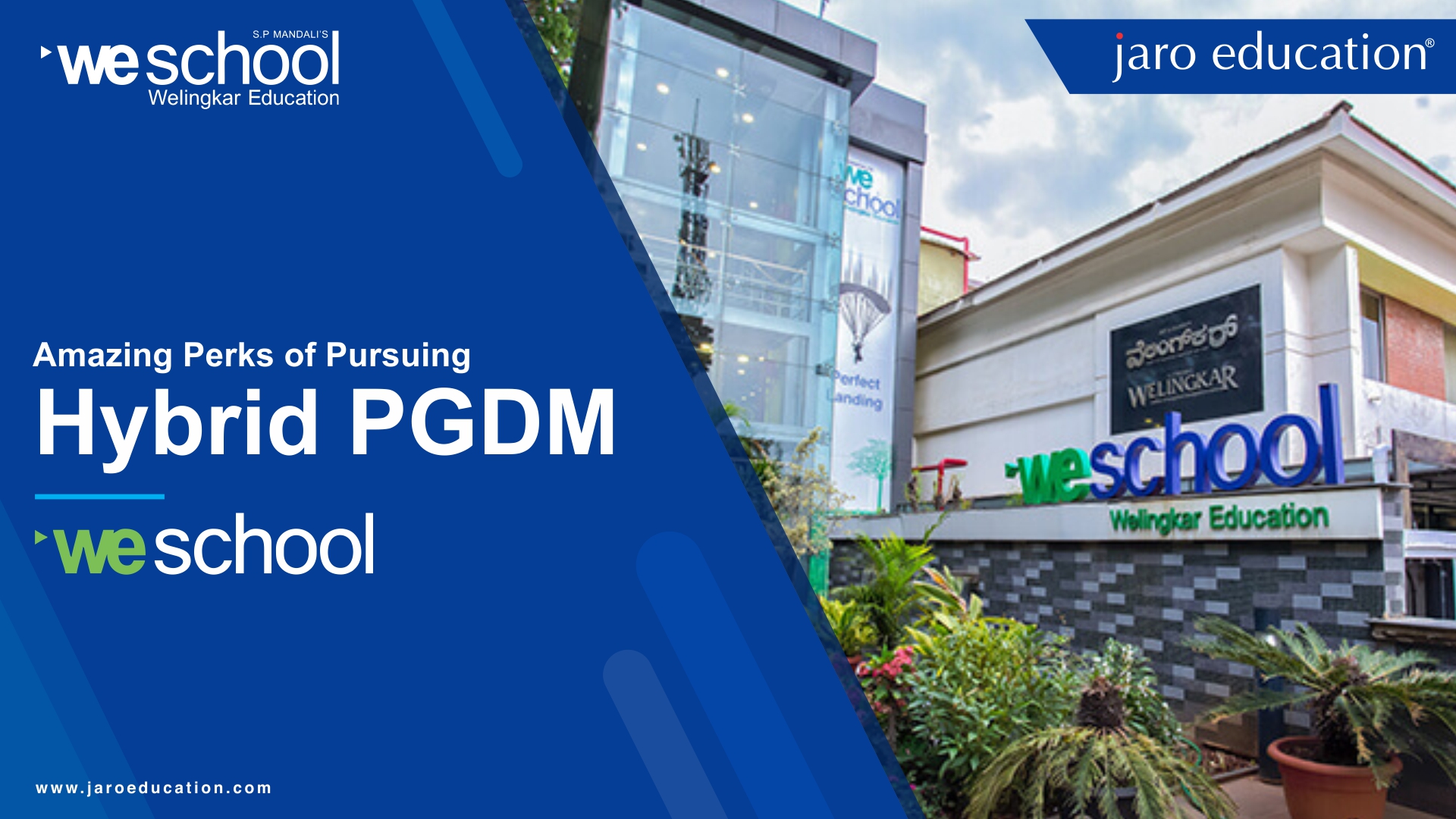 Thinking of taking that leap in your career that you've always desired? Hybrid PGDM might be your answer! A 2 year Hybrid PGDM Programme that offers more than 18 specializations through Welingkar University is one of the most popular programs for post-graduation, and is recognized globally.
The Hybrid PGDM From Welingkar is similar to an Online MBA program or a part-time MBA, and it allows you the flexibility of learning according to your convenience and the accessibility of all the study material and assignments. 
Now that you've decided you will be opting for a post graduate degree, it can be really difficult to manage work and family responsibilities. It is not always possible for a candidate to give up their well-paying job and relocate to a city for an entirely on-campus MBA program. The Welingkar PGDM Hybrid Online offers its advantages in a time like this. It gives you all the potential career opportunities that traditional PGDM courses give along with the chance to pursue distance learning. 
Advantages of the Welingkar PGDM Hybrid Course in association with Jaro Education – 
Convenience and flexibility:

Unlike the on-campus programmes, a PGDM Hybrid Program allows candidates to study, turn in assignments and appear for examinations according to their convenience. This allows them much-needed flexibility to manage their work and family responsibilities and yet work towards a PGDM degree.

Educational advancement:

Just because

Hybrid PGDM

provides distance learning, doesn't mean it won't give the same benefits as a traditional MBA course. In fact, a

Hybrid PGDM from Welingkar

is recognized worldwide and gives you the same future career prospects as any online MBA or PGDM course would give. Through its course schedules, multiple webinars, experiential teaching, workshops, etc. you can gain experience and credible qualification that tremendously helps you in your professional journey. 

One step closer towards your career goals:

Whether you want to step into a managerial position, or switch careers, a

Hybrid Program PGDM

would surely take you one step closer to those goals. Through the theoretical knowledge and workshops in this course, you will learn to apply it practically in your profession and make progress in the direction that you choose. 

Accessibility:

All the course material, assignments, lectures and examinations will be available to you online and you can securely access them at your convenience. Most students prefer the

Hybrid PGDM Program

 because it provides them with all the material needed for the course with just one click! 

Multiple specializations offered:

The need for further studies post graduation is now felt in almost any and every field. That's why the

Welingkar executive MBA

brings you 18 specialization courses to upgrade your CV. Whether you're looking for a PGDM in travel, finance or marketing, with this course, you get the best of everything.
Apart from the obvious advantages of Hybrid PGDM From Welingkar, this type of post graduate program also gives you a personal experience in discipline and time management. It puts you in control of the course and you're able to design the studying and assignment schedules. The management needed here will help you immensely in your professional growth.
Subscribe to our Jaro Education's blog and stay updated with the latest information.