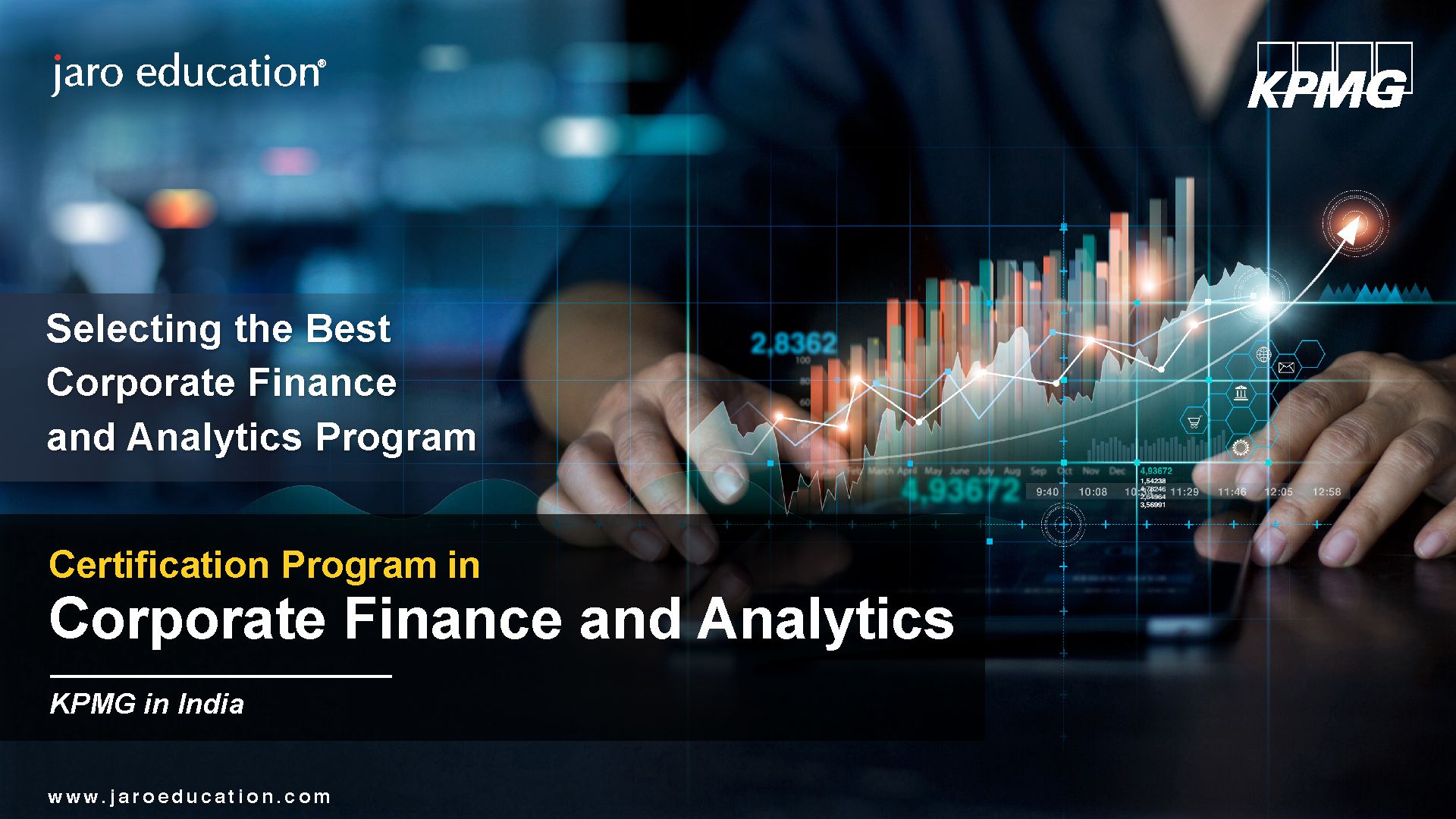 Perks of Choosing a Corporate Finance Course
Introduction
Professionals in the world of finance management time and again consider upgrading themselves to be Corporate Finance Analysts. The role of a corporate finance analyst is to assist in managing a company's funding, capital structuring and investment decisions. 
To make this transition into the world of corporate finance, completing the right certification course is of extreme importance. Not only does it certify your qualification to be hired by a company, but also equips you with the right knowledge, skills and understanding of tools utilized by an Analyst. Thus, let us discuss the perks of completing a Corporate Finance and Analytics Course. 
Perks of choosing a Corporate Finance and Analytics Course
Here is a quick review on how completing a Corporate Finance and Analytics program can be beneficial:
For any experienced finance professional, completing a course of this nature adds to their already impressive resume. This certification gives them the much-needed qualification on paper to apply for a good position in the world of

Corporate Finance.

 

The learnings from this course are industry-relevant and application-based, thus having a direct impact on the way an analyst is expected to deliver for the company. Having the right knowledge, developing the right skills, having high proficiency in the tools, software and techniques is imperative for a

Corporate Finance Analyst

.

As a working professional, it's understandable leaving one's current position of work is very difficult. This is where

KPMG in India's Certificate Program in Corporate Finance and Analytics

can help, by providing flexibility to an individual. The classes are online and scheduled during the weekends to ensure it does not interfere with your primary responsibilities. 

Completing this course from the right organization is just as important. KPMG, a global network of professional service providers and the leading finance, accounting and advisory firm, is naturally the best option. Using a curriculum designed by this industry-leading firm, the senior industry professionals at KPMG in India deliver this course to the candidates. 

While most courses are delivered via recorded lectures,

KPMG in India's Certificate Program in Corporate Finance and Analytics

provides over 100 hours of interactive learning sessions. It creates an interactive environment with a good exchange of information between the candidates and the mentors. This also serves as a good way for the candidates to interact among themselves, providing an opportunity for peer-to-peer networking.
Eligibility 
For being a part of an advanced course like this, it is understandable that the candidates enrolled need to have a basic understanding and a certain experience in financial management. Therefore, the candidates eligible for this course have to be finance professionals with 3+ years of experience as:
Finance Managers

Corporate Finance Professionals

CA, FRM, MBA Finance, CFA Program candidates 

Self-employed finance professionals

Graduates 
If this criteria is satisfied, the individual will be eligible to apply for and participate in the KPMG in India's Certificate Program in Corporate Finance and Analysis.
Corporate Finance Course Modules
The module of this course follows the industry-driven curricula that include financial planning and analysis, planning, budgeting, forecasting and financial decision making, business analytics, data interpretation, visualization, and technical accounting. The course also addresses personal development and applied learning. 
Conclusion
Thus, we can conclude that a finance professional, with experience under their wings can significantly benefit from completing a course in Corporate Finance and Analytics. The course not only helps in re-orienting them towards a successful career in Corporate Finance, but also promises to deliver the same through an experienced, established set of professionals from a world-renowned firm like KPMG. To know more about KPMG in India Certificate Program in Corporate Finance and Analytics or other such programs, subscribe to our blog.
Time to Subscribe to our blog and get started with Corporate Finance and Analytics