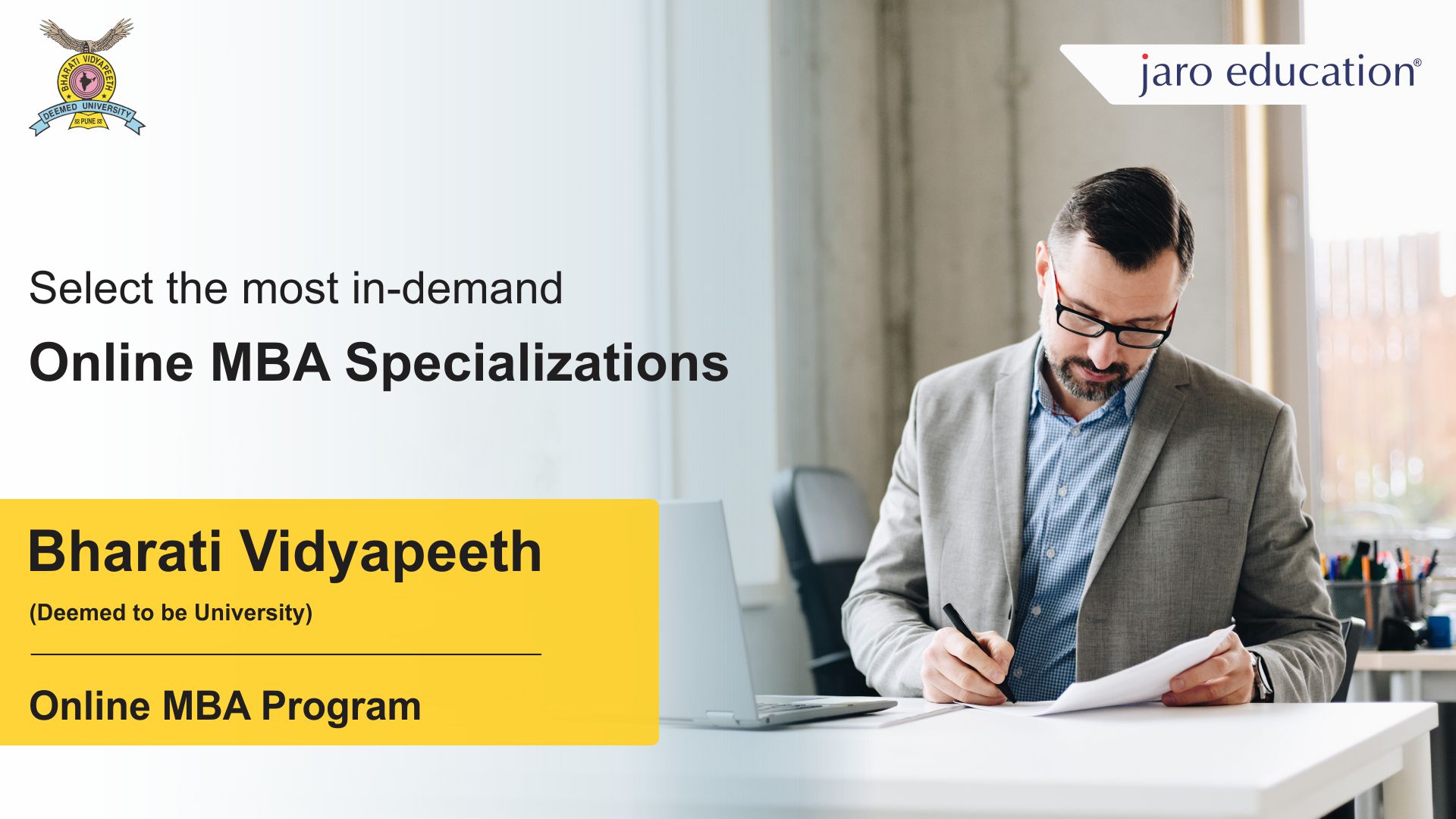 Online MBA Specializations : Which One Should You Do?
Introduction
With the increasing competition in the corporate world, everyone is looking to grow professionally. However, it is difficult for working professionals to quit their jobs and go back to college. Keeping in mind the rising demand for quality education by working professionals, many leading universities have come up with online MBA courses in India. These courses help professionals to balance their careers along with education. The online MBA courses have helped various professionals to choose from a wide variety of specializations per their professional requirements.
The times have changed, and so has the mode of education. Nowadays, online MBA programs provide students with the same offline classroom facilities. With the flexibility and affordability they provide, online MBA programs in India have seen a surge in demand.
MBA Specializations Available 
The students can choose one specialization during the first year of admission in their online MBA courses. Further, they can select the second specialization before the start of the third semester. They can even go for a dual specialization per their professional requirements. 
Specialization in Marketing is the most popular option for candidates looking for a profession in sectors like FMCG, industrial companies, technology firms, market research firms, B2B & B2C sectors, sales, digital marketing firms, and branding firms, specialization in marketing will help them succeed.
For professionals seeking to upskill in the finance sector, including asset management, banking, investment, private equity, hedge funds, finance consulting, and finance in various corporations, a finance specialization will benefit them.
An HR candidate plays a significant role everywhere, from small firms to large-scale corporations. If a candidate is looking for a position in talent acquisition, performance management, compensation, business ethics, or industrial relation management, an HR course is the perfect specialization.
International Business Management
Specializing in International business is ideal for candidates looking to acquire skills that involve handling global business operations, administration, and management.
Production & Operations Management
Production & Operations management specialization is ideal for those looking to get jobs in sectors like industrial equipment manufacturing, IT, supply chain and logistics, e-commerce, construction, manufacturing, and  IT Management.
Specialize in IT management, if you wish to work as team leaders and project heads in IT firms. Learn to plan, design, select and implement projects and much more.
Professionals with an inclination towards the rural economy and see themselves working as rural managers, agriculture policy analysts, commodity merchandisers, quality controllers, and farm appraisers in various agriculture-related firms should go for a specialization in agribusiness.
Specializing in retail management is a great idea for candidates having the forte and interest to work with leading FMCG & FMCD companies and manufacturers.
Online MBA Course From BVDU
The Online MBA Program – Bharati Vidyapeeth (Deemed-to-be-University) is a two-year online MBA program. It provides a holistic approach to the business world. The university provides various specializations, and it is up to the student to choose whichever suits their professional requirements. The online MBA course improves the management skills of future corporate leaders. 
There are various advantages of pursuing the Online MBA Program from Bharati Vidyapeeth (Deemed-to-be-University). 
The university has designed an industry-oriented curriculum so that the students can get maximum exposure while learning. 

The course includes practical business training, interaction with business experts, and workshops to enhance professional learning.

A crucial advantage is its flexibility. If the students miss a lecture, they do not have to worry about it as recorded videos of the lectures are provided for learning and future reference.

The university conducts various forums for discussions with industry experts, professors, and students. It helps the students to gain more insights into how the corporate world works.

The online MBA course helps the students to enhance their ability to work with various cross-functional teams through workshops, assignments, and presentations.

To use technology to enhance the problem-solving skills of the students.

The

online MBA

from BVDU helps the students develop analytical skills and brainstorm innovative ideas that will help corporates scale new heights.

It provides students with an industry-related approach along with the soft skills to work efficiently in any work environment. 

The live lectures impart knowledge through various case studies, workshops, discussion forums, assignments, and presentations.
Conclusion
The Online MBA Program – Bharati Vidyapeeth (Deemed-to-be University) offers a wide range of specializations, interactions with industry experts, multiple workshops, and education through an industry-related approach. It will help boost your career trajectory. Moreover, you can choose from diverse specializations as per their professional requirements. Enroll today to upskill yourself!
Subscribe to our Jaro Education's blog and stay updated with the latest information.