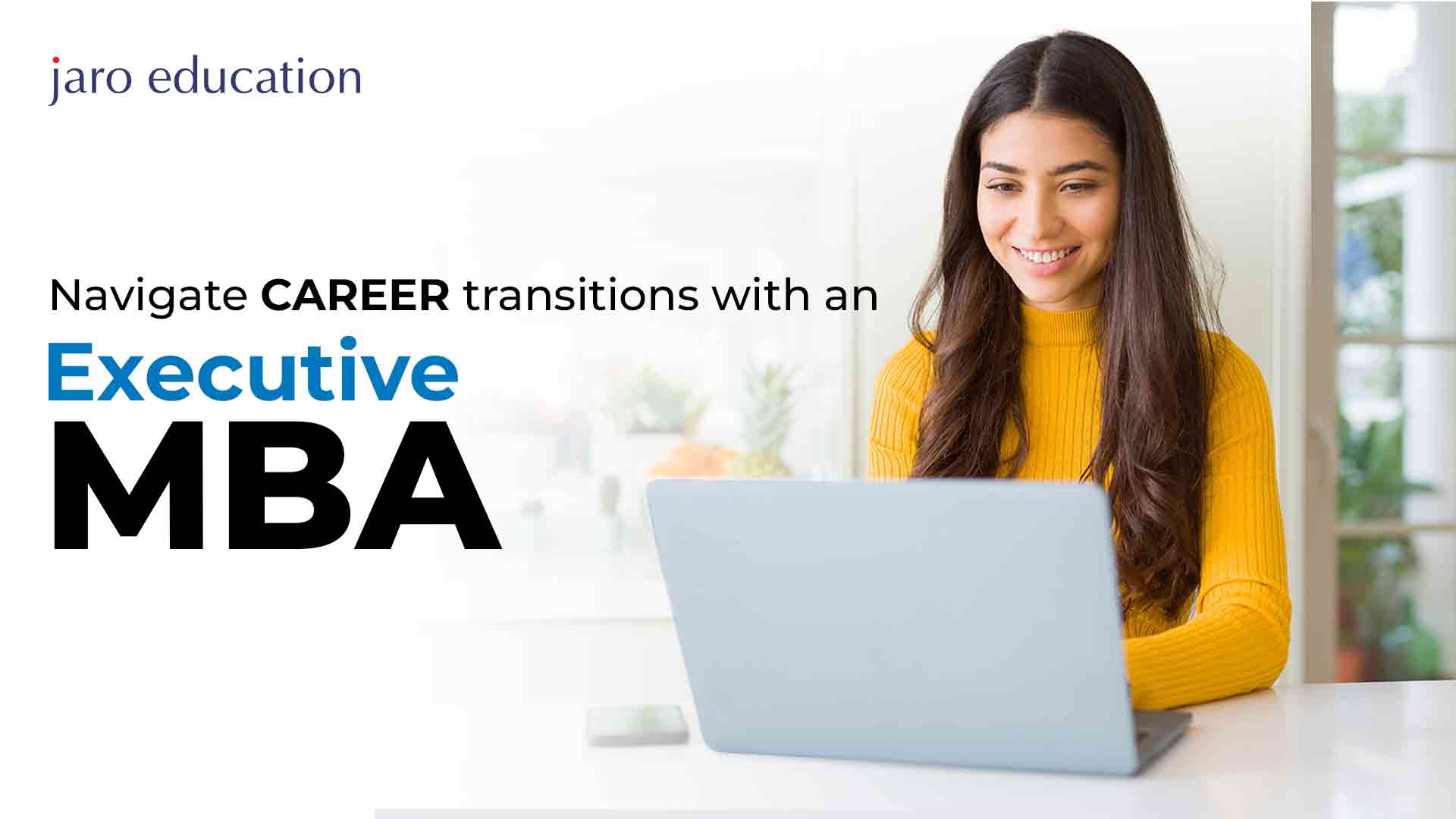 The business world is rapidly evolving, and career transition is the only way to keep up with the pace. To pivot into new industries and advance your career, you need to expand your network and develop new skills. You have to stay updated and know the trends in your field. An executive MBA course can help you make an informed career transition and benefit you in the long run. It is a popular option that gives you ample opportunities to develop leadership skills, comprehend business strategies, and build a strong network of contacts. 
To ensure a smooth career transition, the Executive MBA program offered by Dayananda Sagar University can help. This 17-month course entails all the crucial aspects of the modern-day business world. This course offers flexible online classes that support professionals to scale up in their respective corporate roles. Enroll soon in DSU's Executive MBA Program and master operational aspects at your convenience.
Comprehending the Benefits of Online Executive MBA Courses
Executive MBA program is flexible and convenient. Besides, the program offer many other benefits, as mentioned below.
Professional Upliftment
Popular Executive MBA courses are specially curated for professionals with a knack for upgrading their knowledge but cannot be a part of traditional courses due to work and personal commitments. Professionals do not have to leave their job to enroll in such courses. This enables them to apply the skills acquired in their current jobs. This enables them to stand out, have a progressive career and even choose a career transition. 
Flexible Curriculum
Working professionals are the focal point of Executive MBA Programs. So, they cater to their needs by being far more flexible than traditional programs. As professionals have scheduled work, they cannot commit to a full-time course, so these programs are structured in a way that allows applicants to balance work and personal commitments. The students can take up classes as feasible for them. These programs offer either completely online or hybrid learning options, which provides further flexibility. 
Practically Designed Program
EMBA programs are more applied and practical. Through these courses, students can explore a wide array of business disciplines like marketing, finance, leadership, and strategy. These disciplines can provide the participants with a holistic view of the business fraternity. 
Affordable
When you seek an affordable MBA course, EMBA programs are ahead of traditional full-time courses. In many cases, the employer also sponsors the course, further cutting down the cost of the program. These courses have shorter duration than traditional 2-year courses, which indicates that participants may need to spend less on the tuition fee. Moreover, the online instruction mode does not require people to relocate, which further reduces expenditure. 
Self-Paced Learning
As EMBA courses are conducted in an online or hybrid mode, it allows students to complete the coursework at their own pace. You can take breaks as you want and explore the study materials whenever you want. These courses also offer career advice assisted by experts in the field. Through their personalised guidance and feedback, you can make wise career decisions.
Enhance Leadership Skills for an Ideal Career Transition with an EMBA Program
For career transition in management, leadership skills are pivotal. The minute aspects of leadership skill enhancement, like courses on communication, conflict resolutions and team building sessions, play critical roles in the lives of professionals. These programs also empower participants with practical tools and strategies to build teams effectively and keep teams motivated. These skills are particularly valuable for professionals who look forward to taking up new roles in the existing company or taking a leap by switching to a new industry. 
EMBA courses also provide the scope to engage in experimental learning along with leadership enhancement activities. Team projects, simulations, and case studies help participants to practice leadership skills in real-world backgrounds. Furthermore, these programs allow you to engage in valuable conversations with industry leaders from time to time. This enables you to gain different perspectives and insights on leadership qualities crucial in various contexts.
Reach Your Career Goals by Leveraging EMBA Experience
Enrolling in an executive MBA program is an excellent way to take your career to the next level. It is a fine way to network with fellow professionals and gain exposure to new job areas and industries. These programs bring together professionals from diverse backgrounds and industries. This helps build relationships with like-minded professionals from whom you can gather information about valuable connections. 
Through EMBA courses, you can indulge in hands-on learning and gather practical experience in many aspects of management. From simulations to case studies in teams, it enables you to check all tick boxes crucial for career transition. These experiences can help you build a strong resume by demonstrating your expertise to potential employers.
Conclusion
Executive MBA programs provide management professionals with the scope to smoothly navigate career transitions. With a proven curriculum, it offers affordability and practicality. It promotes self-paced learning and gives numerous opportunities to develop leadership skills and network with experts in the field. From exploring career prospects to reaching career goals, it assists participants at multiple levels. 
To witness all the offerings of an EMBA course, DSU's Executive MBA Program is among the best options in India. It provides 11 specialisations along with a progressive and contemporary curriculum that provides ample flexibility. -. 
Want to boost your career in management? Connect with Jaro Education's program advisors now.