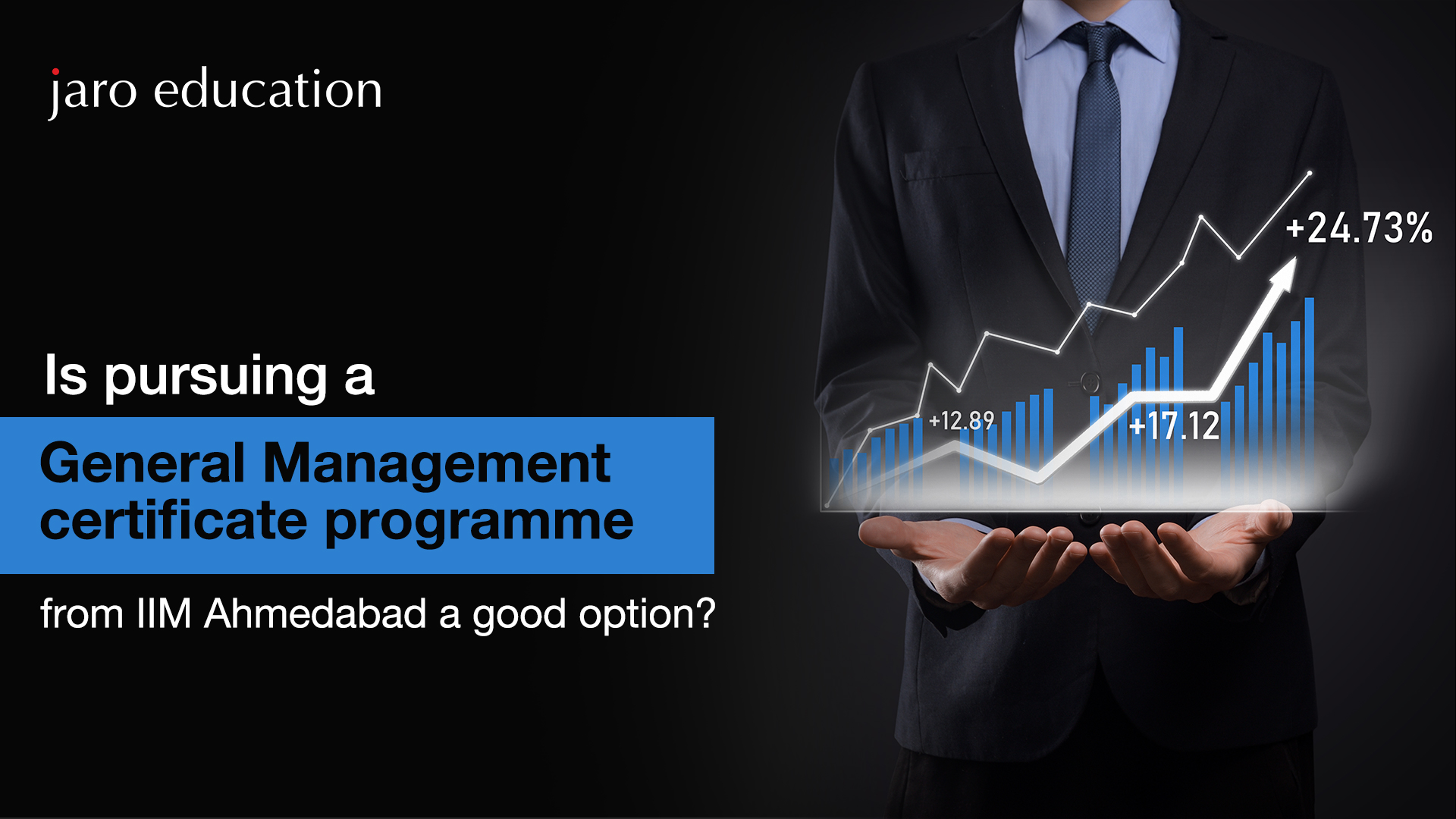 Is Pursuing General Management Certificate Programme From IIM Ahmedabad A Good Option?
Ever wonder if pursuing General Management Programme is a wise choice or not?
Even a short period of stagnancy in our career can make us feel directionless and unmotivated. That's why it's important to invest in professional education to move forward in your career and with the right goals in mind. An executive program for working professionals teaches you about the modern techniques and concepts that you won't usually get to learn on the job. By introducing you to the new age tactics used in the global business world, it opens up a whole new world of opportunities.  waiting to happen. 
Aspiring mid-level managers from various industries often desire to make strategic decisions that would take their company to great heights. But due to the lack of insights and wider business perspective, they only end up playing safe. However, if you no longer want to stick to the same old decisions and are ready to take risks an Accelerated General Management Programme can get you there. This programme can equip you with new-age concepts, strategic techniques and the proficiency and understanding of financial aspects required to successfully lead and manage various teams. However, if you are unsure whether you're making the right choice by pursuing the IIM Ahmedabad Accelerated General Management Program, here's an extensive guide to help you with your decision. 
Build a powerful network of peers and industry leaders
The IIMA Accelerated General Management Program is a blended learning course that allows you to interact with your faculty and peers while at campus and when learning via virtual classrooms. It enables you to build a strong networking base and encourages peer to peer learning. The connections you build during this course can also help you further in your career. 
Broadens your business management perspective with modern concepts
This advanced professional learning program for general managers is designed in a way that expands your perspective over several management related concepts. The IIM Ahmedabad Accelerated General Management Programme gives you a deeper understanding of modern concepts and techniques, thereby enabling you to make wiser decisions for your firm. You no longer have to stick to the same old techniques to witness the same old results. With IIM Ahmedabad- Accelerated General Management Programme, you will receive the confidence to experiment and be innovative. 
Enables you to build effective strategies for several teams
Once you are equipped with the new age concepts, management techniques and essential hacks, it is easier to make effective strategic decisions for your company. You can organize your teams in a better way and lead them towards better and more profitable decisions. The IIMA Accelerated General Management Programme will give you the edge you need to get noticed by your seniors. 
Get a certification from a premier B-school
IIM Ahmedabad is a prestigious institution known for its quality education and infrastructure. It is one of the best institutes in India, especially known for its management programs. After completing the one-year-long IIMA Accelerated General Management Programme, you'll receive a degree from this premier B-school that will help you get immediately recognized by Indian as well as top-most global firms.
Equips you with cutting-edge management skills for the global business world
The IIM Ahmedabad Accelerated General Management Programme prepares you for the global competitive markets. It equips you with cutting edge skills that will not enable you to face all the challenges in the modern business world.. It gives you a global perspective towards several management techniques and ensures that you are up to date with your management skills.
This one year blended learning programme with campus training as well virtual classroom training gives you the flexibility to learn as you earn. Its technologically advanced pedagogy allows two-way communication even via online learning. However, you would be required to attend your classes at least twice a week. The Accelerated General Management Programme is specially designed for working professionals with five or more years of experience. Participants will be selected based on their background through the application with their motivation-based details mentioned on it. Once you're selected, you're in for an incredible journey towards rapid professional growth. IIM Ahmedabad Accelerated General Management Programme is a prestigious management course that will strengthen your learning levels but also polish your personality.

To deep drive in the nuances of general management and master key skills; join IIM Ahmedabad Accelerated General Management Programme. For more insights, stay tuned and connect with our program experts to save your spot.