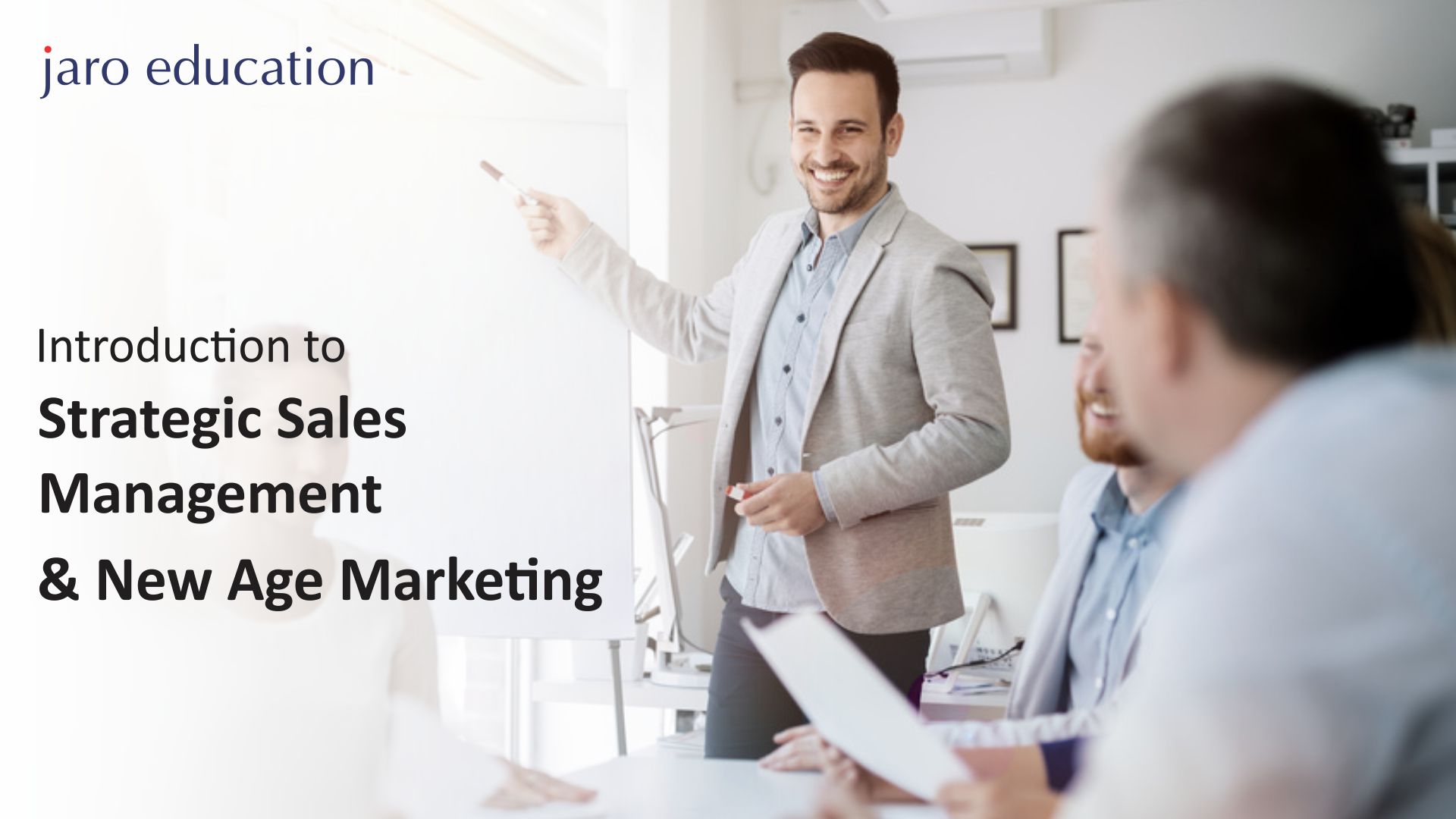 Introduction to Strategic Sales Management & New Age Marketing Certificate Programme
Introduction
In the modern era, where competition is at its peak, sales and marketing have become two of the most valued avenues for companies. Generating sales in a demanding and dynamic environment can be highly challenging. 
Marketing also plays a major role in increasing the visibility of the products and services offered by the company. The right combination of sales management and marketing management is the key to a company's growth and success. 
You can readily learn this by upskilling yourself to meet the industry's growing needs and expectations. Taking an online marketing management course is the best option for working professionals who already have some prior experience in the sales domain to grow in tandem with the company's needs. 
Strategic Sales Management & New Age Marketing Certificate Programme – IIM Kozhikode offers a 12-month long online marketing course, and it is considered to be suitable for people with 4+ years of experience in the sales or marketing domain. It is designed to upskill existing sales professionals through teaching methodologies using case studies and modern-day techniques. The programme is characterized by modern teaching and evaluation methods, such as projects, assignments and quizzes. 
Highlights of the programme
Here are some of the major highlights of the programme:
A certificate of completion
Candidates who complete the 12-month-long course and pass the assessments with a required percentage of marks receive a certificate of completion. Students who fail to meet the evaluation criteria only receive a certificate of participation. 
IIM Kozhikode – Executive Alumni Status
The Candidates gain the reputed IIM Kozhikode executive alumni status after having successfully completed the programme. Participants are entitled to the benefits of alumni networks that can further enhance their connections in the workplace.
Case study-based teaching pedagogy
The programme uses real-life case studies to give practical insights and experiential learning to develop a more effective and adaptive workforce of salespeople.
The programme is structured to help participants to gain practical exposure with the help of sales and marketing management projects and assignments. It helps to understand the practical application of theoretical concepts, making for a great learning experience. 
The course has been designed to showcase how data science and AI can be used to drive sales effectively. 
The faculty at IIM Kozhikode is highly experienced, with both industrial and academic experience.
Benefits of the programme
Here is why the programme is your best bet at learning better:
The programme is suitable for you if you are a working sales or marketing professional as it helps you transform into a better sales executive and gets you ready for higher positions in sales and marketing. 

IIM Kozhikode- Strategic Sales Management & New Age Marketing Certificate Programme

is one of the best sales management and marketing courses and can boost your career.

It helps professionals understand and learn new-age marketing tools and use them to increase sales.

Also, transforms you into a sales troubleshooter and enables you to solve problems related to sales. 
Eligibility criteria
You should be a graduate (10+2+3) or a Diploma (10+2+3) holder in any discipline from a university recognized by AICTE, UGC, AIU, DEC, or other state governments. 

Diploma holders (10+3) with a minimum of 10 years of work experience as a supervisor at the time of application will be considered eligible for the course. 

International graduates in any discipline from a recognized university are eligible for the course.

You should possess a minimum of 4 years of work experience in marketing management or sales management, or have 5 years of work experience as a business manager.
Course structure
Participants get to be a part of 2-way interactive lectures through virtual HD classrooms. 

The programme is specially designed for working professionals. So, the classes are held only once a week on Sunday for three hours, from 10:00 am to 1:00 pm. 

The course fees are around INR 2,60,000 (excluding GST and other taxes). An application fee of INR 2,000 is also applicable. 

Candidates can pay the fee in 3 equal installments of INR 60,000 (+ GST) each after a down payment of INR 80,000 (+ GST) within 7 days of receiving the offer letter. 
Topics covered in the programme
Marketing strategy, consumer relations, sales & GTM, data analytics for managers

Sales models, storytelling and influencing

Account-based management, key account management, disruptive business models, SPIN selling

Sales Management, resolving issues, quota management, territorialization, performance evaluation, compensation

Sales leadership, sales interfaces, sales force management, design thinking, AI/ML for sales
Sales and marketing are the most desired skills in today's time when competition is at its peak in a dynamic business environment. The Strategic Sales Management & New-Age Marketing Certificate Programme offered by IIM Kozhikode is one of the best-in-class online marketing courses. 
It provides you with an interactive classroom-like learning experience from the comfort of your home, where you can learn at your own convenience, even while working a full-time job. 
If you are feeling stuck in your career and want to upskill yourself, enroll now for the IIM Kozhikode course, and shine on!