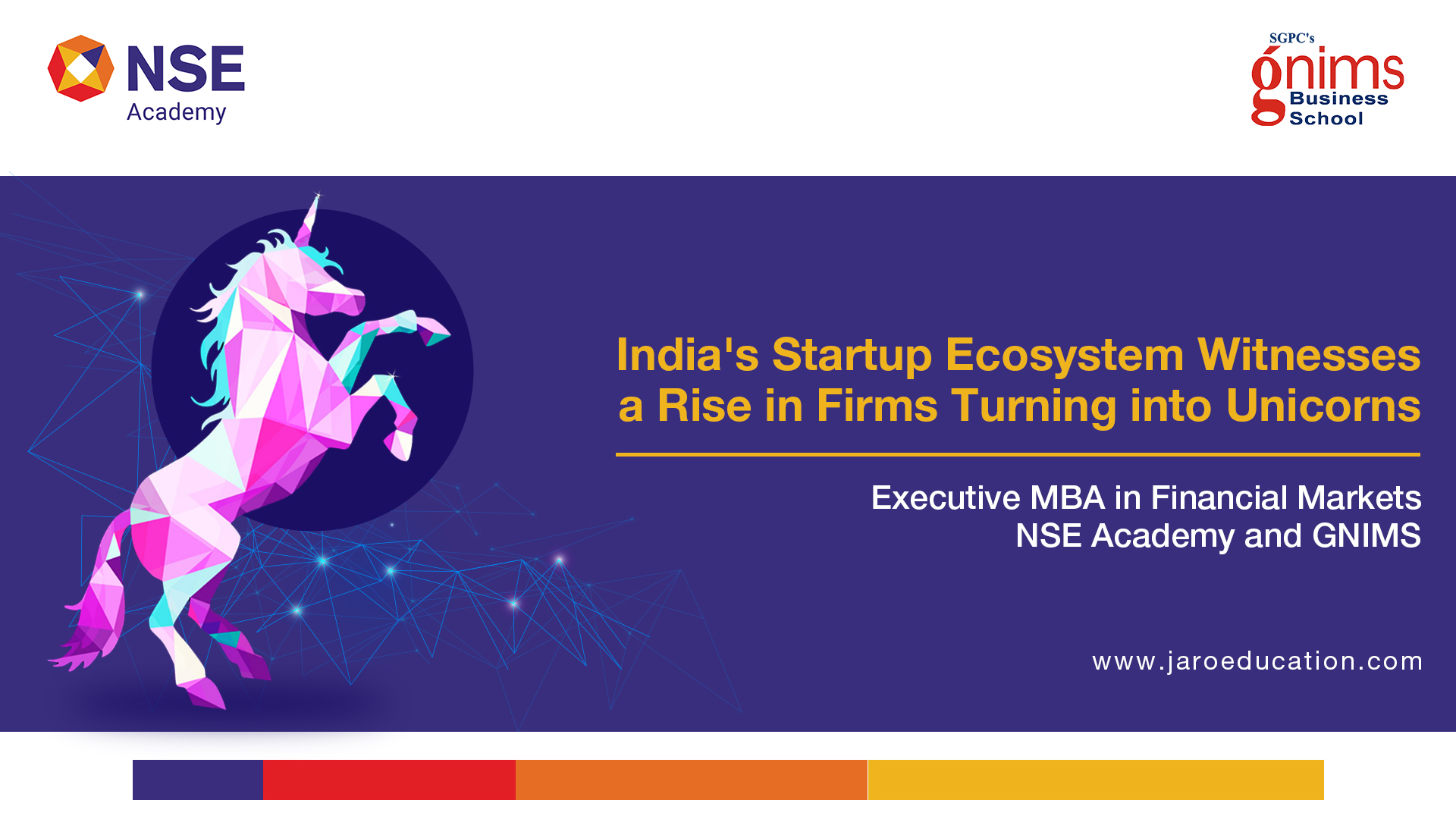 India's Startup Ecosystem Witnesses A Rise In Firms Turning Into Unicorns
Indian startups in recent years have surprised us with their unique ideas, growth rate and consistency. While some startups receive fame due to their innovative concept, they often tend to go downhill if the logistics and management is not thought through. That's why for startups to sustain in extremely competitive industries, just having a unique idea is not enough. You must also have steady investments, cutting edge marketing strategies, resources and a full proof financial management plan. Most importantly you must be acquainted with how financial markets work. If you're someone who wants to build their own startup or help grow SME, then an Executive MBA in Financial Markets can prove to be quite useful.
While many startups wither away due to the surge of challenges faced, there are some startups in India such as OYO, Ola, Nykaa and Flipkart that have created their own market segment and joined the unicorn club. They have grown at such a fast pace, that they can't even be considered as startups anymore, they've turned into corporate giants.
Here are some of the industries and the Indian startups that are slowly taking over and joining the unicorn club.
Finance
As per the latest findings, fintech has witnessed the most number of successful startups, followed by retail and SaaS. Other industries with the maximum number of unique startups include travel, food, gaming, logistics and Data Analytics, stated by The Indian Tech Unicorn Report 2020 by Orios Venture Partners, an early-stage venture capital fund. As per their analysis, 41 per cent of startups are from the technologically advanced city of India, Bengaluru, and then comes Delhi with 34 percent followed by Mumbai at 14 percent. The most promising startups from the fintech industry are Cred, Digit and Infra.Market. 
E-Retail
After the pandemic, the number of sales made by the firms in this industry have skyrocketed in a matter of days. With stores and showrooms shutting down, many e-retail companies took advantage of this situation and started listing the products from various sites on their own in order to increase their offerings and boost sales. E-Retail has been beneficial for both – customers and small scale Indian business who have been struggling to sell their products in these trying times. Meesho, Myntra, Flipkart and Nykaa have not only managed to double up their sales in these past few years but also their growth rate.
Online Food Delivery
Online food partners and delivery apps have picked up a steady pace as nationwide lockdown demanded a complete shutdown for restaurants.  Sitting at home, most people wanted to take a break from their regular cooking regime and try new meals. That's when the download rate of  Zomato, Swiggy and Dunzo picked up and so did their number of orders. These apps had been popular even before the pandemic. But after the pandemic, they were the only hope for restaurant owners who wanted to sustain their business and customers who wanted to continue eating from their favorite food outlets.
Wellness, Health Care and Telemedicine
With social distancing becoming a part of a new normal, people have had to look at different ways to consult their doctors and get their regular medicines. Online medicine and telemedicine platforms like PharmEasy, Innovacer and Practo have changed the game of Indian healthcare solutions. While Innovaccer allows government and private institutions to maintain medical records in a systematic way, Practo allows you to find the best doctors for your concern online, book your spot, consult the doctor on call and pay with easy prepayment options. PharmEasy works as an online chemist, enabling you to buy your medicines online at the best prices.
Distance Education and Online Learning
If there's one benefit that the pandemic has given us, it's extra time. Time we spend on traveling for hours and going to places can now be used for something constructive like, upskilling with new programmes and online courses that upgrade your career. Taking advantage of this situation, Jaro Education has introduced various programs in association with Top Ranked B-Schools and Universities to help learners polish their skills and scale their careers. Needless to say, it has worked perfectly for these firms as many learners want to utilize their time by building new skills.
For a startup owner, it is essential to have in-depth knowledge and understanding of finance and global markets. While having a resource with this understanding can help, it is important for an entrepreneur to make decisions based on their own perception. An Executive MBA in Financial Markets can take you a long way.  An Executive MBA in Financial Markets offered by NSE Academy and GNIMS is an 18 months online training course for finance executives and budding entrepreneurs.
Need assistance? Seamlessly subscribe to our blog and stay ahead of the competition.