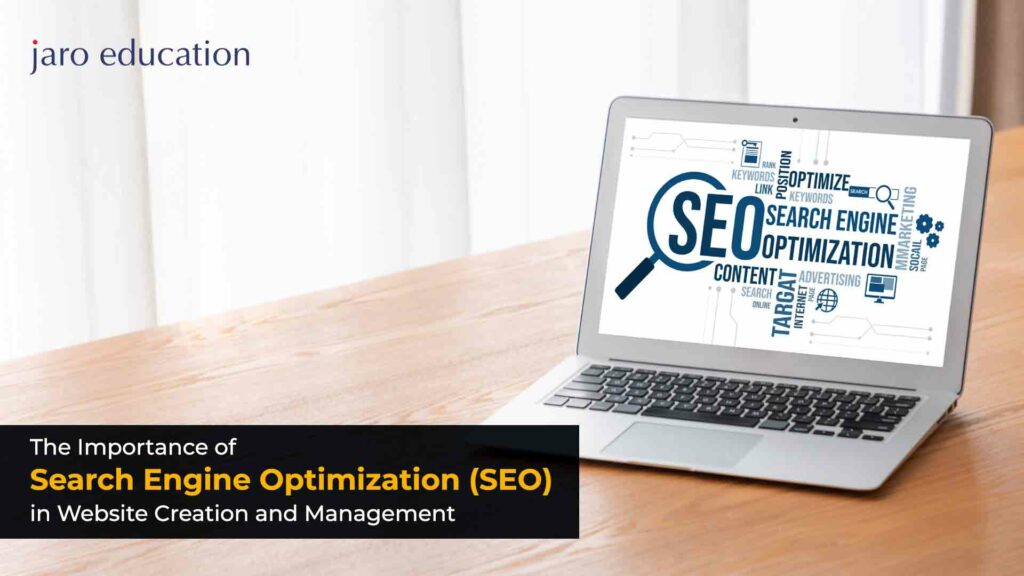 Having a website is crucial in the digital era to reach a wider audience and offer helpful content and resources to students and the community. However, merely building a website is not sufficient; you also need to ensure that your target audience can easily find your website. Search engine optimization (SEO) is useful in this situation.
Optimizing your website for search engines (SEO) will increase its visibility and position there (SERPs). You may broaden your audience and boost the efficacy of your online presence by employing SEO tactics to drive organic traffic to your website.
We'll discuss SEO's value in this blog post as we create and manage websites. We'll go into detail about the several SEO strategies you may use to raise your website's exposure and ranking, as well as how to monitor and evaluate the outcomes of your SEO efforts.
What are the Benefits of SEO in Website Creation and Management?
Here are a few advantages of SEO every leaner should know:
Increased visibility:
SEO can improve your website's exposure in search engine results, making it simpler for potential customers to access your content and find your website.
Better user experience:
The user experience on your website can be enhanced by implementing SEO strategies, making it simpler for visitors to navigate and locate what they're looking for.
Increased website traffic:
When your website is search engine optimized, it has a higher chance of showing up at the top of search results, which can improve traffic to your site..
Increased brand credibility:
The credibility and reputation of your brand can be enhanced by a higher search engine ranking because users are more likely to believe websites that are listed first in search results.
Better conversion rates:
Since people who find your website through search engines are more likely to be engaged in your content and more likely to become customers, SEO can also help your website's conversion rates.
Cost-effective:
In comparison to other digital marketing strategies like pay-per-click advertising, SEO might be a more economical strategy to increase visitors to your website.
Key Elements of SEO in Website Creation and Management
When creating and managing websites, there are a few important factors to take into account regarding SEO:
1.
On-page optimization:
Making your website's content, organization, and HTML tags more search engine friendly is known as on-page SEO. Your titles, descriptions, headings, images, and internal links should all be optimized.
2.
Keyword research:
The relevant keywords must be chosen and targeted in order to properly optimize your website for search engines. You should conduct a thorough keyword study to find the keywords that are both relevant to your company and have a large search volume.
3.
Content creation:
Success with SEO depends on producing original, high-quality content. In addition to being keyword-optimized, your material should benefit your users and address their questions.
4.
Link building:
An essential component of SEO is obtaining high-quality backlinks from authoritative and pertinent websites. It aids search engines in determining the legitimacy and applicability of your website.
5.
User experience:
User experience (UX) is becoming a more crucial component of SEO. Websites that offer a good user experience, such as quick load speeds, mobile friendliness, and simple navigation, are favoured by search engines.
6.
Technical optimization:
Technical optimization entails improving the technical components of your website, including site speed, crawlability, indexing, and security. It ensures that search engines can easily find and comprehend your website.
7.
Analytics and tracking:
Using analytics tools to measure the performance of your website can help you find areas for development, monitor your SEO progress, and modify your strategy as necessary.
Best Practices for SEO in Website Creation and Management
Your website can become more visible and draw in more visitors by being optimized for search engines. Here are a few SEO best practices for developing and maintaining websites:
1.
Conduct Keyword Research:
Conduct keyword research: Look up and note the pertinent terms associated with your company, goods, and services. Include these keywords in your website's page names, meta descriptions, URLs, content, and image alt tags.
2.
Monitor and Analyze Your Website Performance:
Utilize web analytics tools like Google Analytics to keep tabs on the performance of your website. To find areas for development and to fine-tune your SEO approach, analyze the traffic, bounce rates, and conversion rates of your website.
3.
Create High-Quality Content:
Create useful, high-quality content that reflects the requirements and preferences of your target audience. Make sure the content is unique, interesting, well-written, and includes the necessary keywords. Use internal linking to connect your material and give your viewers more pertinent information.
4.
Use Responsive Web Design:
Make sure your website is responsive to various devices and screen sizes and mobile-friendly. Google prioritizes websites that are mobile-friendly in its search results.
5.
Build Backlinks:
Create trustworthy backlinks from other, pertinent websites to your website. Backlinks are an important component of search engine rankings and help increase your website's exposure.
6.
Optimize Your Website Structure:
Create the structure of your website so that both visitors and search engines can easily crawl it. Include evocative names and meta descriptions on each page, and use a clear, compact URL structure. Make it simple to identify certain content by categorizing and using tags in your content.
7.
Use Social Media:
Use social media to advertise your website to increase visitors and establish your brand. Additionally, social media signals might aid in raising your search engine ranks.
Final Words
The development and administration of websites must consider search engine optimization (SEO). In order to rank better in search engine rankings and subsequently increase website traffic, it entails optimising a website's content and architecture. In order to boost their exposure and connect with their target audience, businesses and organisations must engage in SEO because the majority of online experiences begin with a search engine.
The PG Digital Marketing Certificate given by IIM Visakhapatnam is a great choice if you want to deepen your understanding of digital marketing and growth. Comprehensive training on all facets of this online digital marketing courses, including SEO, content marketing, social media marketing, and more, is provided by this curriculum. Thanks to its knowledgeable faculty and demanding curriculum, the programme provides you with the necessary skills.