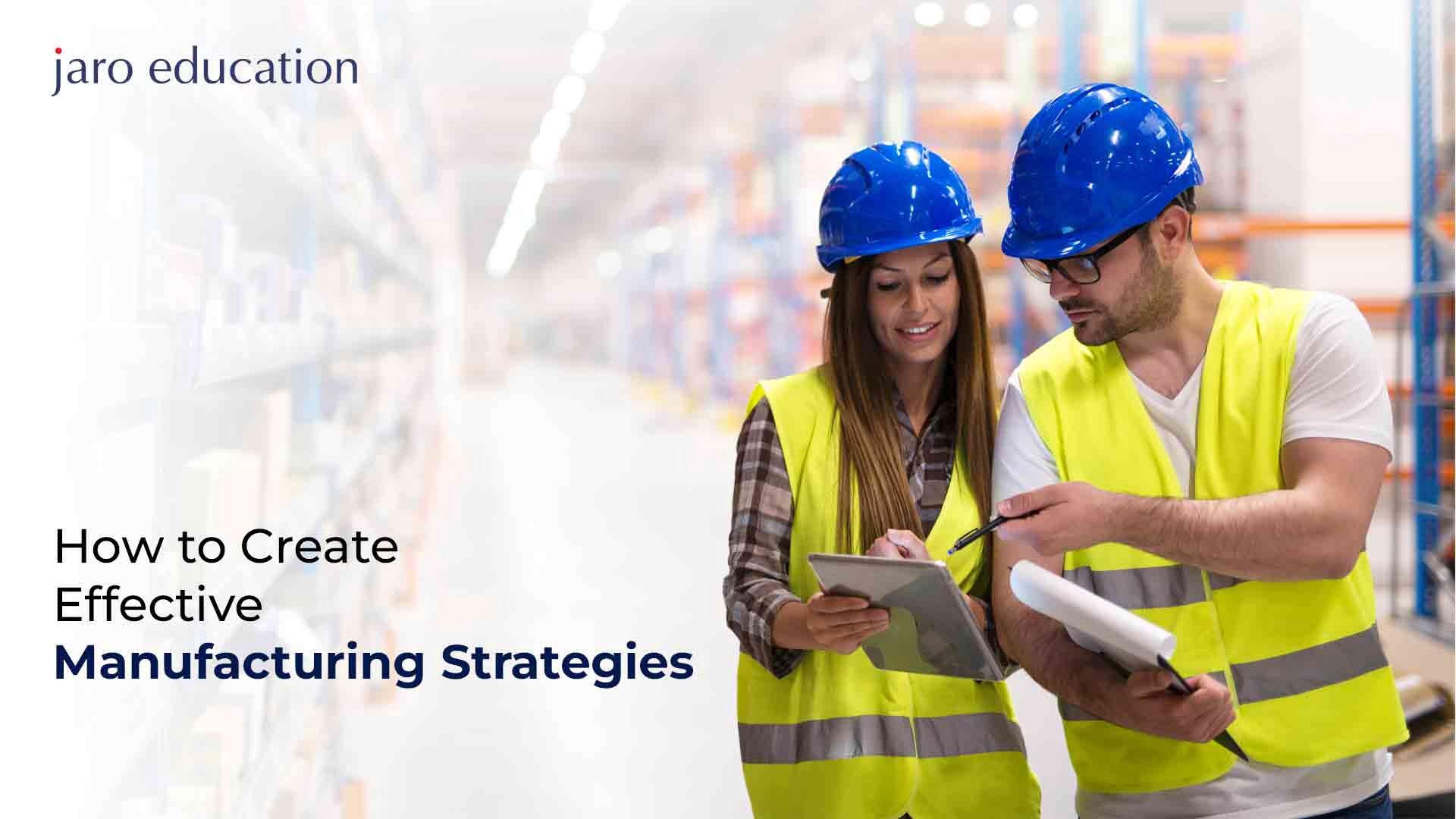 Manufacturing strategy plays a vital role in the manufacturing industries. Manufacturing is easy but calculating the process is complex. However, the manufacturing management process is simpler. Also, with this increasing competition and management practices, you should know what strategies you can implement in your business.
So, in this blog, we will discuss the concept of manufacturing strategies and how to create them. First, let us understand what is manufacturing strategy, and if it is really beneficial in the organisation.
What is Manufacturing Strategy?
Manufacturing strategy is defined as a sequence of decisions that, over time, allows a business unit to achieve the desired manufacturing structure, infrastructure, and set of individual capabilities. It is helpful to achieve long-term goals and work on the business vision. Moreover, the strategies will help you to grow in the manufacturing sector.
It is a long-range plan to use the valuable resources of the manufacturing system to support the business strategy, Moreover, you can meet business objectives and decide in your favor by allowing the formulation of the manufacturing strategy. Also, it helps to ensure that the productions are going as planned.
With the help of technology, you can support your company's business objectives. However, it depends on the types of strategies companies want to adopt and are likely to produce them. The manufacturing strategies help to determine how you will compete and how much you are likely to manufacture.
Types of Manufacturing Production Processes
Following are the three common types of manufacturing production processes: make-to-order, make-to-stock, and make-to-assemble. Such strategies have pros and cons in labor costs, overhead costs,  inventory control, customization, and the speed of production and number of filling orders.
Some orders are unique, and some are high in demand. So, whenever you are producing orders, know how much to manufacture. Also, some are produced on special orders, which might be massive. But, do not let any order go to waste because every order does matter. However, many times, the forecasting and calculation go wrong and result in expenses. 
As the reasons for manufacturing differ, some goods are manufactured extra. Because of uncertain demand businesses are unsure about the exact amount. So, they manufacture to keep them in the stocks. Also, few manufacturers keep good to stay longer after production, and such good is also stocked for certain months. 
Another way to keep everything ready is to produce and assemble goods. As we mentioned earlier, if there is a surge in demand, there should be no problem from your side. Also, it is better to produce a little more, so the businesses can meet customers' expectations consistently. 
Now, after knowing the types of production procedures, let us understand how to create manufacturing strategies.
How to Create Robust Manufacturing Strategies
1. Adopt new technology
It is important to have an agile IT function that can flexibly meet your business's demands. Identifying which technologies are applicable and valuable to your manufacturing processes is often the first building step in an effective manufacturing strategy. The new technology will help you to grow and stand out among others.
2. Reduce your costs and production waste
It is a common strategy but very effective for the manufacturing company. If your business lacks in the manufacturing processes that let money flow out of it, later, this part of your manufacturing strategy must be robust. Production time, every step of processes and product quality cannot be compromised. Do not lower production because of some reasons and maintain world-class quality.
3. Stock inventory
Adopting the principles of stock inventory saves you plenty of money and gives you a competitive edge. A better understanding of your stock levels and matching your customer's needs more intuitively could result in huge improvements for your business. The manufacturing management is to provide better stocks and keep an eye on small things.
4. Automate your entire processes
Another reason to be ahead of competitors is to get automation software. The automation software will save you time and make the day-to-day activities manageable. The automation helps to connect your process, supply chain, order processing, operations, productions, and customer services. It will also help you to reduce the extra workload, which was done manually.
 5. Follow the trends
The industry keeps on changing and you need to match the latest trends in the manufacturing and the industrial world. Do your research and ensure your manufacturing strategies are effective yet flexible enough so you can pivot if you require to.
Conclusion
The manufacturing strategies are indeed helpful and let you stand ahead in the competitive world. However, if you want to learn more about manufacturing, you can enroll in online manufacturing management courses from IIM Tiruchirappalli. Visit Jaro Education to get more details about the online management courses.