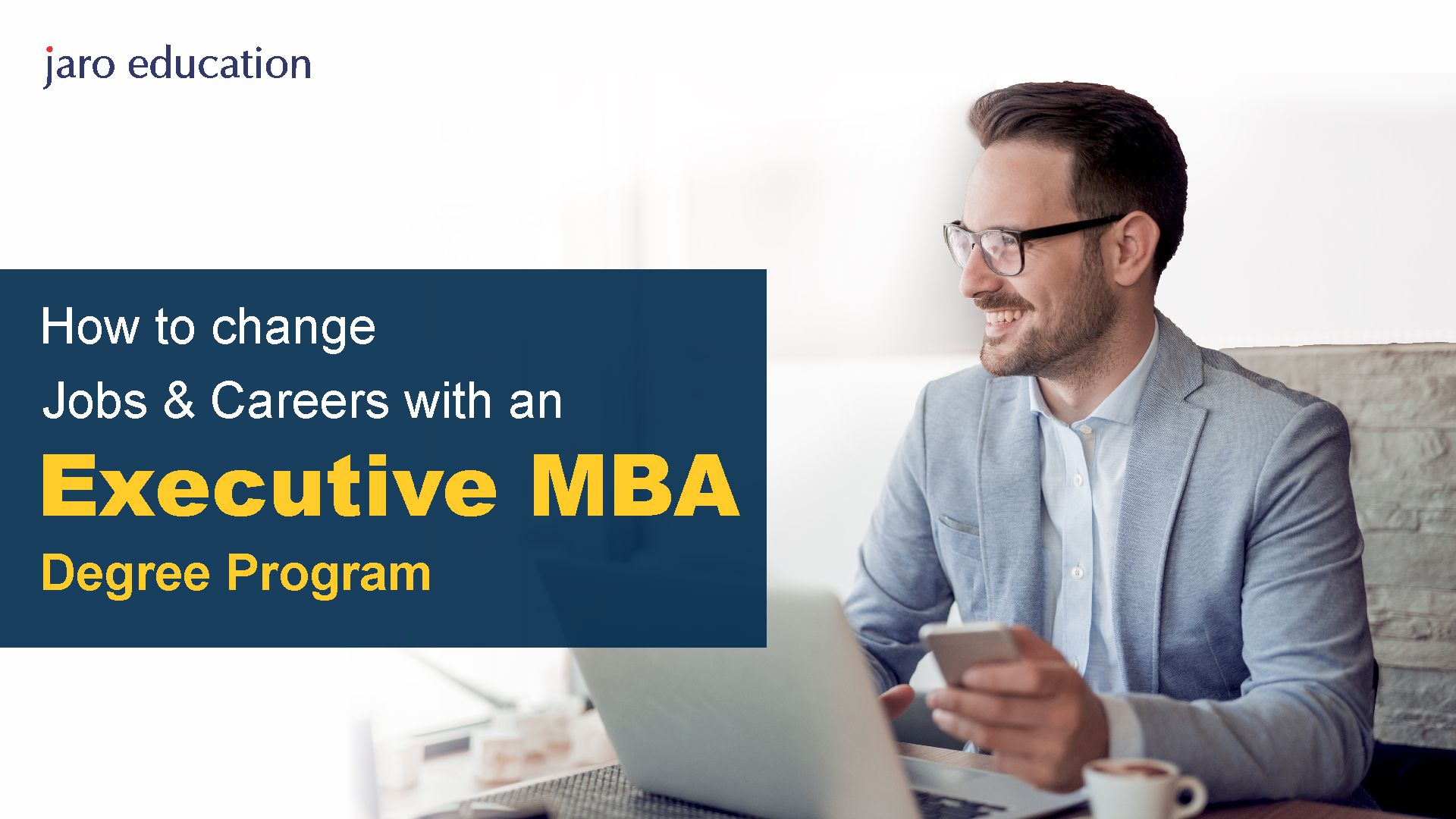 Many executives and managers find it difficult to opt for traditional full-time MBA courses and work on their regular jobs; thus, they opt for an Executive MBA Degree. The Executive MBA Degree helps individuals learn new skills and develop strong professional networks. Additionally, many entrepreneurs also opt for an Executive MBA Degree to better understand the varied aspects of business, skills, and knowledge required for leading a venture. Executive MBA Degree will help you strengthen your professional network as you will meet and work with professionals from varied industries. Thus, this course allows you to learn about varied aspects of the business from different sectors. With this opportunity, you can develop professional business managers from your field and other fields, which opens up multiple avenues of attaining professional growth.
Significance of Executive MBA Degree Program for changing Jobs and Careers
Knowledge and skills you will gain through Executive MBA Degree will help you strengthen your professional portfolio, which will help you advance in your career and get a higher salary. By adequate utilisation of professional skills, you can take ownership of your career and move towards success at a great pace. Additionally, MBA Executive Degree is a part-time course that will help you put your learning into practice while performing your job duties. Executive MBA Online allows individuals to opt for online courses with renowned universities in other states and countries. 
Executive Program MBA avails career support and multiple other services to you, which can increase the ability to secure your desired job. It is to be noted that many renowned organisations seek qualified candidates with Executive Program MBA to fill managerial positions in their organisation. Executive MBA designed for working professionals helps individuals transform their dreams into reality as it prepares them professionally and personally for the switch they desire to make in their career. 
Most of the Executive MBA degree programs tend to provide complete leadership training and business coaching through their curriculum. This helps the individuals opting for this course learn more about themselves from a managerial perspective. Thus, they can gain knowledge about their leadership styles, managerial approach, professional strengths and professional weaknesses. With this knowledge, they can gain the necessary skills to help them excel in their professional career. 
This knowledge will help the individuals to become more efficient leaders and performers as they can apply the gained knowledge in practical aspects of their jobs. The Executive MBA degree program provides an opportunity to increase salary significantly as it provides overall professional improvement for an individual. Thus, it can be stated that the Executive MBA degree program is worth the investment of time, effort and resources. 
Overall, it has been deduced that Executive MBA degree programs can provide ample help to individuals in changing jobs and careers and growing their own business. Executive MBA Degree program- Shiv Nadar University focuses on four key areas: digital transformation, business analytics, data strategy, and entrepreneurship. You can choose any as per your desire and excel in your career.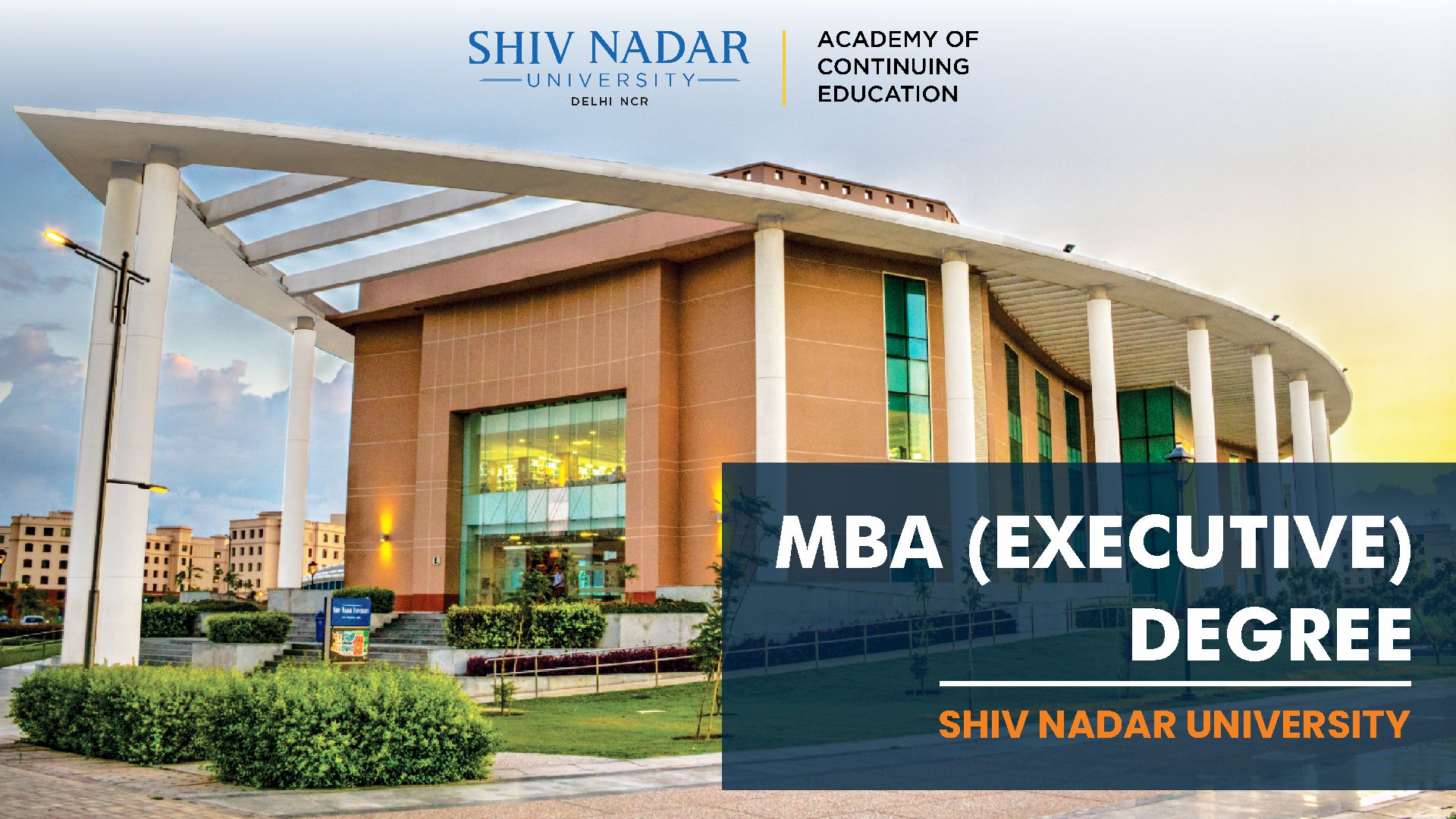 FAQs

What does the Executive MBA Degree course include?
Along with standard business topics, the Executive MBA Degree course offered by Shiv Nadar University covers the topic of futuristic disciplines like Design Thinking, Entrepreneurial Thinking, Digital Strategy, Data Science and Data Analytics, which will pave the way for innovation for entrepreneurs and technocrats of tomorrow. The Executive MBA Degree course syllabus of Shiv Nadar University comprises more than 1000 hours of rigorous learning materials that provide an in-depth understanding of the business fundamentals and other standards topics.
What is Executive MBA Degree course eligibility?
Candidates that have completed their bachelors' degree with 50% or more from a recognised university can apply for the Executive MBA Degree course. Additionally, the candidates need to have at least an experience of two working years at the managerial or executive level.
What are the Executive MBA Degree course fees?
The course fees of an Executive MBA Degree ranges between 4 lakh INR to 15 lakh INR for different universities across India.
What is the use of the Executive MBA Degree course?
Executive MBA Degree can be pursued and attained while being on the job; thus, it helps the individuals to gain skills and knowledge which would accelerate their professional growth without hampering their regular job.