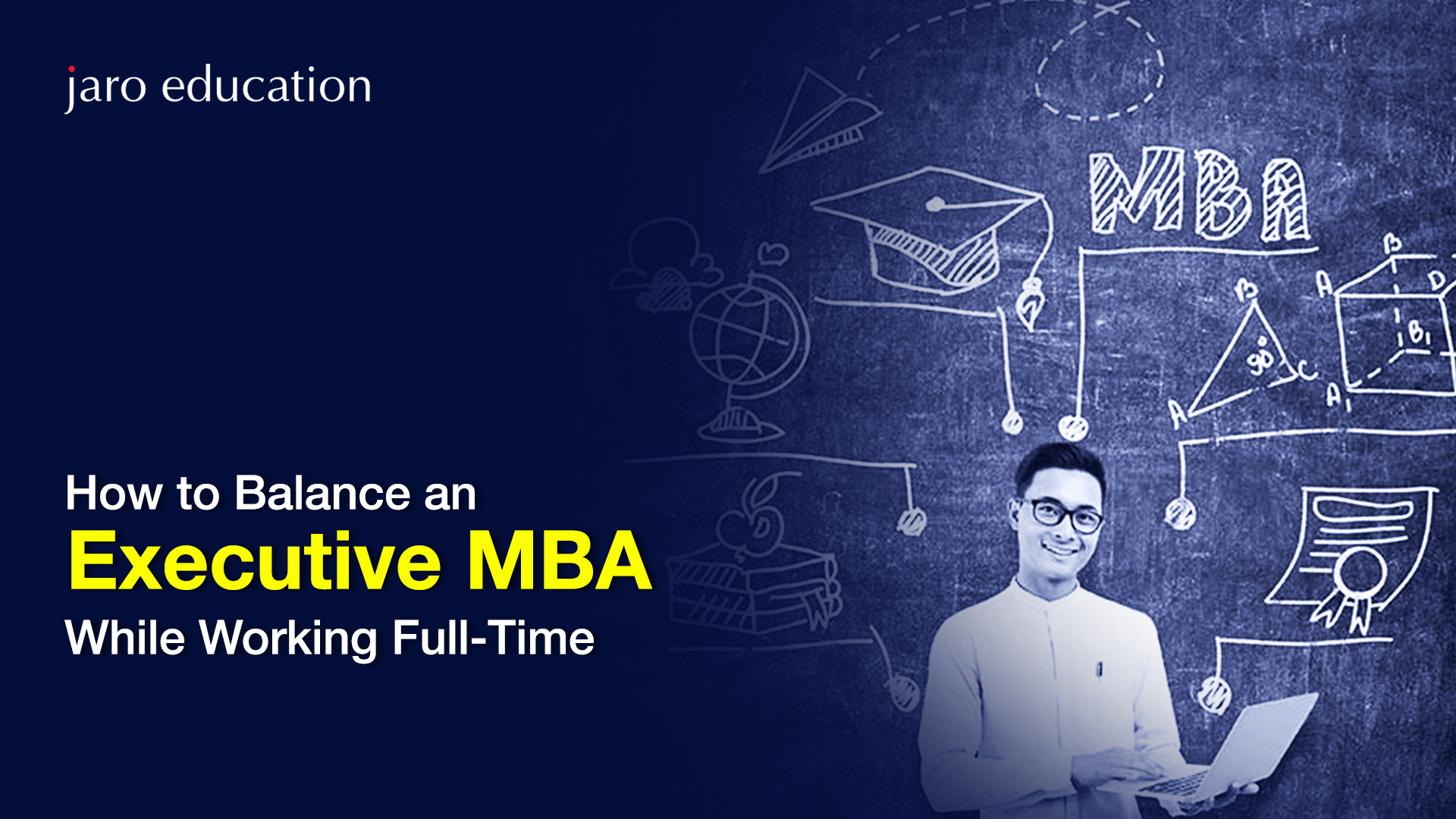 Is it possible to work full-time while pursuing an Executive MBA?
Yes, it is possible! It will not be easy, but it will not be impossible either. Professionals in the Executive MBA program develop time management skills and apply them to balancing jobs and education. If you are a full-time working professional, DSU – Executive MBA is perfect for you. Use the following tips to balance your Online Executive MBA and a full-time job. 
Communicate
Communication is critical. Inform your supervisor about the online Executive MBA program and what they may expect from you. Make sure they know when you will be busy with your studies and unavailable for work. Consider providing class learnings that will assist your colleagues in performing their duties, in addition to your class schedule. 
Make some sacrifices, if required: During the program, you may need to put some activities on hold and decline some invitations. Decide what is most important to you and what you can let go of, and then attempt to stick to those commitments. In this manner, you will be able to dedicate the maximum amount of time to both your full-time job and your Executive MBA program.
Make a work-study schedule:
Ensure to communicate your

Executive MBA

timetable as early as possible.

Plan out your full-week sessions well in advance.

Think about when you'll study and when you will work.

If feasible, block aside specific hours on your calendar to enhance efficiency and use for leftover study or work.
Find a program that works for you: When researching Executive MBA Programs Online, be careful to look at the program's format. Are the classes online or face-to-face? Is it in an evening slot or during the day that they take place? This will help you decide on the best Executive MBA program that matches your schedule and priorities. DSU- Executive MBA is an Online Executive MBA program specifically designed for full-time working professionals, as all classes are available online 24/7, allowing you to balance your job and education. 
The Dayananda Sagar University's 17-month Executive MBA program provides the cornerstone to a long-term career in management. This Executive MBA program is ideal for working individuals who want to become strong managers. The Executive MBA program is designed to give executives a solid foundation in basic management abilities before focusing on the functional specialization of their choice. Working professionals may scale up in their corporate responsibilities at their speed with the DSU – Executive MBA program, which offers online classes and alternate weekend sessions that can be accessed from remote locations.
Highlights of the DSU Executive MBA Program
Following are some of the key highlights of the DSU Executive MBA program: 
DSU Executive MBA

program offers 10 different functional specializations for working professionals to choose from. 

This course offers flexible online sessions, and all the sessions are recorded, which can be accessed anytime using the LMS platform.

The course curriculum is a perfect blend of theoretical and practical knowledge to advance a career in general management. 

Constant guidance and doubt clearance by faculty members and industry experts
Conclusion
The DSU- Executive MBA program uses a unique and effective learning strategy that combines case-study based learning, group projects, and other learning models that are both modern and innovative. So, if you're a working professional wishing to advance your general management career, the DSU Executive MBA is the perfect alternative for you. 
You must have a graduation degree from a recognized university with a minimum of 50% score and a minimum of one-year work experience to be eligible for the DSU – Executive MBA program. So, apply for the Online Executive MBA program, and develop a long-term career in management. 
Frequently Asked Questions
When is the best age to start an Executive MBA program?
There is no ideal age for pursuing an Executive MBA, while many experts recommend at least two years of job experience. 
How much minimum work experience is required for an Executive MBA?
The DSU- Executive MBA program requires a minimum of 1 year of work experience to be eligible for the course, though many experts recommend at least two years of job experience. 
How much salary does one get after an Executive MBA?
If you stay with the same company, you can easily expect a job promotion and a significant rise in compensation. If you are looking for a new job after Online Executive MBA, then according to Collegedunia, the average package of Executive MBA graduates varies between 9 and 16 lakhs. 
So, what are you waiting for? Enrol for the DSU Executive MBA to realize your career ambitions today!