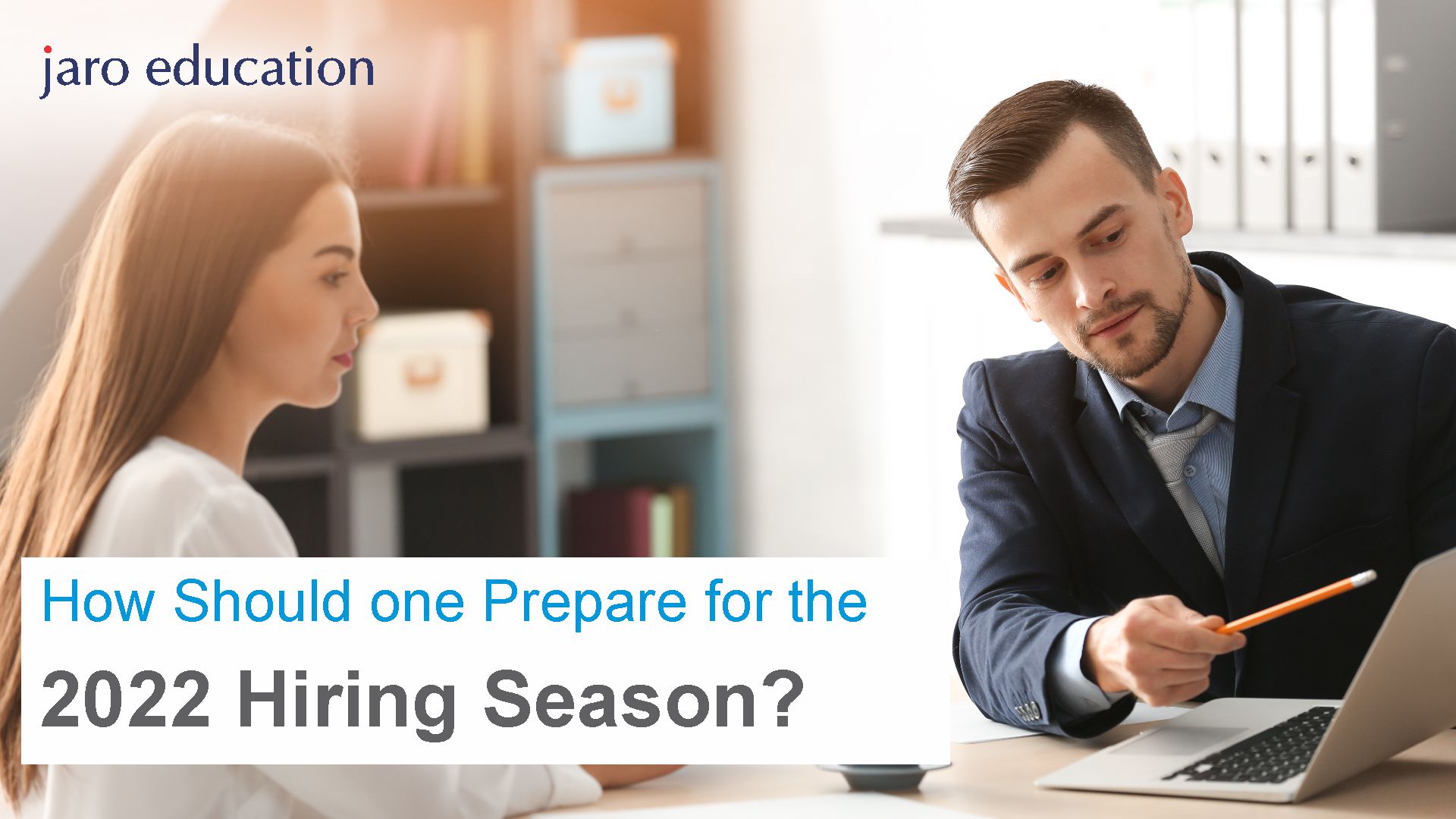 The last couple of years has been a roller coaster for students in the final year of pursuing online MBA programs, data science certification, fintech courses, and new job seekers. However, as 2022 approaches, it's time to put everything behind and gear up to seize every opportunity that knocks on your doors and create one if it doesn't. In this blog, we discuss the key elements that need to be taken care of while preparing yourself for the fresh hiring season of 2022.
Things to Keep in Mind
Long gone are the days when a bunch of degrees on your resume would be your ticket to an offer letter. In the times of constantly evolving technology, the jobs that made a fortune a few years ago are anticipated to turn obsolete in the future.
Therefore, irrespective of your niche, ensure you keep picking up additional value-enhancing skills to pitch yourself as an individual with a diverse proficiency. The element of consistent learning is of utmost importance in the competitive world of 2022. 
Learning new skills helps broaden your skills and expand your career growth opportunities. It also helps you to switch to a career that you might have dreamt of having originally. 
For instance, if you work in the field of digital strategy and marketing, a good grip on technical skills in the same branch of industry with a blend of core soft skills will not only open the door to more opportunities but also add to up to your personal growth. 
You are hired because of the value you bring to the organization. Hence, it is imperative to understand and sharpen your core competency to sell yourself fluently. As an individual interested in finance and investments, a choice of Fintech Courses will strengthen your specialization in the field of finance. 
The pros of knowing your expertise well are that it makes you skillfully efficient in your work, enhances your output, and no one does your job better than yourself.
You can opt for a one year PG Certificate Programme in Financial Technologies to get a deep understanding of how technology and finance sectors are converging and evolving as a sector.
Start Personal Branding
A personal brand is the one-of-a-kind confluence of skills and experiences that distinguishes you from everyone else. It's the approach you exhibit yourself to the rest of the world. Personal branding that is effective enough will set you apart from the competition and assist you in establishing trust from potential clients and employers.
There is no questioning the influence that a robust professional network can have on your career. Networking has exceptional benefits in the long run that will impact your professional life and consistently mold your personality.
When you indulge in conversations about common ideas, opportunities, and problems, you are exposed to alternate perspectives that may impact your future decisions. Past and present coworkers, managers, friends with similar interests, colleagues from business organizations, alumni from your university, or connections you met through online networking services can all be part of your network.
If you have taken up Data Science Certification, a one on one communication with experienced professionals and peers in the same field may help you grow. However, the key is to connect with the right people and a variety of people from multiple industries and organizations that will eventually produce a diverse set of opportunities.
One of the biggest mistakes made during a job hunt is the vigorous dumping of a generic resume on different job profiles. Today, employers know what they expect and entertain applications only if it meets the organization's specific requirements. The ideal play is to meticulously customize your curriculum vitae by the industry and the job profile. You can create custom resumes yourself or take the help of specialized resume creation service providers that can make your resume look unique and stand out from the herd. 
Final Thoughts
The new year introduces you to extraordinary opportunities and intense competition with new contestants. Therefore, ensure you have equipped yourself with the best means for consistent growth in the professional regime and overall evolution in your personality.
FAQs
Why should I pursue an Online Certificate or Degree Program?
Online Certification Programs offer perks like a relaxed pace of learning, flexible schedules, affordable courses, life-long access to materials, consistent evolution, and scope working simultaneously in a new learning age. There are exceptional options available, like Online Digital Strategy And Marketing Programs, Fintech Courses, Executive MBA, and a lot more.
Do recruiters recognize Online Degrees and Certificates for job opportunities?
The essential element of consideration is the value your degree or certification adds to your skillset. Many recruiters acknowledge online certifications if they are legitimate, accredited and parallel to the job profile. However, irrelevant certifications with minimal authenticity are red flags from an employer's perspective. In essence, context matters.
How flexible are online programs? Can I pursue them while working at my job?
The online programs are pretty flexible, and one of the advantages of the same is an opportunity to have a job while you are still studying. The platforms of online education offer recorded lectures, automated tests and study material to access at any point in time. Additionally, the eliminated commute makes your life of earning and learning easier.