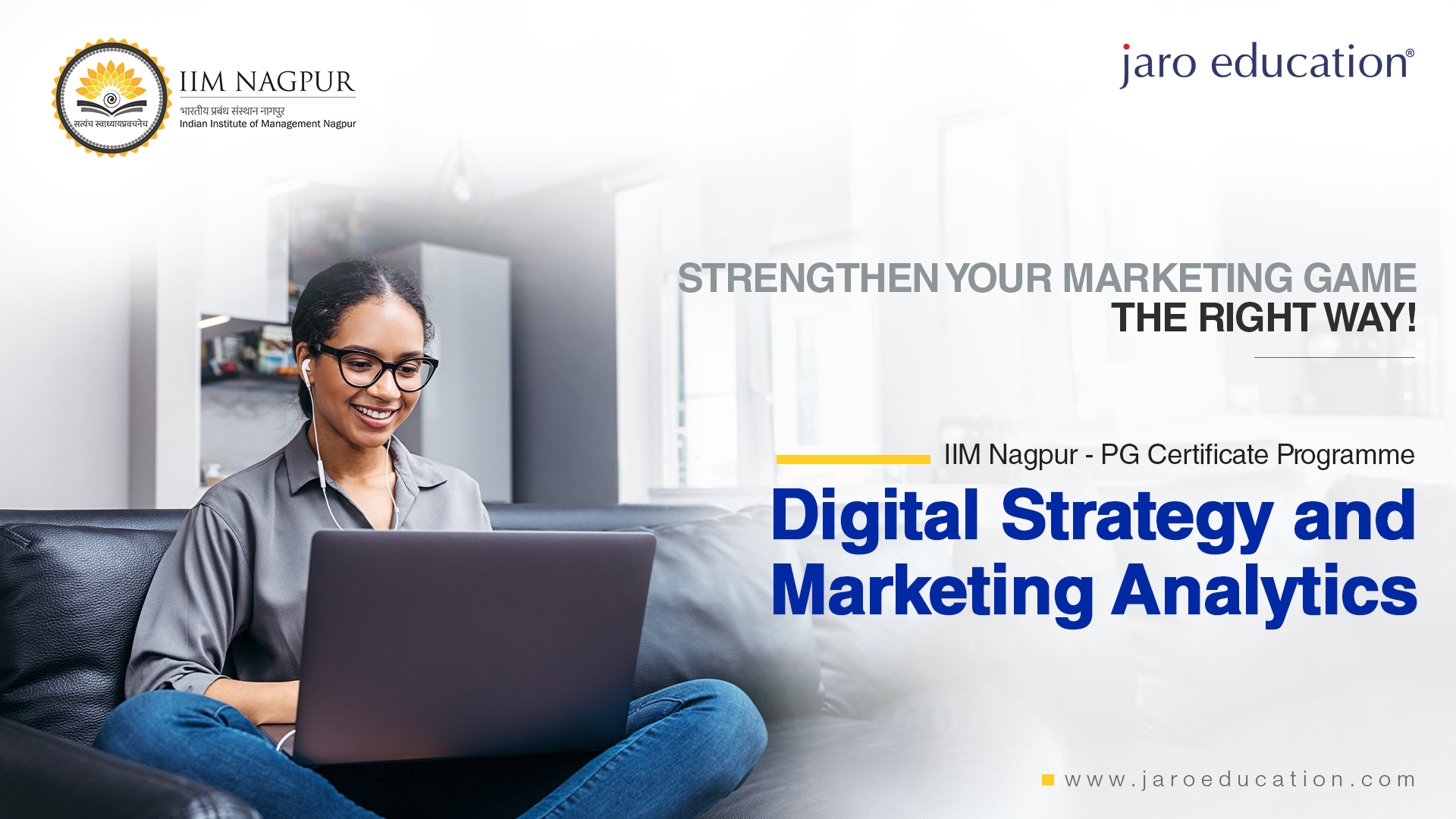 Introduction
The business world is becoming increasingly competitive day-by-day where understanding your target audience, the latest trends in the market, and competitors are really important. The only way to achieve this is by implementing the right set of marketing and analytic tools. But for small businesses, investing in these marketing tools and agencies becomes too expensive. Fortunately, there is a digital strategy and marketing analytics course offered by IIM Nagpur with Jaro Education that can help you up your business marketing game and take your business to the next level.
Indian Institute of Management, Nagpur, commonly known as IIM Nagpur, is one of the most famous new generation IIMs currently being mentored by the country's top management institute IIM Ahmedabad. Under the mentorship of IIM Ahmedabad, IIM Nagpur, which is just five years old, was ranked 40th in NIRF 2020 rankings. IIM Nagpur has collaborated with Jaro Education to provide students with a deeper understanding of digital marketing strategies and marketing analytics tools to measure performance.
What is Digital Marketing and Analytics?
Digital marketing is a cumulative set of online marketing strategies and assets by the business to improve its visibility in the market and reach its target audience.
Marketing analytics is complementary to digital marketing and helps in measuring the performance of digital marketing efforts through various tools. It involves measuring the actual performance of digital marketing strategies, compared with the set standards, and formulating future digital marketing plans based on the results.
Highlights of the PG Certification Programme in Digital Strategy and Marketing Analytics
Here are some insightful highlights of the PG Certification Programme in Digital Strategy and Marketing Analytics by IIM Nagpur:
For the comfort of the students, the whole certification course is made available online on Jaro Education.
Students who complete this degree are awarded a PG degree and alumni status of IIM Nagpur.
Focuses on practical knowledge by providing real-world business problems
Provides direct mentorship by IIM Nagpur faculty and business experts using various online platforms
How does Digital Strategy and Marketing Analytics programme up your marketing game?
Digital Marketing and Analytics course helps you understand various marketing strategies and marketing analytics tools. It provides you with a detailed step-by-step guide to using digital marketing strategies for your business growth.
Following are the reasons why you should enroll for digital marketing and marketing analytics course by IIM Nagpur:
Allows you to know your target audience and potential customers, thus making more informed decisions.
As a business leader, learning marketing analytics tools helps you measure your marketing performance and set more appropriate goals and standards.
Post Graduate certificate by IIM Nagpur is precious for future business leaders who want to grow in the digital marketing field.
The course is a perfect combination of practical and theoretical knowledge that allows you to understand various techniques as well as their application in real-life situations.
Conclusion
The eligibility criteria of the digital marketing course include a graduation degree from a recognized university with a minimum 50% score and a minimum of 3 years of work experience.
If you want to grow your business, there is no one stopping you from learning these digital marketing skills by IIM Nagpur to improve business visibility and reach potential customers. If you have any doubts concerning Digital Strategy and Marketing Analytics Programme, you can contact Jaro Education and talk to industry experts. If you have already decided to improve your marketing and analytics skills, enrol for IIM Nagpur – Digital Strategy and Marketing Analytics Programme.
Subscribe to our Jaro Education's blog and stay updated with the latest information on PG Certificate Programme In Digital Strategy And Marketing Analytics – IIM Nagpur.