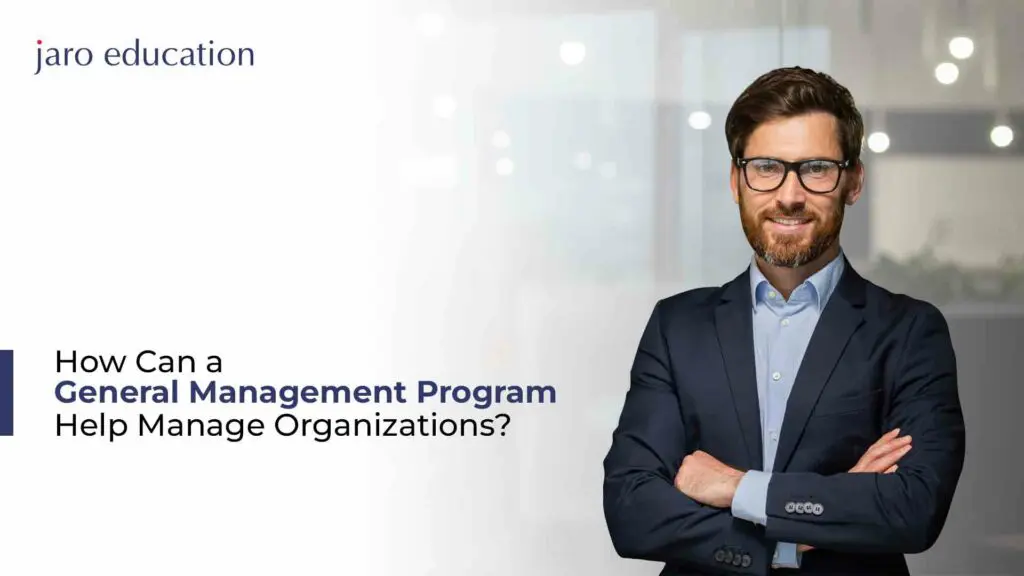 In today's fast-paced business world, effective management is vital for organizational success. From strategic planning to financial management and everything in between, managers must possess a wide range of skills to lead their teams toward achieving business objectives. This is where general management programs come in handy. These programs offer a comprehensive approach to leadership training that equips participants with the latest industry knowledge and tools necessary for managing organizations effectively. In this blog post, we'll explore how general management programs can help upcoming managers develop the skills needed to excel in today's competitive business landscape.
Importance of Effective Management for Organizations
Effective management is the backbone of any successful organization. It plays a critical role in ensuring that organizational goals and objectives are met, resources are utilized effectively, and there's overall smooth operation within the company. Poor management can lead to poor performance, missed opportunities, low morale, and high turnover rates among employees.

Without effective management practices in place, organizations risk losing their competitive edge in today's fast-paced business world. Effective leaders must be able to adapt quickly to ever-changing market trends while still keeping sight of the long-term vision for their companies.

Constructive management involves planning, organizing, controlling, and leading all aspects of an organization's operations. Excellent managers must be able to set clear goals for their teams while also providing guidance on how to achieve them. They should create a work environment that encourages open communication between team members as well as identify opportunities for growth and development
In summary, having effective managers at every level of an organization is crucial for its success. Managers who possess strong leadership skills coupled with sound decision-making abilities will help drive growth and ensure continued success both now and in the future.
Benefits of a General Management Program in Proactively Managing Organizations
General management programs

can be a game-changer in developing key skills that are necessary for the effective management of organizations. One of the most significant benefits is the development of leadership skills. A good

general management program

will help you identify and develop your leadership style, and teach you how to motivate and inspire people toward achieving organizational goals.




Another benefit is the enhancement of strategic thinking and decision-making skills. Strategic thinking helps managers to anticipate future challenges, assess current situations, and create plans that align with organizational objectives. Decision-making skills are critical as they enable managers to make informed decisions that benefit an organization in both the short term and long term.




Effective communication is another important skill that

general management programs

can improve upon. Communication lies at the heart of all successful business operations; it's crucial for building relationships with stakeholders, creating strong teams, creating brand awareness, resolving conflicts, and much more.



Financial management skills development is also an essential benefit offered by general management programs. Financial acumen enables leaders to analyze data effectively while making sound financial decisions based on objective criteria rather than subjective opinions or emotions.
How Do General Management Programs Train Upcoming Managers to Effectively Manage Organizations?
General management programs

are designed to help upcoming managers effectively manage organizations. One of the ways they achieve this is through experiential learning. Students learn by doing, which helps them develop practical skills that can be applied in real-world business situations.

Exposure to real-world business problems is another way general management programs train upcoming managers. By tackling challenging issues faced by businesses today, students gain a deeper understanding of the complexities involved in managing an organization.
Building a strong network is equally important for success in organizational management. Through general management programs, students have access to a diverse group of peers and industry professionals who can provide valuable insights and connections throughout their careers.
Overview of the Accelerated General Management Program (AGMP) from Michigan Ross
The Accelerated General Management Program (AGMP) from Michigan Ross is a globally-recognized advanced management program designed to equip managers with the latest management thinking and tools. This program is aimed at senior executives, leaders, and entrepreneurs who wish to develop their strategic thinking, leadership skills, and decision-making abilities.
The AGMP curriculum covers various areas of business management such as analytical thinking, value-driven thinking, strategic decision-making, and people-driven thinking. This ensures that participants gain a well-rounded understanding of how to manage an organization in today's complex environment.
Participants benefit from a diverse cohort made up of individuals from various industries across different countries thereby gaining exposure to new perspectives and ideas. They also have access to experienced faculty members who are experts in their respective fields.
Michigan Ross has an excellent reputation globally for consistently producing graduates who excel in their careers due to its rigorous academic programs backed by cutting-edge research. Thus participants can be assured that they are receiving top-quality education which will give them an edge over others in the industry.

Enrolling in the AGMP- Michigan Ross provides leaders with an opportunity to acquire new skills necessary for managing organizations effectively while building strong networks within an international community of professionals.
Wrapping Up
Managing organizations is a complex task that requires effective leadership skills, strategic thinking abilities, financial management expertise, and excellent communication skills. A general management program can help aspiring managers develop these essential competencies to become successful leaders in the future.

Michigan Ross Accelerated General Management Program (AGMP) is an excellent option for individuals looking to enhance their managerial skills and gain global exposure. With its experiential learning approach and real-world business problem-solving experience, AGMP prepares future leaders to tackle any challenges they may encounter in the corporate world.

So if you're passionate about managing organizations effectively and want to improve your managerial prowess through premium business education from one of the best institutions globally – Michigan Ross AGMP could be your pathway toward success! Learn more about the opportunities that this course will open up for you by talking to our experts at Jaro Education.