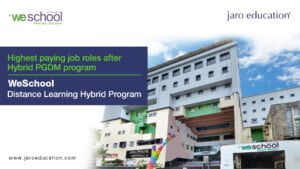 Highest Paying Jobs After Completing Hybrid PGDM Program
A Post Graduate certification will add new credentials to your resume. Be it gaining a vast amount of knowledge in your chosen field, or upgrading your CV, a postgraduate course from a premier college opens doors to several opportunities. However, in today's time, it has become extremely difficult to pursue your further studies along with a job. That's why Welingkar Institute brings you a 2-year Hybrid PGDM Program that gives you the flexibility to learn anytime and from anywhere.
Welingkar PGDM Hybrid Course offers 18 specializations that can either help you climb up the success ladder in your current field or explore new industries and exciting opportunities. Here's a glimpse into some of the highest-paying jobs you can apply for after the successful completion of Welingkar Institute Of Management Hybrid PGDM.
Marketing Consultant (Average Salary: Rs 1,144,350 per annum)
The decision-makers and the pillars of every corporate firm. They are the ones who not only conduct extensive research on every problem faced by the company but also provide sound advice to get through every situation. While their starting pay may not seem so attractive, they get a lot of incentives for their work. 
Digital Marketer (Average Salary: Rs 15 lakhs per annum)
For every enticing social media campaign that has your heart, know that somewhere a Digital Marketer has played his part. They are the ones who choose the right mix of digital platforms and build efficient content strategies to market the brand. A specialization in Advertising & Media in the WeSchool Hybrid PGDM Program will help you become a successful Digital Marketer.
International Business Manager (Average Salary: Rs 20 lakhs to Rs 50 lakhs per annum)
Get a global perspective and take your business to great heights by choosing a specialization in International Business in the WeSchool-Hybrid PGDM Program. An International Business Manager is not just someone with cutting-edge entrepreneur skills, but he/she is also someone who solves real-time problems in a global context.
Hedge Fund Manager (Average salary: Rs 24 lakhs per annum)
Ever thought how exciting it would be to give the best investment advice to high net worth individuals and manage their money in an efficient way? A Hedge Fund Manager is someone who knows the thrill. They know exactly how investments work and aren't afraid to take risks. By choosing a specialization in finance in the WeSchool- Hybrid PGDM Program, you could get a chance to be a Hedge Fund Manager. 
Hotel Manager (Average Salary: Rs 9 lakhs per annum)
Hotel management is definitely a tough job, with long working hours and solving internal and external issues around the property. However, it certainly pays when you reach a certain position! What's more? It also comes with a lot of incentives to keep you going. By choosing a specialization in Hospitality Management, in the WeSchool – Hybrid PGDM Program, you could get a chance to be a Hotel Manager.
Conclusion
While the Hybrid PGDM from Welingkar upskills you well enough to achieve new job roles and work consistently towards your end goal. All you need to do is set your mind to what you wish to become, and let the program experts guide you through the way. Learn the nuances of management and start upskilling with the first-ever Hybrid PGDM Program offered by WeSchool. 
Subscribe to our blog for more details on WeSchool's Hybrid PGDM Program.