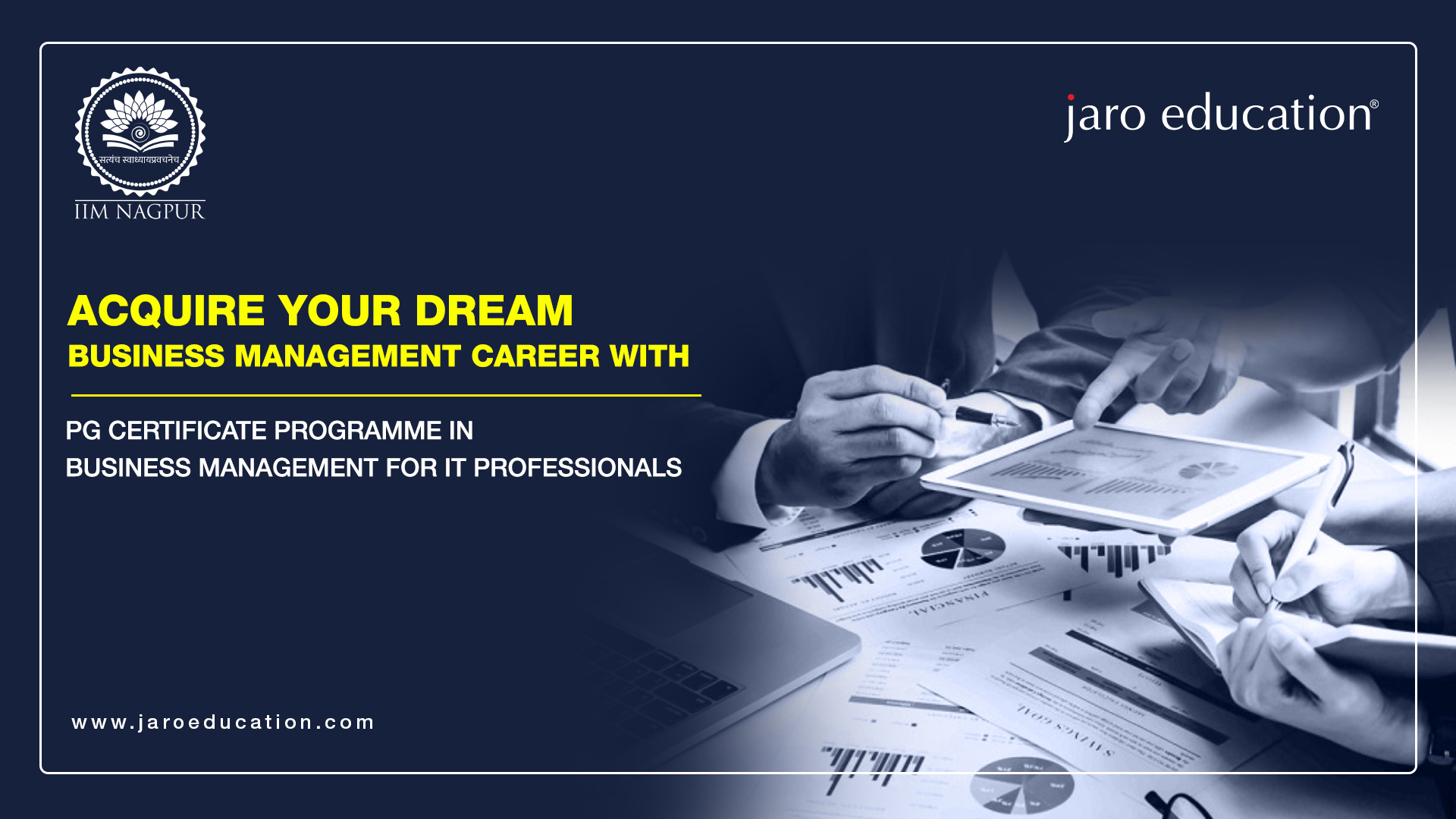 Introduction
Business management for IT professionals is one of the most in-demand skills today. Many post-graduate MBA programs are designed to provide these skills. However, it is not always feasible to quit jobs to pursue a degree. Well, the prestigious Indian Institute of Management (IIM) Nagpur, in collaboration with Jaro Education, is now offering a Postgraduate Certification Programme in Business Management for IT Professionals from the comfort of your home.
Jaro Education is an EdTech platform that provides access to short online courses in Business Management and executive MBA programmes from India's top schools. These courses have a blended learning module, which allows you to learn from home and at your own pace.
The skills taught in this course allow individuals to develop their profile and achieve high-paying jobs within the industry. Some of the highest paying IT business management jobs in India are as follows:
Highest Paying IT Business Management Jobs in India
1. IT Business Management Consulting
Technological advancements are disrupting many businesses today. Moreover, technological tools are also helping businesses grow. Thus, many businesses are looking for IT professionals with management degrees to offer advice on technological development and business management. Consultants must be aware of all upcoming technological trends and have the skills to integrate and implement them in businesses.
The business management for IT professionals course has a dedicated module in understanding technological solutions for business organizations, which provides the skills necessary for this role. As a consultant, you can work full-time with a company and advise on IT management or work with different freelance consultants.
2. IT Project Management
Project managers work toward the implementation of technological tools within a company. They break down complex technological tools and make them work within businesses. Since they work closely with both IT and management teams, they require the skills of both. IT Project Management roles have tremendous growth and offer many senior positions.
3. IT Director
Companies are now on the lookout for managerial-level positions for IT professionals. Since technology plays a huge role in modern businesses, IT directors are needed to align these technology values with the business. This is one of the highest positions within the organization. Typically, IT directors are in charge of all technological functions within the organization and manage project managers, operations, and other IT departments. It is one of the highest-paying positions in a company.
4. Business Analysts
Business analysts use data and help businesses leverage their technology and grow. They work in different sectors and hence there may be additional requirements for the position depending on the industry, but typically IT professionals with a business management degree are sought-after for this position.
How Can Jaro Education Help You Achieve Your Dream Job?
IIM Nagpur has collaborated with Jaro Education to curate a program for those in the IT industry. The Postgraduate Certification Programme in Business Management is a course geared toward IT professionals who are preparing and aspiring for managerial roles within their sector.
IT Business Management is an evolving field. The one-year Post Graduate Programme in Business Management for IT Professionals by IIM Nagpur with Jaro Education aims to help the budding IT professionals seize many opportunities that come their way.
This programme will help IT professionals acquire the skills to assist in the dynamic and challenging business landscape. This course consists of 16 modules taught for 12 months to provide the participants with comprehensive instruction and knowledge.
Admissions to the course are open now. Know more about the enrollment and admissions process here.
Subscribe to our Jaro Education's blog and stay updated with the latest information on Business management for IT professionals Programme.