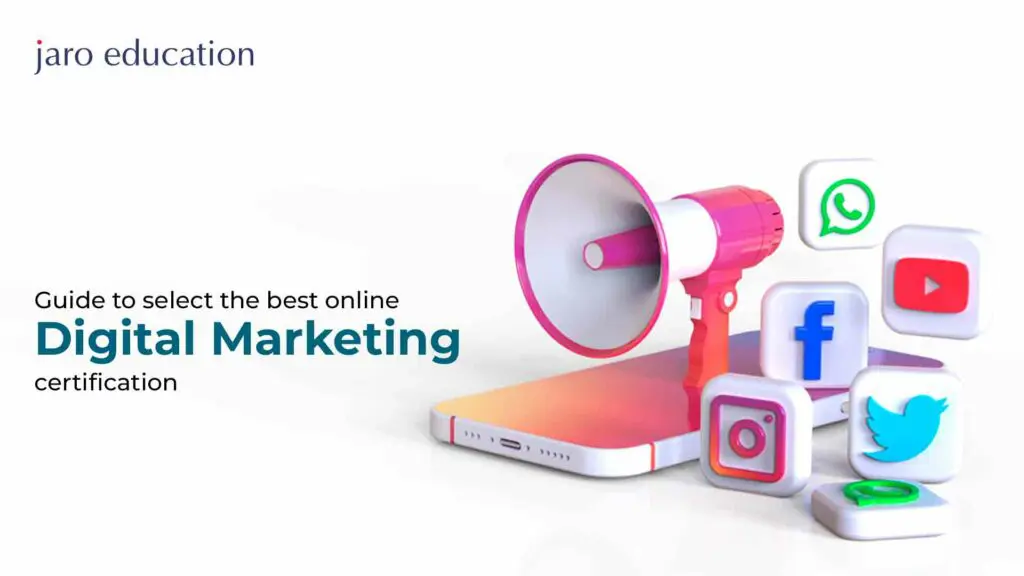 The digital landscape is continually evolving, and businesses are increasingly recognising the importance of a strong online presence. The global digital marketing market reached a significant value of nearly USD 321 billion in 2022, as reported by Expert Market Research.
As a result, the demand for skilled digital marketers has skyrocketed, leading to a surge in online digital marketing certification programs.
However, with numerous options available, choosing the best online certification can be a daunting task. Hence, this comprehensive guide will assist you in selecting the ideal online digital marketing certification. 
When it comes to choosing the finest online digital marketing certification programs, the Post Graduate Certificate in Digital Marketing & Growth offered by IIM Visakhapatnam stands out as an excellent option to consider. 
Whether you are thinking of refining your digital marketing capabilities or seeking to advance your career in the field, join us as we navigate through the intricacies of selecting the best online digital marketing certification. 
How to Choose the Right Online Digital Marketing Certification?
When it comes to selecting the best online digital marketing certification, there are several factors to consider such as: 
1.Define Your Career Objectives
Defining your career goals is the initial step in selecting a digital marketing course. Identify what you aim to accomplish in your career and find out the specific digital marketing skills required to achieve those objectives. For example, if specialising in a specific area like SEO or social media marketing is your goal, opt for a course that concentrates on that particular field.
2.Pick a Course That Has In-Depth Modules
It is crucial to pick a course that includes all the pertinent and current modules after having a clear knowledge of your objectives. The content type should also include several aspects of digital marketing including email marketing, social media marketing (SEM), pay-per-click advertising, and content marketing to offer a thorough training experience.
3.Review the Curriculum
Do some research to determine what you hope to get out of the course before enrolling. Once you have identified a course that will help you achieve your objectives, carefully check over the programme content type to make sure it covers the subjects and abilities you want to master into. 
Pay attention to the course outcomes and determine where you will stand in terms of knowledge and proficiency upon completion. 
4.Institute/University's Competence and Support
Prioritising dependability and credibility is crucial when thinking about enrolling in a digital marketing program facilitating institute. Ensure that the institute/ university has a high credibility with a track record of success in the particular sector, to avoid spending time and money on a course that might not be worth investing.
Thus, conducting thorough research and validation will enable you to make an informed selection and maximise the benefits of your learning experience.
5.Examine the Course Length
Before registering for a course, one should think about the time commitment required. Find out how many hours of training are offered, how often classes are scheduled during the week, and whether weekend sessions are offered or not. 
It is crucial to select a course that aligns with your weekly schedule without overwhelming you or causing exhaustion. 
Remember that this step is a significant career move, and while it is essential to dedicate time and effort, it should not lead to regrets or excessive fatigue. Strive for a balanced approach that allows you to pursue your professional goals effectively.
6.Flexibility and Accessibility
Different courses will have different structures, with some adhering to fixed schedules and others offering self-paced learning options. Consider your personal schedule and availability to determine which format suits you best. Besides, don't forget to choose a timeframe that aligns with your time commitment and learning preferences.
7.Analyse Review and Testimonial
Gaining insights from reviews and testimonials is essential in assessing the educational quality and course delivery. Seek out reviews and testimonials on the course website, social media platforms, and online review sites to gauge the overall student experience. Pay attention to the course's completion rate and the achievements of past students in achieving their career goals.
8.Assess the Institution's Reputation
Prioritise courses offered by esteemed universities, industry associations, or renowned digital marketing experts. Assess the institution's reputation within the industry, the calibre of education provided, and the level of support and resources available. Additionally, consider if the institution boasts a robust alumni network that can offer valuable insights and industry connections to empower your professional journey.
9.Free Demo Sessions
During the demo class, evaluate the following aspects:
Is the classroom environment conducive to learning, with appropriate resources and a supportive atmosphere?

Are the lectures engaging and interactive, encouraging active participation and discussion?

Did you gain new insights or learn something valuable during the demo session?

Did the session present challenges that stimulated your thinking and pushed you to expand your skills?

Was the pace of learning aligned with your preferences and ability to grasp the content effectively?
If your answers to these questions are affirmative, it indicates a positive experience, and you can consider enrolling in their course. Taking it a step further, you can also request to speak with alumni or explore online reviews to gather more information. Conducting thorough research with due diligence will enhance your confidence in making an informed decision.
10.Student Support and Resources
Access to comprehensive student support and resources is vital when choosing a digital marketing certification program. Look for courses that provide robust student support services such as technical assistance, access to a student community or forum, and additional resources to enhance your learning experience. 
These resources can play a significant role in clarifying concepts, resolving queries, and facilitating networking opportunities with fellow students. Prioritise courses that prioritise the success and satisfaction of their students through comprehensive support and resources.
11.Maximising Return on Investment (ROI)
When selecting a digital marketing certification program, it is important to consider the potential return on investment (ROI). Evaluate the program's cost and weigh it against the potential benefits it offers. 
Consider the career advancement opportunities that the certification can provide, as well as the potential increase in salary. Assessing the ROI involves analysing how the certification can contribute to your professional growth and whether it aligns with your long-term goals. 
By selecting a certification program that offers a strong ROI, you can make a wise investment in your digital marketing career.
Conclusion
Career advancement frequently requires extra labour and effort. However, it is crucial to be sure that the time, energy, and money spent on digital marketing training will be actually beneficial. Cost is a factor, but it shouldn't be the only one used to choose the right route.
Careful research is required before making a decision. To guarantee that you receive training from qualified professionals with the necessary expertise and experience, it is essential to verify the credentials and background of the course providers. Reading reviews and insights from experienced digital marketers can help you make an informed decision.
So, define your course goals clearly and allow them to shape your choices. This will help you select a course that aligns with your preferences and aspirations. For instance, IIM Visakhapatnam's Post Graduate Certificate in Digital Marketing & Growth program ticks all the checkboxes to add value to your career path. Join through Jaro Education and indulge in 150 hours of immersive learning.