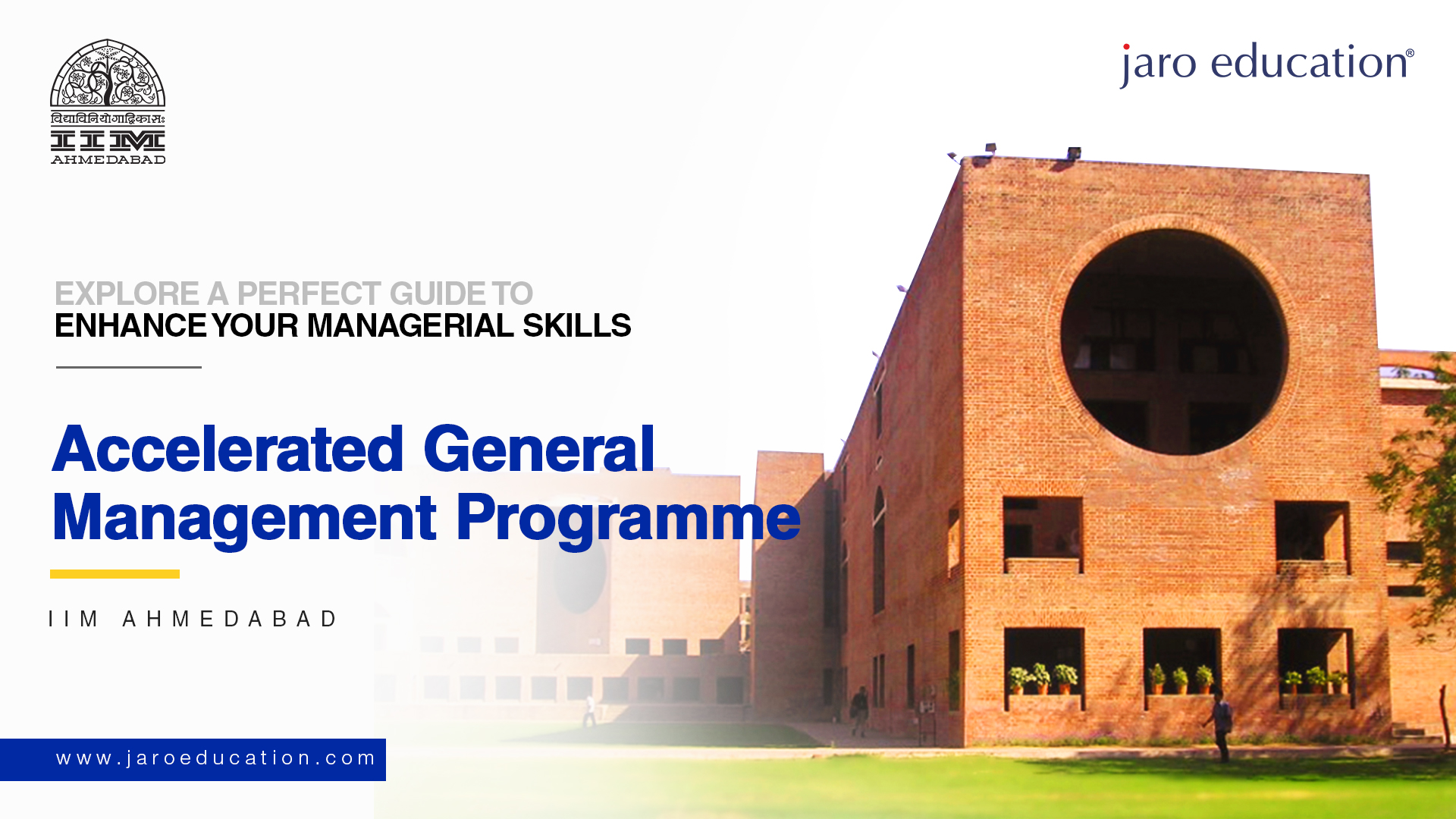 Introduction
Many professionals dream of pursuing higher education at a prestigious institute. In most cases, their ambitions remain unfulfilled due to their jobs or other obligations. The times are gradually changing. Many companies are now helping their employees to continue higher studies. 
The Indian Institute of Management (IIM) campuses are arguably the best institutes for management programs. Most people believe that they need to take a sabbatical to pursue a full-time MBA program, which might not be everyone's cup of tea. choose the right educational platform. Jaro Education, the premier education provider in India for working professionals, promotes the course offered by IIM Ahmedabad. It is known as the Accelerated General Management Programme (AGMP), IIM Ahmedabad.
Target applicants
The Accelerated General Management Programme, IIM Ahmedabad is especially meant for mid-tier working professionals. It aims to equip them with aspects of management in the emerging global business arena. The programme enables learning on topics related to general management and contemporary topics allowing participants to expand their knowledge. Further, the programme is meant to equip business professionals with the processes and systems required to manage modern businesses. Students would be required to attend weekend contact classes at the designated Jaro Education centers located in 12 cities across India.
The current scenario
Considering the ongoing pandemic situation, the classes will be available on mobile devices until the faculty considers it suitable to have a classroom session at the Jaro Education centers. The mode of learning is a judicious mixture of case studies, quizzes, assignments, and lectures. The effort here is to keep the learning as interactive as possible. The instruction shall be imparted through a combination of physical and virtual lectures in the Accelerated General Management Programme, IIM Ahmedabad.
Course objectives
To assimilate an understanding of paradigms, concepts, and theory of management studies

To understand management as a set of functions that can pave the way for effective leadership and decision-making

To develop skills for strategic decision-making for aspects such as planning, change management, communication with the public, media and government, and organizational design
Course modules
The programme is divided across five categories, as follows.
Foundational Understanding: Candidates should have a foundational understanding of modern businesses.

Developing Functional Acumen: The skills learned should be functional and transferable. 

Developing Insights into Customer, Resources, and People: It deals with the management of talent and supply chains.

Contemporary Issues in Management: Candidates should have a firm grasp of the current problems faced in management.

Closing Threads: It deals with concluding courses on strategic management, negotiations, and leadership.
Details about the course
Eligibility:

Graduates who have at least five years of work experience can pursue this programme

Duration of the course

: One year

Frequency of classes:

There will be two classes every week

Timings

: Saturday and Sunday (2 pm to 5 pm)

Programme fee

: INR 6,65,000 + taxes 

Mode of application

: Blended Mode (Online & Campus)
Course evaluation will be based on examinations conducted and evaluated by IIM Ahmedabad. The evaluation process can include the following.
Assignments

Offline assessment

Online assessment

Case Studies

Quizzes
The faculty is completely entrusted with the responsibility of choosing any of the above practices, and it can change without prior intimation.
Conclusion
Many have the IIM dream, and very few fulfill it. Now is the time to turn your dreams into reality by enrolling in this Accelerated General Management Programme, IIM Ahmedabad. It will not only equip you with a credible degree but also boost the value of your resume significantly. Ultimately, it is all about learning from the best and adding value to your organization in all possible scenarios. 
Anyone looking forward to earning a certification in management along with their ongoing career needs to select the Accelerated General Management Programme, IIM Ahmedabad from Jaro Education. Jaro Education is a premier EdTech provider for working professionals that can give the necessary boost to their careers. Ready to acquire new-age management skills for the global business world? Contact Jaro Education and enroll now!
Subscribe to our Jaro Education's blog and stay updated with the latest information.