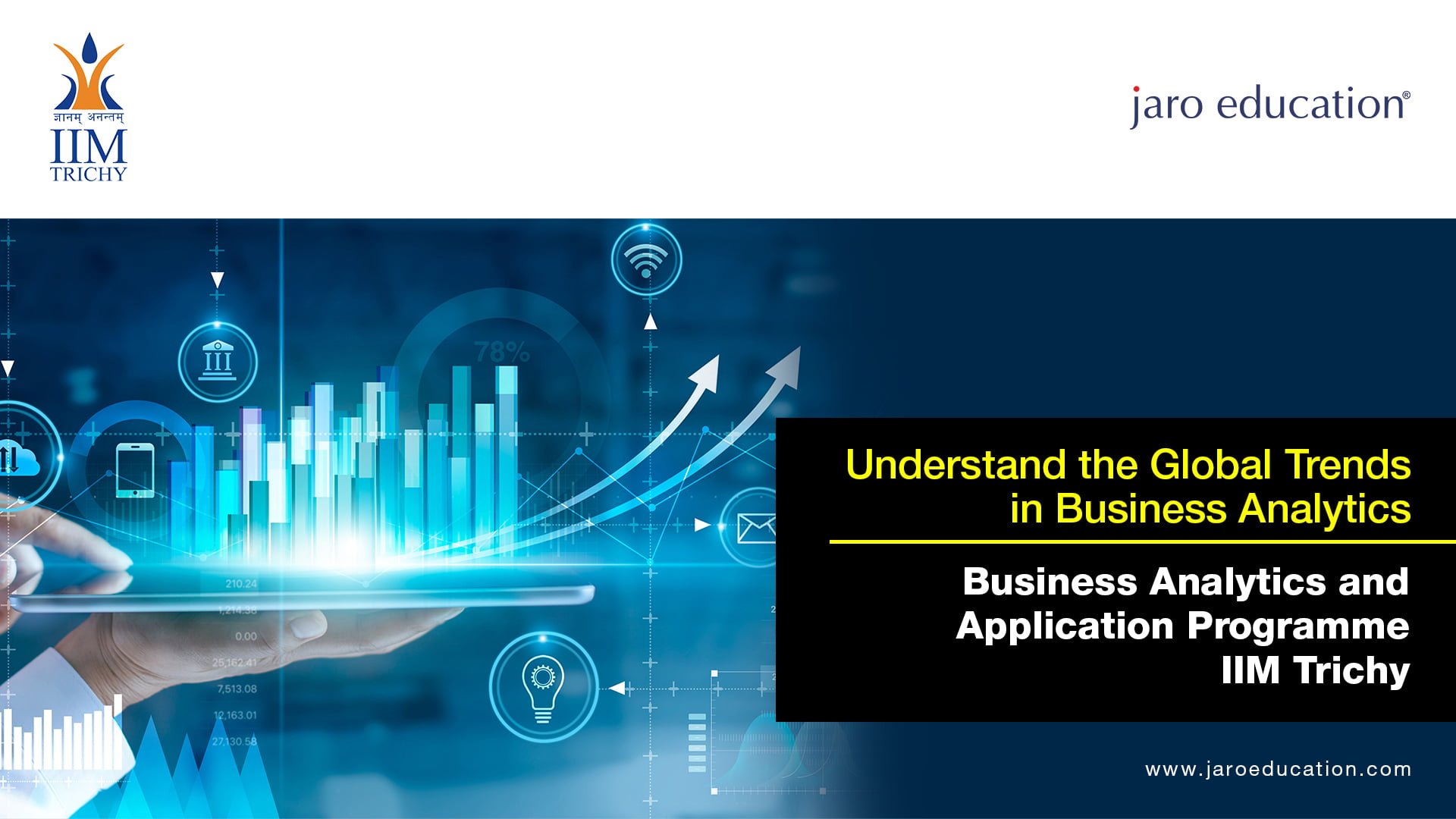 Global Trends in Business Analytics
Introduction
Business never stops, and neither does data. The changing world demands all the companies to review their past data and strategies: the world of business changes. With new data analysis methods, this process has become easy. It helps in decoding the data and forming recent trends for the future. The subsequent results help in creating the best decisions for the future. A business analytics course is one of the best ways to understand this concept.
A business analyst course helps to gain knowledge about data analysis and trends. Further, business analytics certificate courses lead people to secure good jobs in various firms. 
The reputation of any IIM precedes their name. Getting a business analytics certification from IIM Trichy will help you access outstanding job offers by keeping up with the latest industry developments. 
Business Analytics Courses Online
A lot of colleges offer business analytics online courses. The ongoing pandemic has raised the volume of online students in the past year. A data analytics certification provides the best job offers. Firms are looking for people who can tell them about their goals. They need people who can come up with better future goals for them.
Business analytics is not like data analytics. Business analytics helps in predicting future trends. Data analytics aids in understanding the past data of the business. Professionals can pursue IIM Trichy- Business Analytics and Application Programme that will help them build a career in the data or business analytics field.
Global Business Analytics Trends
We have listed the top five trends in the business analytics world today. You can opt for an analytics course online to understand these trends more effectively.
Artificial Intelligence
AI aims to make all technology-driven products work with human intelligence. It forms a pathway through which we analyze our data. AI helps in finding mistakes and makes accurate predictions for the future. It also helps in creating accurate data analysis and trends sets. AI analyses your data set. You will only have to pick up the data that you want to find the trend for, and AI will help in generating the most accurate trend list. The appropriate business analyst training will help a person know the concept and usage of AI while working with data.
Data Security
Data information has been a constant topic of worry for everyone. Data security is an essential part of any business. The business will have to maintain procedures to safeguard its internal data. Privacy is critical; with data security, a firm can ensure that there will be no issues in its work. Students should take a business analytics online course to learn the safeguarding measures to secure a firm's data.
Data Visualization
Making business data attractive and worthy of the present times is called data visualization. It helps in presenting the data in the form of charts and patterns. A business analyst certification course helps to understand the data better and derive the correct conclusions from it. Since our human brain interprets data visuals, it is a great way to predict future trends for the firm.
Saas
Many firms have switched over to the cloud form of storing and securing their data. Cloud storage helps in securing the data and managing it. Saas has become an integral part of the business analytics world. It can be used remotely; people who have access to the data information can view it from anywhere. Saas helps in delivering the work on time. Analytics courses include all the details that a person needs to know about business analytics. Doing a business analytics course from IIM Trichy will add substance to your CV.
Real-time Analysis
Real-time data is essential to form the best business strategies. The Real-time access to firm data has helped organizations in delivering work on time. In addition, it helps address the concerns in a short period to give the best solutions for crises. A business analyst course online will help you obtain a business analyst certification and understand this concept more thoroughly.
Conclusion
Business analytics is the method by which the future goals of a business can be established. Moreover, it helps in addressing the concerns that arise. Business analytics uses past data and strategies to form a trend and predict the future growth of any firm. IIM Trichy offers India's most promising Business Analytics and Application Programme co-powered by Jaro Education.
By learning from IIM Trichy, will help you generate growth for their organizations.  The IIM Trichy- Business Analytics and Applications course will develop your industry know-how and knowledge in the business analysis field. To get an insight into the world of business analytics, drop in your application and enroll today.