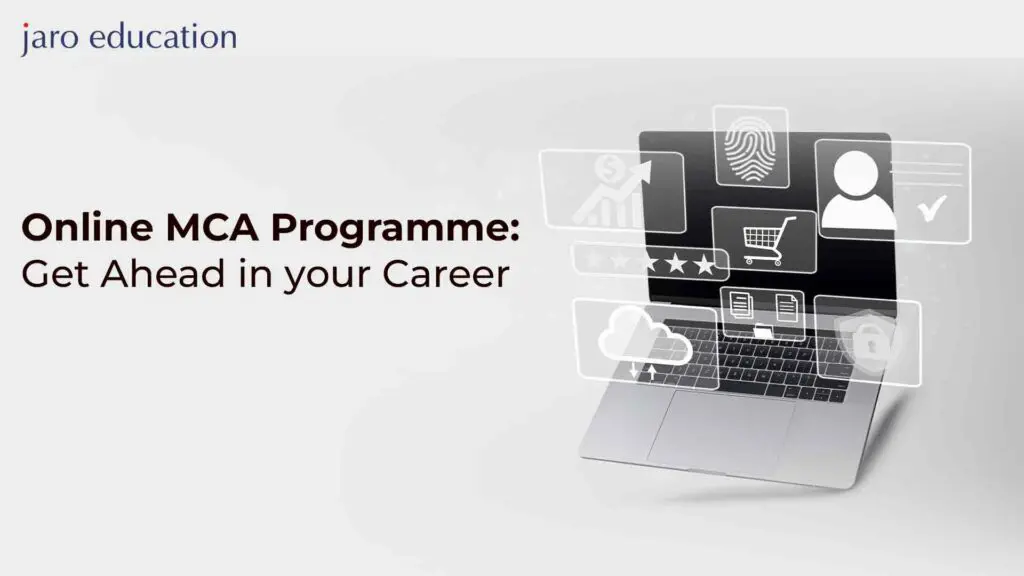 Introduction
Education is no longer limited to traditional classrooms in the fast-paced world of today. With technological advancement, Online education has become a feasible alternative for students looking to enhance  their skills as a result of the development of technology. Online Master of Computer Applications (MCA) is one such well-liked online course that has become quite popular with both students and IT professionals. 
An online MCA programme offers flexibility in terms of timing and location while enabling students with the latest market knowledge and trends in the field of computer applications and programming, thereby helping them to develop their career and stay one step ahead of the competition.
What are the Benefits of an Online MCA Programme?
Flexibility and Convenience

Flexibility and convenience are the top benefits of an Online MCA Programme. Course readings and lectures are easily accessible to students so that they can study whenever they want, without having to worry about physically attending class. It is the best alternative for working professionals as they have to manage their education with work, family, and other obligations.

Cost-Effective

A regular on-campus curriculum is usually more expensive than an online MCA programme. So, Online MCA Programmes are more economical and a perfect choice for individuals on a tight budget as they can easily save on transportation costs, university fees, and other associated charges.

Industry-Relevant Curriculum

The goal of online MCA courses is to equip students with the knowledge and skills that are required in today's business world. The curriculum covers the latest trends and technology in the field of computer applications to ensure that students are well-prepared for the current industry.

Enhance Career Prospects

An online MCA programme can greatly improve the chances of getting into top managerial roles. Individuals pursuing/ have a MCA degree are frequently favoured over applicants with a bachelor's degree in computer applications as this degree gives them a competitive edge in the job market. Also, the curriculum gives students the chance to acquire crucial skills, such as communication, critical thinking, and problem-solving, which are highly valued in today's market.

Networking Opportunities

Students have the chance to network with other industry professionals through online MCA programmes. Online discussion boards, chat rooms, and virtual schools can help with this. Creating a professional network can lead to new career opportunities and offer insightful information about the sector. Also, it might assist students in keeping abreast of the most recent developments in the field of computer applications.
Eligibility Criteria and Admission Process
Educational Qualifications

Depending on the university or organization sponsoring the programme, different individuals may meet the requirements for an online MCA programme. Candidates must, however, generally hold a Bachelor's degree in computer science or a closely related discipline from an accredited university.

Entrance Exams

As a part of the admissions process, some colleges may require candidates to pass an entrance exam. For instance, several colleges in India need applicants to pass either the Joint Entrance Examination for MCA (JECA) or the NIT MCA Common Entrance Test (NIMCET) in order to get into their online MCA programme.

Application Procedure

After filling an online application form of the university, candidates have to submit an application for an online MCA programme. As part of the application process, candidates must submit the necessary documents.

Selection Criteria

Depending on the university or organization sponsoring the programme, many factors may affect the selection criteria for an online MCA programme. Nonetheless, in general, candidates are chosen based on their academic background and their marks in the entrance test (if relevant).

As part of the selection process, certain colleges may also conduct a personal interview or a group discussion. Candidates are then informed about their admission status, and if selected, candidates are required to pay the admission fees to confirm their enrollment.
Curriculum and Course Structure
Core Subjects

Computer programming, data structures and algorithms, database management systems, operating systems, software engineering, computer networks, and web technologies are just a few of the fundamental topics covered by an online MCA programme.

Elective Subjects

An online MCA programme may have elective subjects in addition to the basic ones, allowing students to focus on a particular area of interest. Artificial intelligence, machine learning, big data analytics, cloud computing, cybersecurity, and mobile computing are just a few examples of elective topics.

Project Work

Students may be required to undertake a project as part of the curriculum. The purpose of the project work is to provide students with practical experience using the theories and guidelines they have learnt in class to solve problems in the real world. Students may work alone or in groups on the projects, and they may have to create software, databases, or web applications, among other things.

Internship

Some MCA programmes do make it compulsory for students to complete an internship with a business organizations as students will gain hands-on experience in the area of computer programming and applications. Also, those who complete an internship will have an upperhand among their other mates, as they would have prior experience with the relevant skills.
Career Opportunities After Online MCA Programme
Software Developer

A Software developer designs, creates, and manages software. Online MCA programme students have a potential to become software developers for the existing as well as emerging businesses.

Network Engineer

An organization's computer network is designed, implemented, and maintained by network engineers. Individuals pursuing online MCA programmes have the potential to become network engineers for organizations that depend extensively on computer networks, including IT services firms, telecommunications firms, and big businesses.

System Analyst

An organization's business operations and requirements are examined by a system analyst, who then recommends software and computer system-based solutions. Individuals pursuing an online MCA programme can work as system analysts for businesses that need to create or enhance their software and computer systems.

IT Consultant

IT consultants are in charge of advising and directing businesses on how to use technology to accomplish their goals. Students pursuing online MCA programmes may work as IT consultants for businesses that offer IT consulting services to customers across a range of industries.
To kickstart your career in the field of Cloud Computing technology, you can consider choosing Online MCA Programme by Manipal University Jaipur as it provides an in-depth understanding about Cloud Computing covering topics such as cloud infrastructure, application development, big data, ML, etc. To know more and enroll yourself in this programme, consult with our experts now at Jaro Education!