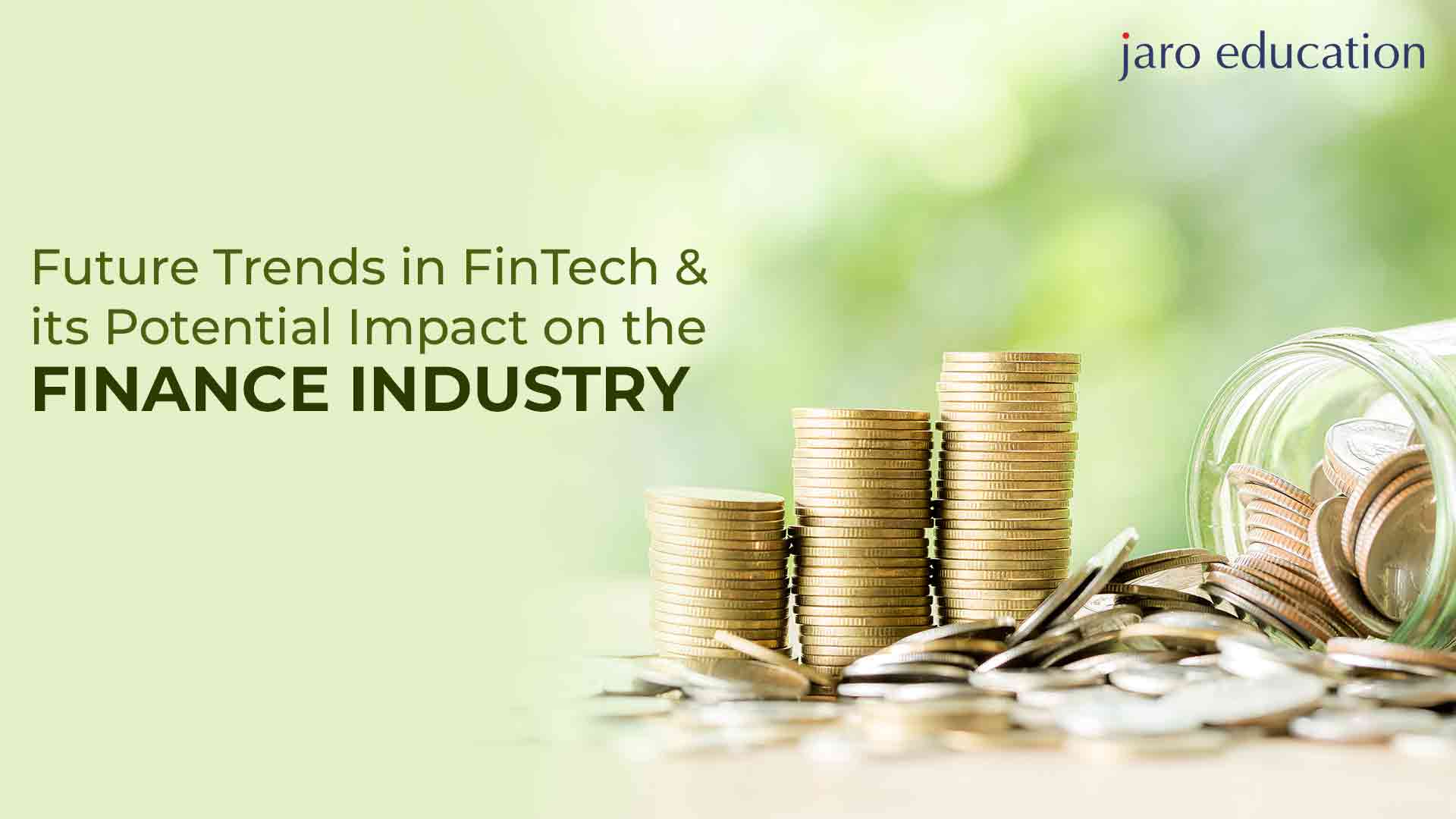 Fintech is the gen-next sector widening its horizon in the finance industry and for good reasons. It is transforming financial services by equipping Fintech companies with current technologies, including Blockchain, Artificial Intelligence (AI), mobile applications, and more. Every aspect of the industry is becoming faster, more accessible, and more convenient than traditional financial institutions. This industry is the future of finance, and that's why it is crucial to consider the potential impact that future trends in fintech may have on the finance sector worldwide. 
To stay ahead of the rest in the finance industry, being aware of the future fintech trends is vital. For a complete understanding of the massive industry, IIM Visakhapatnam has brought you the Post Graduate Certificate Program in Blockchain Technologies and FinTech. This is among the few leading Fintech courses that provide the opportunity to immerse in a capstone project and real-world case studies.  Professionals who want to keep themselves  ready for digital transformation in the dynamic finance sector must pursue this programme. Learn More from Jaro Education's admission advisors.
Adoption of Fintech in India
Fintech holds the future of finance in India and the world. Powered by current technologies and innovative strategies, it has already evolved the services associated with the global financial industry. India is among the few nations positively adopting fintech with an 87% adoption rate, notably higher than the average rate worldwide, which is 64%. By 2030 India's fintech market is expected to get to the $1 trillion mark in AUM, and in terms of revenue, it might reach the $200 billion mark. 
The government of India has undertaken many initiatives to keep up with the fintech trends. From buoyed funding environment to supporting the VC ecosystem, the government is exploring massive opportunities in terms of demography to encourage talents to work on and build the fintech industry. With an upsurge in funding from private equity firms and large venture capital in the last few years, the fintech sector has immense scope to flourish
Fintech Industry Across the Globe
Picturing the global fintech scenario shows the exponential growth of its fruitful impact on the finance industry, especially in countries with large young populations like India. UK leads the flock with massive funding volumes and increasing startups in the sector. 
Presently, the worldwide fintech market is valued at approximately 3.56 trillion USD. The digital payment section accounts for the largest segment, which accounts for approximately 8.5 billion USD. The growth is predicted to keep growing and can seamlessly cope with the emerging barriers. 
Future Fintech Trends to Have an Impact on the Finance Industry
Many trends in fintech are expected to evolve the finance industry. Below are the prime trends to keep in mind while analysing the impact of fintech in the finance sector.
Software Development in the Financial Sector
In the world of digital transformation, most financial operations, especially when it comes to B2B transactions, happen using digital modes. Such transactions occur daily in trillions when seen on a global scale. Such evolution involves many peer-to-peer transactions requiring high-performance platforms to manage financial information securely. This information has invaluable importance for CFOs and managers. 
The profuse development of the payment ecosystem has successfully facilitated the adoption of innovative technology. It not only supports the acceleration of digital payment growth but also facilitates safe, secure, and efficient payment systems.
Establishment of Neobanks
Neobanking platforms are the future of the finance industry. They are easy replacements for traditional banking as it provides real-time transactions and instant account opening. Personalised financial management while charging low fees. It is an offering of the fintech industry that simplifies banking by making it completely digital. The segment of neo-banking is consistently gaining a market hold and is considered a major platform for global investment. 
Indian fintech landscape is not left behind. Many startups are growing in India and attracting investors from various nations. Since 2017, this segment has never seen a decline. Even during the COVID-19 pandemic, the sector kept going strong. However, the funding activities were restricted.
Opening of InsurTech
The insurance industry is metamorphosing with the advent of Insurtech. It is a growing aspect of fintech that streamlines various activities, enhances customer experience, and reduces associated expenses. Many products and services have been designed with the emergence of Insurtech, which is actively shaping the insurance industry's future. 
By the inclusion of Artificial Intelligence and Machine Learning, companies can analyse tons of data and identify patterns that can support insurers to come up with precise risk assessments, minimising fraud. Another attractive feature of Insurtech is that it offers digital platforms and mobile apps that offer customised products that can be purchased digitally.
Expansion of Ecosystem Banking
This area of the banking industry involves fintech operations focusing on improving customer experience and valuing long-term association. Its kind of banking particularly helps simplify complex processes. Customers get a single solution instead of the previously disjoint and complex process. This is possible across multiple platforms and applications that partners operate. 
Expansion of Ecosystem Banking approach was designed to reduce the large expense and decrease the operational complexities of monolithic technological applications. This has helped banking institutions to extend to introduce new services by implementing a partnering approach.
Takeaway
With the rapid pace at which technological innovation is enabling fintech advancement, it is no doubt that it will have a revolutionary impact on the finance industry. It will keep creating new scopes for both financial institutions and consumers. From software advancement to the establishment of futuristic institutions, fintech is proactively bettering overall operations while reducing costs associated with most aspects. 
To learn the minute details of the fintech trends empowering various financial bodies, the Post Graduate Certificate Program in Blockchain Technologies and FinTech introduced by IIM Visakhapatnam can be your best answer. This comprehensive course helps you master Artificial Intelligence, Machine Learning, Cloud Computing, Internet of Things (IoT), and other aspects of finance. Register for this program and place yourself in a prominent career space.