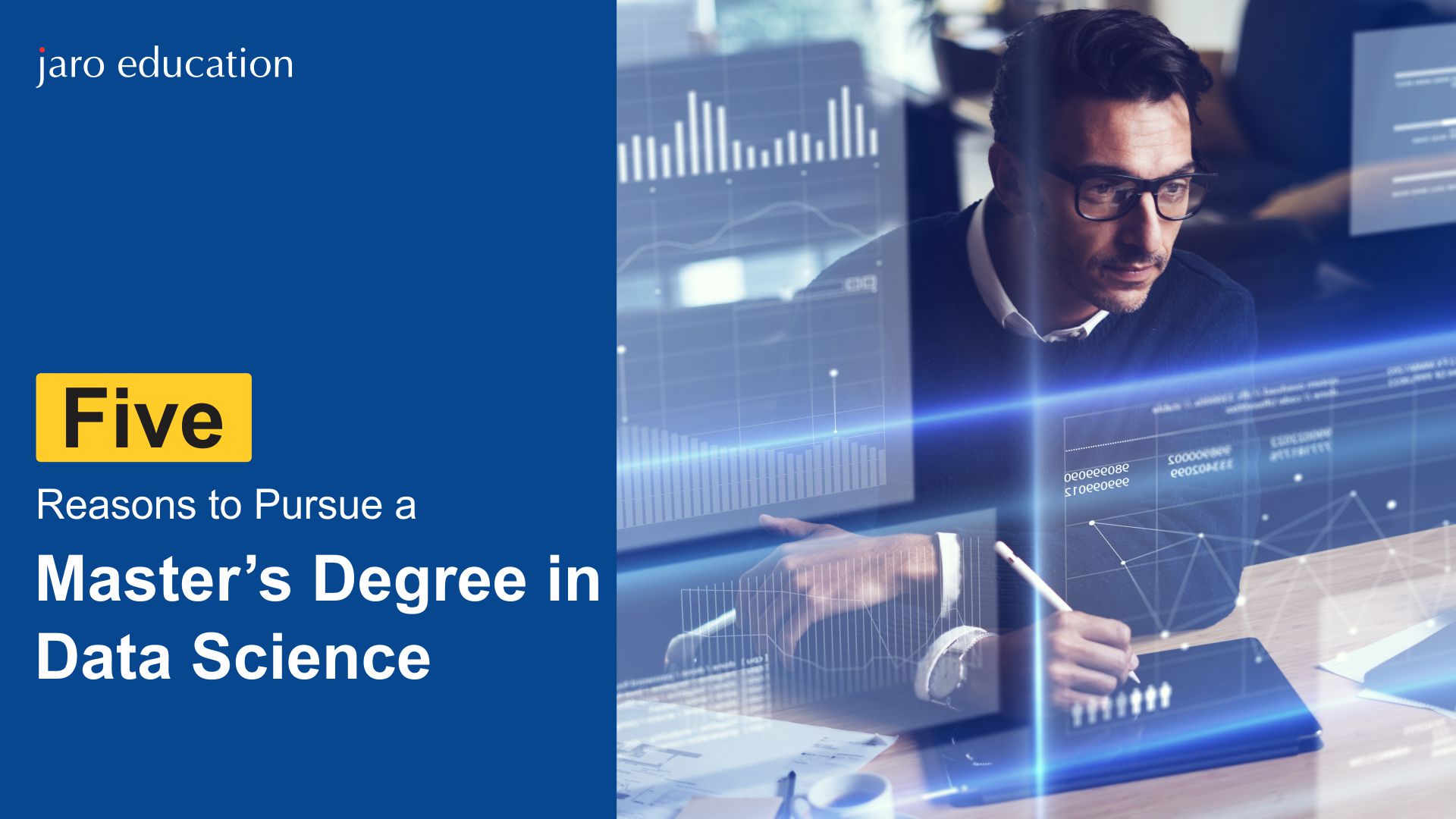 Introduction
With the new advancements in technology, the creation of the smartphone world, data science as a career option is expanding. A Master's in Data Science can be fruitful for people who want to establish an excellent career in this field. Data scientist, as a profession, emerged as an essential job for businesses from different industries to harness the data and use it for strategic thinking. This new need for businesses has helped to promote this profession. 
Wondering how several boot camps and crash courses are available in data science, why must you invest your time and money in a data science course? If you wish to have a rewarding career, you will have to take the necessary steps regarding it. A Master's in Data Science will help you in understanding the data science field completely. Professionals pursuing M.Sc. in Data Science will prepare themselves for all the challenges and how to tackle them seamlessly with advanced data-driven decisions. 
With the improvement in the digital world, there are several online data science master's programs available these days.  IU International University of Applied Sciences is the leading online university of Germany that offers a Master of Sciences in Data Science. IU International University of Applied Sciences & LSBU offers a dual degree – M.Sc. in Data Science program with a vision to educate professionals on the data revolution and make them create new business models accordingly. 
Five reasons for earning an M. Sc. in Data Science degree 
Data science is one of the best professional fields to enter right now as the demand for data scientists is high. While you can get a good career opportunity with a bachelor's degree in data science, M. Sc. in Data Science will help in enhancing your skills by providing you with a better scope. Here are five reasons why you should consider applying for a master's in data science-
Learn advanced data science skills
Data science programs teach you about different computer languages, such as Python and C++, among others. With this, you will have to learn the methodologies of these languages, such as data wrangling, visualization, and data machines. A data science master's program helps you in acquiring skills to collect, manage and analyze data, its types, trends, and deliver the results accordingly. This advanced skill set is spread out throughout the M. Sc. in Data Science to help you to apply these skills and knowledge as per need, to draw particle conclusions on real-life scenarios during work. 
To become more knowledgeable
With enhanced knowledge and skills after completing M. Sc. in Data Science, you make yourself more hireable in this competitive world. According to a survey, there are around 88% of people with a master's degree in data science, and 40% of these have a Ph.D. degree in data science. Data scientist is one of the fastest-growing professions in the world right now, and to stand out in this world, you must possess advanced knowledge and skills in the same. An online data science program can help in developing these skills in you. 
With advanced skills and knowledge, you can receive a good salary in your job. The average salary of a data scientist in India is around INR 7 lacs per annum. While at the entry-level you can expect 6 lacs per annum, the mid-level experience can fetch you 10 lacs and more. And since the demand for data scientists is increasing by the day, the salary is likely to increase by 10% by the year 2025.
Gain knowledge through real-life situations
The M.Sc. in Data Science degree offered by IU International University of Applied Sciences has practical knowledge incorporated in its master's curriculum. The university provides a perfect balance of theory and practical knowledge to its students. This masters' program makes you aware of the possible business scenarios in real-time. Hence, they can easily handle real-life business situations.  
Data science is evolving. What makes this field more compelling and appealing is its nature. By enrolling in the master's degree, you can learn new skills that will help you to leverage data to businesses. You can analyze the trends of data and make strategic plans for the growth of companies.
Conclusion
 Data science is a field that focuses on acquiring knowledge on data inference and exploration. A good data scientist is someone who has the computer programming skills and statistical skills to comprehend the data and to solve complex business problems. M.Sc. in Data Science degree will not only help in acquiring new-age skills but will help you to tackle business situations in a practical way. M.Sc. in Data Science degree offered by IU international university of applied sciences is an excellent online education portal that can help you achieve your desired career dream. IU provides a perfect blend of theory and practical knowledge by diving deep into practical programming and technical skills. It's time to enroll in this master's degree program to upgrade your skills and learn from a global perspective!