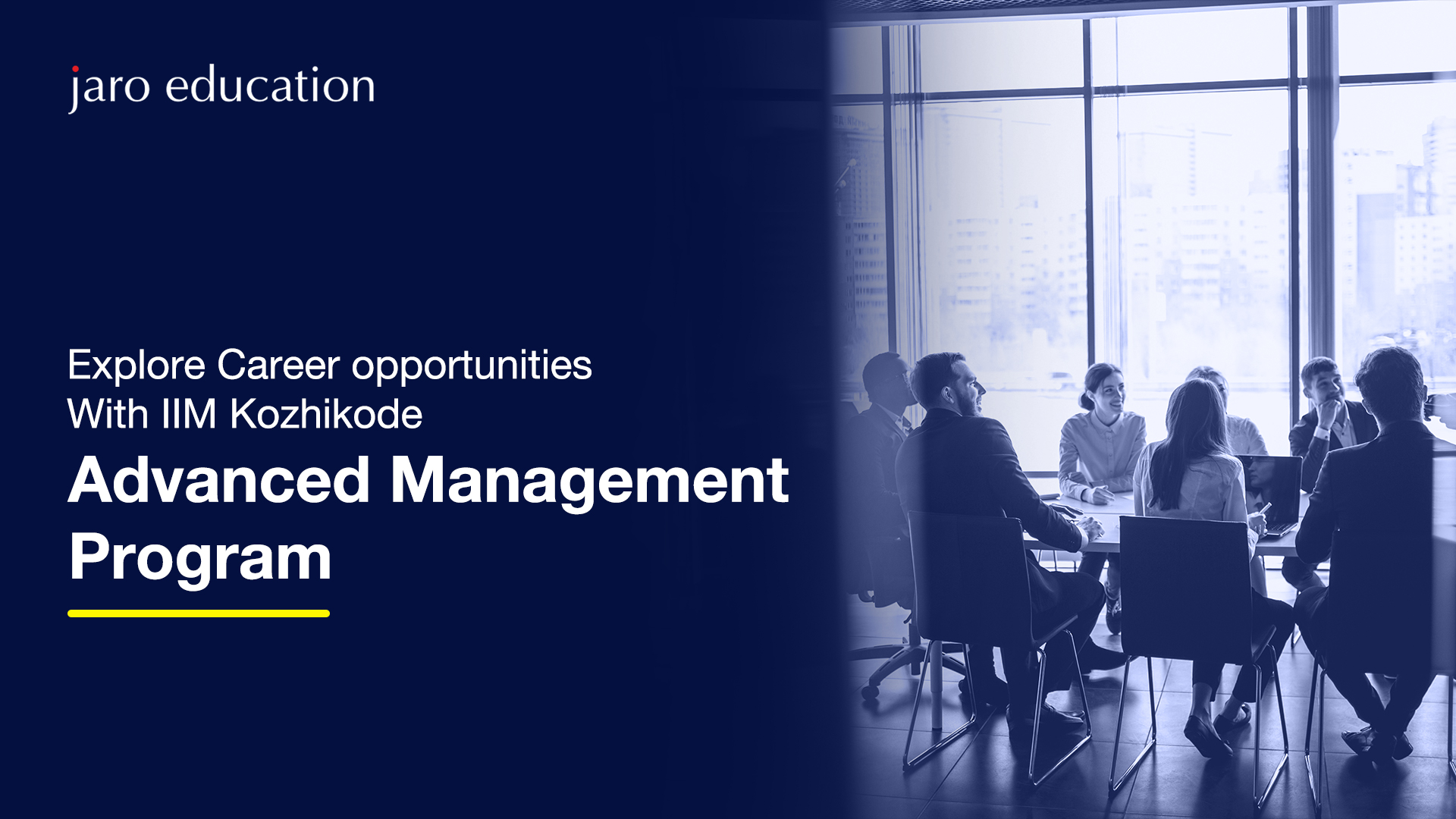 Introduction
Advanced Management Courses give executives a thorough understanding of the corporate world. They go a long way toward developing leaders who can lead teams efficiently. In today's digital age, investing in growth and learning is critical. According to the LinkedIn 2020 Workplace Learning Report, soft skills that include emotional intelligence, collaboration, adaptability, persuasion, creativity, and hard skills like analytical reasoning, sales, and business analysis were the most in-demand skills. In the same survey, leadership, and management, creative problem-solving, design thinking, and communication remain the highest priority skills that are foundational to every employee's success. That explains why strategic Advanced Certificate Courses in Business Management offer great benefits for budding leaders, teams, and companies at large today.
The Advanced Management Programme from IIM Kozhikode is a curriculum to keep professionals up-to-date on industry requirements. This online course teaches emerging leaders fundamental components of business communication, marketing, finance, and analytics, to mention a few, to help them obtain a competitive edge in their careers. The course aims to build industry ready leaders of tomorrow by assisting them in developing strategic and management understanding.
Why choose the Online Advanced Management Programme from IIM Kozhikode?
Tactical decision-making is vital whether you work for a large corporation or a small business.  The Advanced Management Programme – IIM Kozhikode is tailor-made for senior and middle-level managers and executives who want to sharpen their knowledge and expertise to prepare for a new environment rife with immense growth opportunities. IIM Kozhikode's Advanced Management Programme has been a game-changer for everyone who wishes to propel their career to new heights. It will help you navigate through dynamic challenges in the corporate ecosystem, build a rewarding career, and transform and operate smoothly in the new-age business world while gaining a thorough knowledge of the latest management aspects.
IIM Kozhikode stands tall among the top-five IIMs, as per the latest NIRF India Rankings 2020 in the Management category. This renowned academic institution has also made its global debut in the QS World Rankings, announced in 2020. The professional certificate program in advanced management brings together the best pedagogy and course modules from across the world, hand-picked to meet the needs of modern organizations.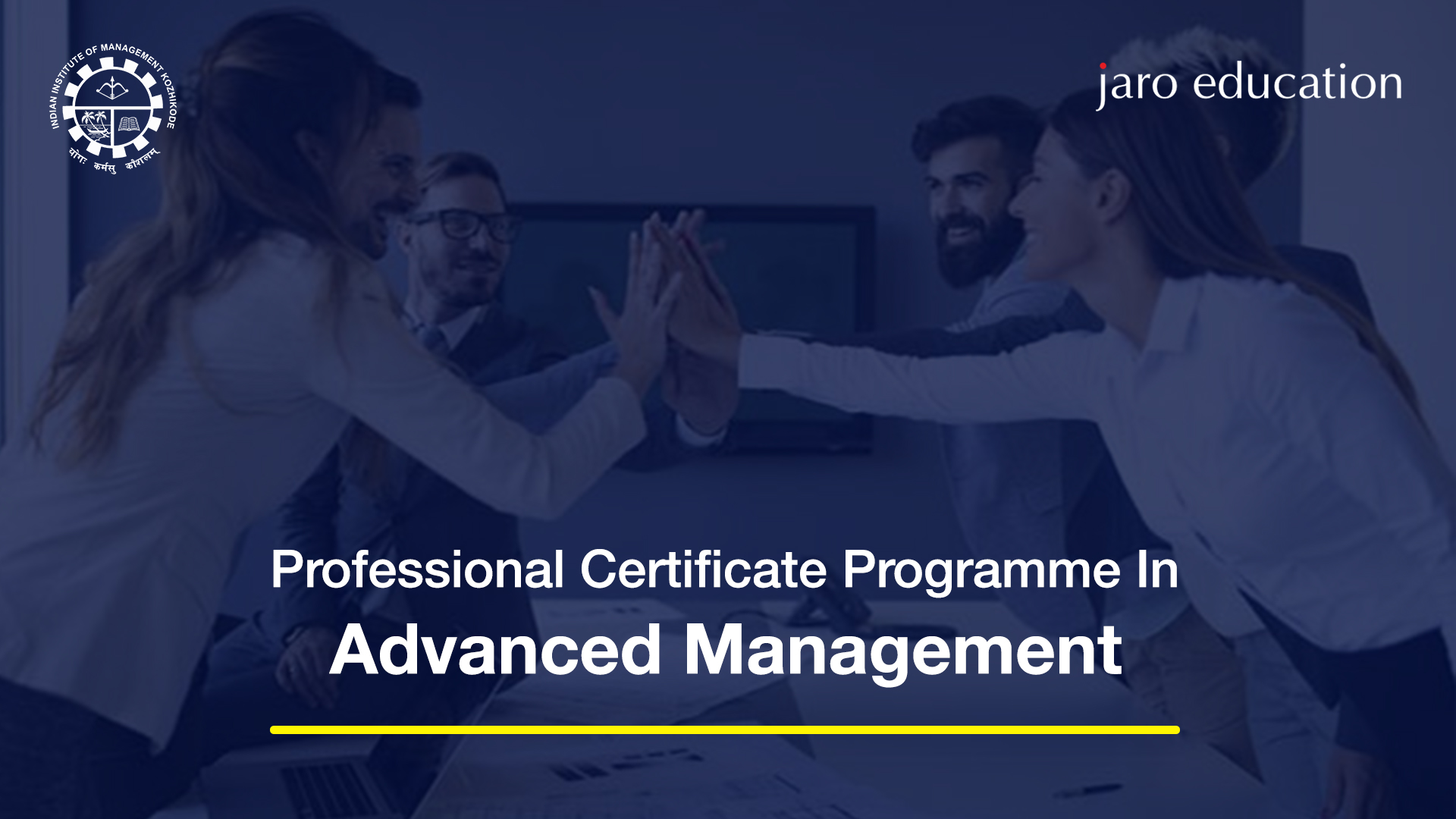 Eligibility Requirements for Advanced Management Programme 
IIM Kozhikode's Advanced Management Programme requires its applicants to have a graduation degree or a diploma from a recognized institution like the AICTE, AIU, UGC, DEC, State Government, or recognized international universities in any subject. In addition, graduate applicants must have a minimum of six years of work experience, while postgraduate candidates should have a minimum of four years of work experience to be eligible for the course application.
Course Structure of the Advanced Management Programme
This course promises to assist experienced professionals in developing competencies that they can use in difficult decision-making situations. Participants in the course will also get a conceptual grasp of dynamic management methods. They will gain exposure to various learning modalities, including case studies, assignments, simulations, and classroom activities. 
Learning Path of the Advanced Management Programme
Participants will learn through a challenging curriculum crafted to blend theoretical principles with practical applications. They will be taught by IIM Kozhikode's top faculty members and distinguished practitioners working across various sectors throughout the world. The faculty will assess the participants' learning progress through online quizzes, case studies, class participation, and assignments. 
Evaluation Criteria of the Advanced Management Program
To be eligible for the Certificate of Completion at the end of the course, participants must achieve minimum passing marks in the evaluation components and secure attendance of 75% in the Advanced Management Programme. However, those who do not meet the evaluation criteria but have the required attendance will get a "Participation Certificate." Participants may have to collaborate in individual/group assignments and projects to apply their conceptual learning to real-world decision-making settings.
Summing up, digital transformation and innovation are redefining the way businesses compete in every industry, necessitating the growth of global changemakers. Today, you must have foresight, agility, and resilience that your predecessors could never have envisioned. The design of the Advanced Management Programme empowers you to discover your fullest potential and establish an unbeatable competitive edge. Whether you are aiming to move up to the executive suite or are about to take on more leadership responsibilities, IIM Kozhikode's Professional Certificate Programme in Advanced Management will equip you to meet those expectations by providing the knowledge, skills, and intuition you need to attain new career heights.
The Advanced Management Programme will help you polish your strengths and equip you to explore yourself as a leader. By enrolling in this programme, applicants not only grow on a personal level but also drive change on an organizational level to make a difference in the world at large, in addition to studying the newest business practices, insights, and trends. 
Unleash your leadership potential and develop your decision-making skills today.