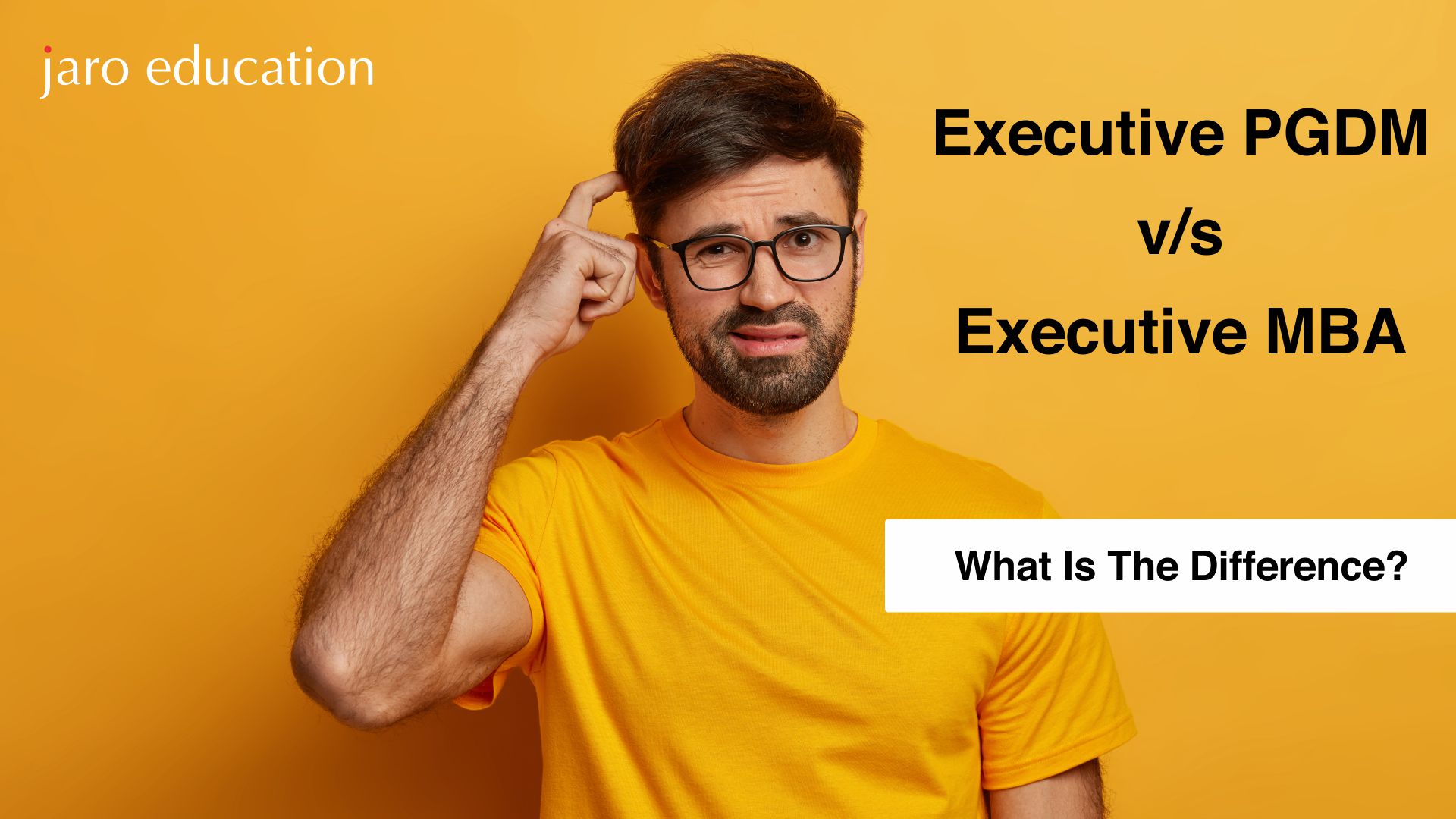 Executive PGDM v/s Executive MBA: What Is The Difference?
Introduction
For a professional who wants to learn and grow in their current field by opting for a challenging executive program, both the PGDM course, as well as an executive MBA can sound like interesting options. This could often make you wonder whether an executive MBA would be more beneficial for you or an executive PGDM course. While MBA does hold more weightage in terms of the certification and the image it has created in Indian minds over the years, it may not always be the right option if your professional goals don't match with the program's offerings. That's why it is always best to conduct thorough research and list down the advantages and future scope for each of them.
When comparing the quality of education in each of them, a lot of factors come into play. For example, the college you're doing the course from, the curriculum, and the faculty members conducting this course. While both of these courses can help you build the skills you need, their efficacy can only be judged through these factors. The flexibility of these courses may again vary from program to program. Most MBA executive courses are known to offer more flexibility than PGDM courses. However, some PGDM courses today like the Executive PGDM Program by Alliance University gives you the option to choose between traditional classroom learning and self-paced learning.
If you are unsure about the difference between an executive PGDM and an MBA program and are confused as to which one should you choose for accelerating your career, Here's an extensive guide to help you through.
The importance of university affiliation and degree
In Executive MBA, the colleges offering this program are affiliated with prestigious universities. Which in turn adds more weightage to the degree you receive by the end of the program. On the other hand, PGDM courses are usually affiliated with autonomous institutes like Great Learning, IIMs, XLRI, NMIMS, MDI, etc.
More challenging the curriculum, the more you get to learn

 
As mentioned before, when it comes to the quality of the education, the college you choose really matters. However, in an Executive MBA, when the institute is affiliated with a certain university, the course curriculum and content is decided by the university. This means there's a possibility of the course having a typical pattern. In the case of an Executive PGDM, the curriculum and course content is decided by the college itself. Which means they have the opportunity to make the course interactive as well as interesting.
Admission process and selection criteria
Admission for both, Executive MBA and a PGDM program requires entrance results as they are accepted by maximum universities and institutions. Although, there are some universities that may not really require such scores. There are also a handful of institutions that conduct special entrance examinations to shortlist their students.
Suitability level as per your work experience
While both these executive programs are meant for professionals who want to learn and grow in their field, a PGDM program is often recommended for graduates with work experience of less than five years. The candidates graduating from B-schools go ahead to apply for entry-level management roles. While the executive MBA program is specially designed for the highly experienced working class who want to enhance their business management skills and occupy leadership roles. 
Major focus points of these courses
An Executive MBA course is designed to equip students with various theoretical concepts and enhance their overall technical knowledge. A PGDM executive course on the other hand mainly focuses on students for real-time situations.
In the end, the comparison eventually boils down to what you want to achieve through your further education. Do you want to gain cutting-edge technical and business knowledge? Or do you want to learn to make better decisions at work. Once you have a plan as to what you want to gain from your education, the decision becomes much simpler. 
If you've made up your mind to take up a professional course that offers you an intensive curriculum along with flexibility, the Executive PGDM from Alliance University would be the right course for you. This 16-month course is specially designed for working professionals who cannot pursue a full-time programme for various reasons. It allows you to learn at your own pace and appear for your examinations at your convenience. Moreover, you also get a chance to learn from an expert faculty who will be there for you at all times to guide you through and answer all of your course-related queries. So what are you waiting for? Apply now to save your seat!