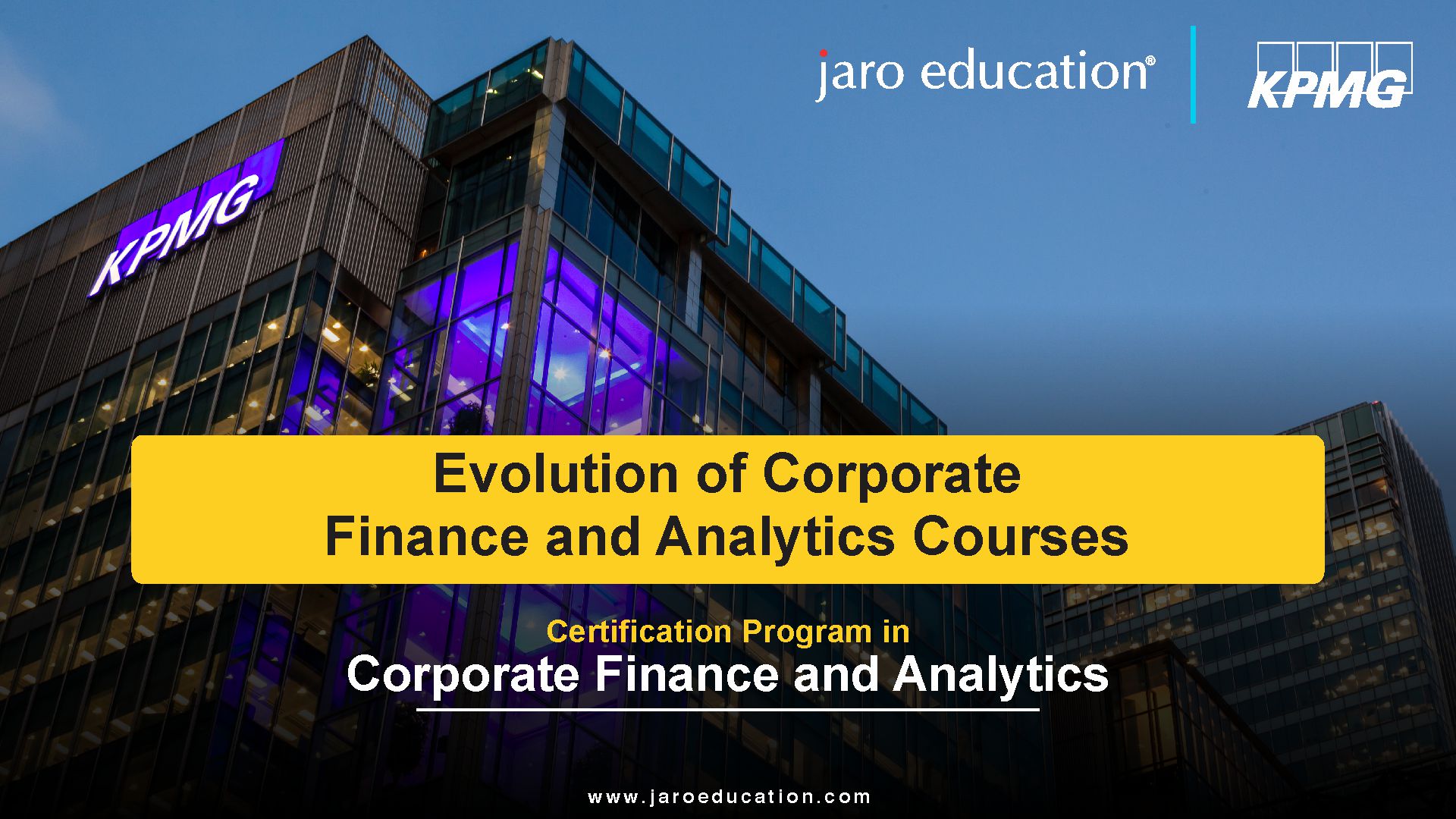 Introduction
Corporate Finance is the segment of Financial Management associated with managing a particular corporation's funding, capital structuring and investment decisions. Essentially assigned to look over the financial activities of a company, a corporate finance analyst has to ultimately focus on maximizing shareholder value through short and long-term financial planning. 
Being one of the most sought-after positions, corporate finance and analytics has become a key element in the monetary success of an organization.
Significance of a Corporate Finance and Analytics Course
For experienced professionals in the financial domain, completing a corporate finance and analytics course could be a fruitful step towards their success in the corporate world. The course takes them through the various elements of understanding and managing corporate finances, from interpreting financial statements for strategic planning, linking strategic decision making and corporate finance to understanding modern technology like RPA, AI/ML, Blockchain, etc. 
One of the key advantages of completing a Corporate Finance and Analytics course is gaining the ability to understand how one can apply the principles of finance to business problems and strategies. Providing this level of insight can be very advantageous for the company, and make your presence invaluable. While generating data is one part of an organization, the ability to understand and communicate this data using the various concepts, tools and techniques taught during this course is extremely important.
Corporate Finance and Analytics Certificate Course by KPMG in India 
Now that we have cleared out why completing such a course for a professional in finance is important, let's look into how the Certificate Program in Corporate Finance and Analytics by KPMG in India can help.
Why choose KPMG in India?
KPMG is a global network of professional service providers, offering finance, accounting and advisory services. Being the leading firm in these domains, the Corporate Finance and Analytics course offered is at par or better than the courses offered elsewhere. With senior industry professionals and a cutting-edge, modern curriculum, one can trust the course will definitely serve as a benchmark for superior growth in the Corporate Finance world.
As the pandemic has left us in a wake of restricted outdoor activity, it only helps a working professional to complete the course online. The ease of access and level of flexibility does not hinder their daily activities. One can continue working at their current place of employment, and complete the Corporate Finance and Analytics course alongside it. The course is designed to ensure one does not feel overburdened during the working week, or obligated to compromise either work or on the course.
Delivering the course
The course is delivered online, with live sessions hosted during the weekends only, providing over 100 hours of interactive learning. The interactive learning sessions give the candidates an opportunity to connect with their mentors. It also gives them an opportunity to network with fellow professionals part of the course, essentially helping them network better. 
Eligibility 
To enroll in this certification program, candidates need to have a minimum of three years of experience as a financial professional. This could be as finance managers, corporate finance professionals, self-employed finance professionals, graduates, and CA, FRM, MBA finance candidates.
Conclusion
Thus, it is clear why a finance professional interested in the world of Corporate Finance should consider pursuing this course. Not only does this course deliver in terms of curriculum, flexibility and ease, it also provides the same through industry professionals as part of a global leader in finance. For more information about KPMG in India's Corporate Finance and Analytics Certificate Program, or other programs offered, subscribe to our blog.
Subscribe to our Jaro Education's blog and stay updated with the latest information.