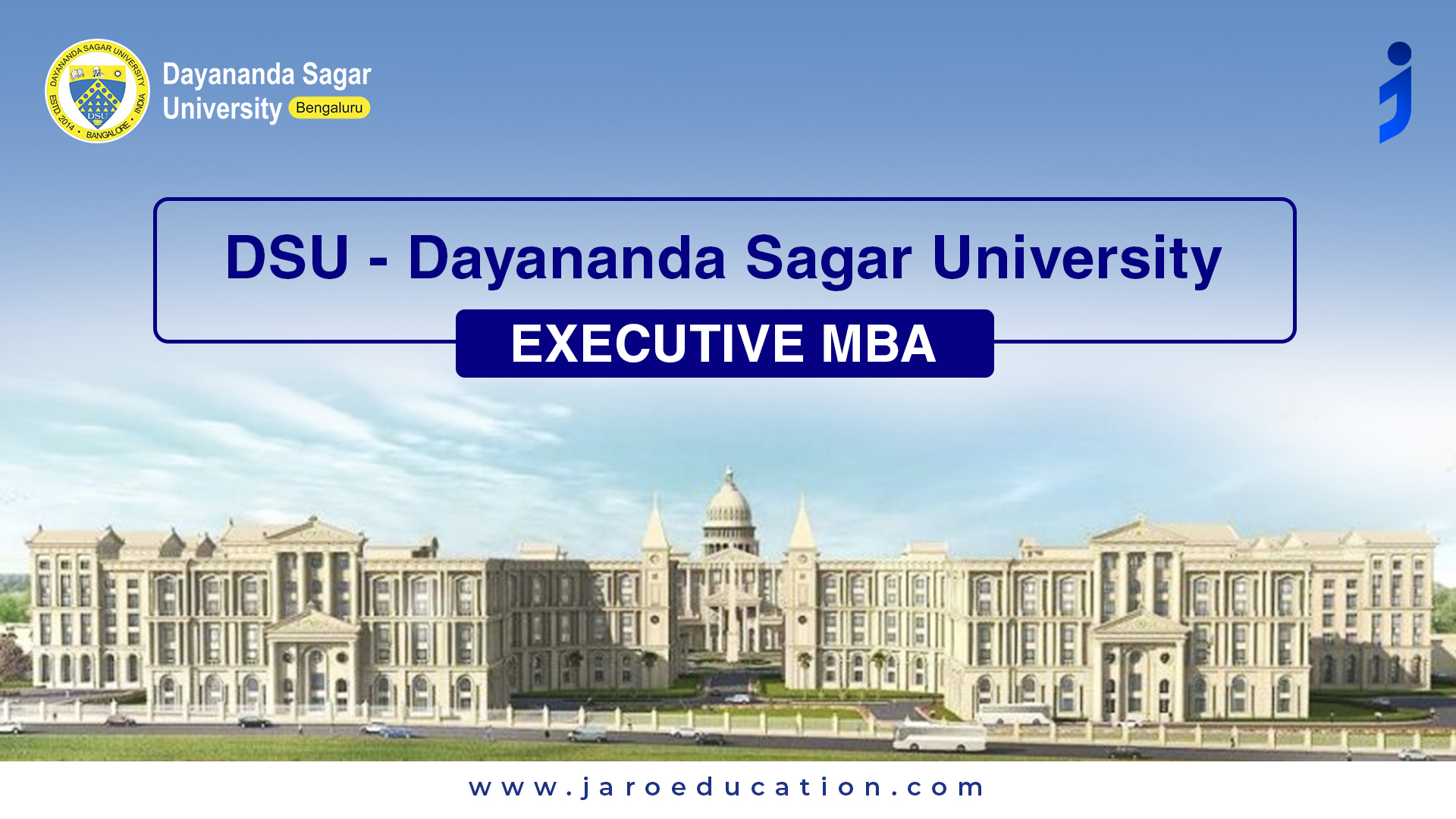 In this highly competitive and ever-changing global job market, the need for upskilling and enhancing your credentials is no longer a recommendation but a necessity. The worldwide coronavirus crisis resulted in significant economic losses, shortage of skilled human resources, and underemployment.
Now, the global workforce needs to review long-term career goals and capabilities to thrive in a post-pandemic world. DSU's executive MBA for working professionals is the solution to these global business challenges and sustainable career growth.
However, if you want to enroll in Dayanand Sagar executive MBA program, there can be many questions in your mind. This blog aims to answer everything you need to know about DSU Executive MBA.
Why Choose Dayanand Sagar Executive MBA Program?
Dayanand Sagar executive course for professionals will help you gain broader business knowledge, enrich innovative leadership skills, and move up the corporate ladder – into the C-suite.
Dayanand Sagar executive MBA combines the precision of an integrated course pedagogy and leadership development program.
This EMBA program is deeply rooted in the fundamental scientific disciplines at the nexus of society and business.
This weekend program is specially tailored for working professionals for optimal learning. It offers a strong premise in fundamental management practices, followed by a specialization ending in a solution-driven capstone project.
The faculties from prominent global B-schools teach this program to empower you to navigate turbulent business challenges and turn them into opportunities.
The course duration is 17 months with 36 months validity, thus allowing a great degree of adaptability and flexibility.
The program is customizable depending on your goals, training requirements, and expectations. It offers a uniquely blended learning approach with easy accessibility as per your convenience and choice of location.
Be future-ready by learning innovative and sought-after business modules. The course offers specialization in entrepreneurship & innovation, global business, information technology, and more.
The executive MBA for working professionals will help you network with alumni and peers for varied industry experience.
The course pedagogy includes interactive lectures, case study analyses, and hands-on assignments.
The university is UGC Approved and is one of the best emerging universities in South India (Ranked 4th by ASSOCHAM in 2019).
What are the Eligibility Requirements and Fees for DSU's E-MBA?
You must be a working professional with a minimum of one year of experience.
An undergraduate degree or equivalent qualification with a minimum of 50% marks from a recognized university/institution is mandatory.
DSU offers a 5% relaxation for SC/ST candidates.
The total executive MBA program fee is ₹ 2,25,000, payable in five installments.
What are the Average Salaries and Career Prospects after DSU Executive MBA?
The DSU EMBA professionals can expect high salaries with a 17% hike within two years of program completion. Some of the leading recruiters hiring from DSU are Amazon, Accenture, Axis Bank, Wipro, Buhler, Cargill, Grid, and more.
Conclusion
Whether your motivation is to boost essential knowledge and skills, develop an influential professional network, or accelerate career growth, an executive MBA's cumulative impact will be significant – professionally and personally.
Dayananda Sagar executive MBA program offers great career flexibility, job satisfaction, and a high salary.