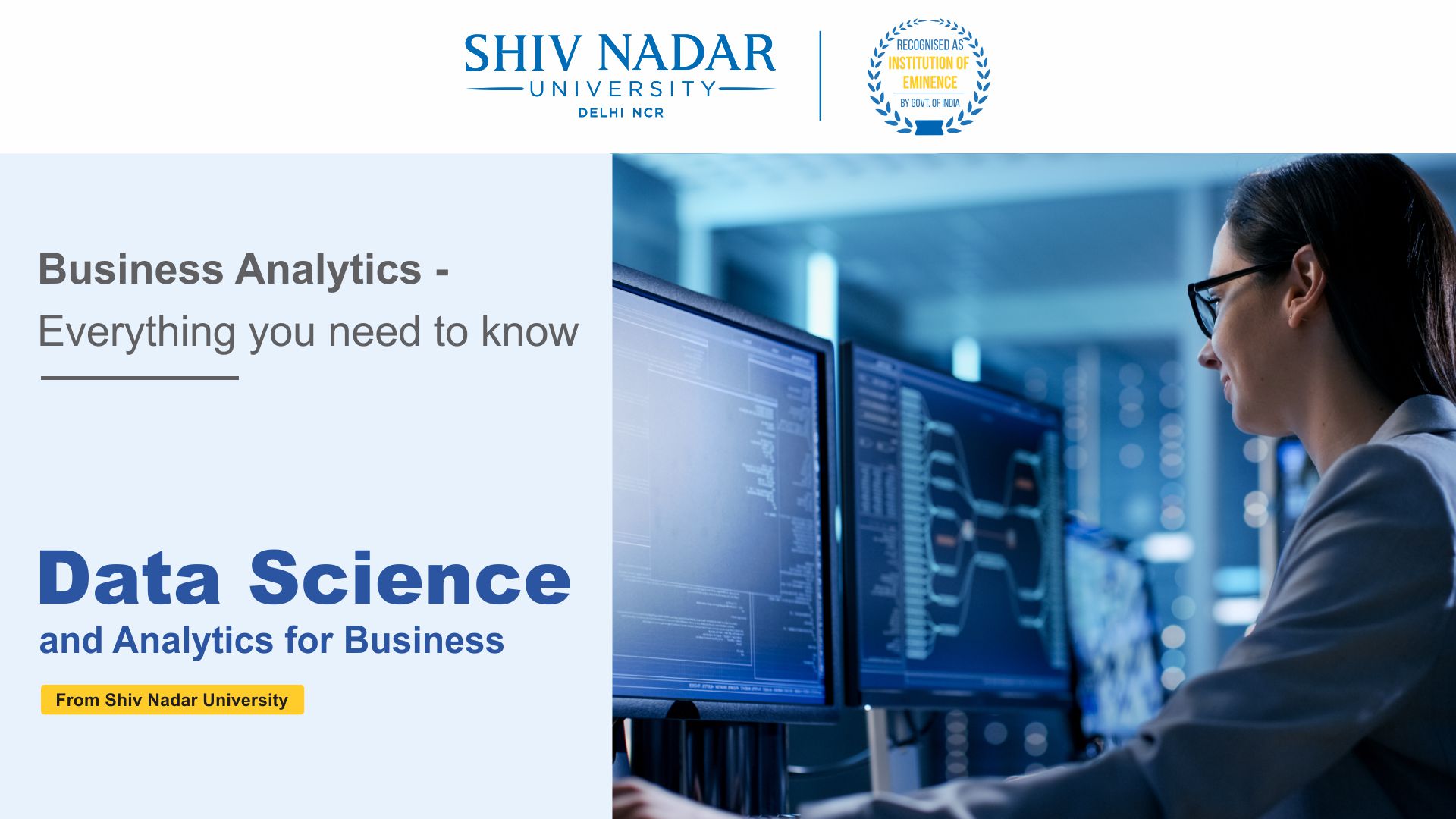 Data management and analysis are the main factors in many different types of companies. After carefully assessing, identifying, and interpreting the data-centric insights, professionals make the most profitable decisions for their brand. They range from standard tasks such as employee appointments to high-value decisions like judging acquisition opportunities. 
Business analysts specialize in these tasks and are an integral part of business teams. An IBM report shows that business analyst job openings increased from 364,000 in 2018 to 2.7 million in 2020 in the US alone.
If you are interested in this career, you should apply for a data analysis certificate from reliable sources like Shiv Nadar University. Through the carefully designed Certificate in Data Science and Analytics for Business – Shiv Nadar University, you can learn the crucial details regarding the business analytics career path before pursuing it. 
Who are Business Analysts?
Business analysts utilize data analysis to gather information on business processes, software, services, and products. Then, they use the collected insights to modify these factors and improve their work performance. 
Common Job Types for Business Analysts
People who opt for a data science certification course can apply for different job profiles in companies. It is common for business analysts as well. The following are the varying job types you can select after getting the Certificate in Data Science and Analytics for Business – Shiv Nadar University. 
Data Analyst 

Big Data Analytics Specialist 

Management Consultant or Analyst 

Financial Analyst 

Market Research Analyst

Project Manager 

Supply Chain Manager 

Operations Research Analyst 

Programming & Marketing Manager 
Skills Necessary for Business Analysts
Training in data science or data analysis allows applicants to improve their expertise in their respective vocation. So, consider applying for data science and analytics for business courses to advance your skill level in business analytics specifically. 
The types of skills you need to develop for this career path are as follows. 
SQL

 

Coding

 

Statistical software

: Mathematics, SAS, SPSS, Excel, and Sage. 

Programming languages:

Python and R. 
Additionally, the crucial soft skills necessary include the following.
Communication 

Problem-solving

Analytical skills

Critical thinking ability 
Join the Certificate in Data Science and Analytics for Business – Shiv Nadar University and hone your skills with our expert faculty!
Why Do Organizations Employ Business Analysts?
Statistically, the business analytics market is projected to grow at a 7.3% CAGR and is valued at 103.65 billion by 2026. The tremendous demand for data analysis skills in businesses contributes to this high count. 
Companies hire professionals with a data analysis certificate for two primary reasons. They need experts who can understand and use new techniques and data analysis tools. Also, they require professionals who can fix their problems with actionable solutions. 
You will work alongside the department heads and executive managers to find the issues and focus on business practices and company performance. 

These professionals consider the performance quality of the current operations and identify cost-effective alternatives.

You have to suggest useful technologies and tools for data preparation, extraction, and cleaning per the company goals.

Business analysts keep note of future market trends while planning solutions for the company to adapt quickly.
Hurry and join the Certificate in Data Science and Analytics for Business – Shiv Nadar University to improve your skills and get hired! 
Duties of Business Analysts
After choosing one of the best courses for data analytics at Shiv Nadar University, you can increase your expertise in business analytics with the help of certified professionals. The primary types of duties for business analysts include the following.
Studying brand's requirements and goals to create a compatible data structure 

Data storage and warehousing 

Visualizing strategies for KPIs, industry development, and business goals

Creating and delivering visualization and strategy reports 

Data organization and definition of collection methods and policies

Strategy documentation for future company advancements and employee training

Data validation checks/quality assurance tests 

Data processing for future analysis 
Salary Scale for Business Analysts
The average US salary for business analytics managers is around USD 125,953 per year (updated on July 28, 2021). The general range of remuneration from entry-level to senior-level is around USD 112,435 to USD 139,892 per year. 
If you are opting for a business analytics executive career, the average salary is USD 196,247 per year. The range falls between USD 173,022 to USD 271,931 per year.
However, the average salary for business analytics directors is USD 157,294. Beginners to expert level professionals get between USD 137,220 to USD 176,583 per year, respectively.
The average salary for MBA-centric business analytics graduates in India falls between INR 2,50,000 to INR 15,00,000 per year. The average median salary is USD 4,80,000 a year. 
Note. These are all approximate figures. 
Steps To Become a Business Analyst
The following are the main steps you should take to pursue a career in business analytics.
Acquire the qualification in different fields, such as engineering, business administration, finance, or accounting. 
Apply for a higher-level educational degree in fields including economics, finance, statistics, data science, and business analytics. Many aspirants choose an MBA course to enter this career field, mainly in a managerial position. 
You can search for the best courses for data analytics and apply for one of them. Apply for the Certificate in Data Science and Analytics for Business – Shiv Nadar University online to boost your credentials. 
You should apply for summer internships at reputable firms to get practical work experience. It will raise your overall expertise level since you will gain real-world work experience.
Conclusion
Business analytics as a career choice is a useful and profitable option in the current career-driven world. Many companies have a high demand for these professionals, and the pay scale is high. 
To gain the necessary experience and learn critical details related to business analytics, apply to the Certificate in Data Science and Analytics for Business – Shiv Nadar University!