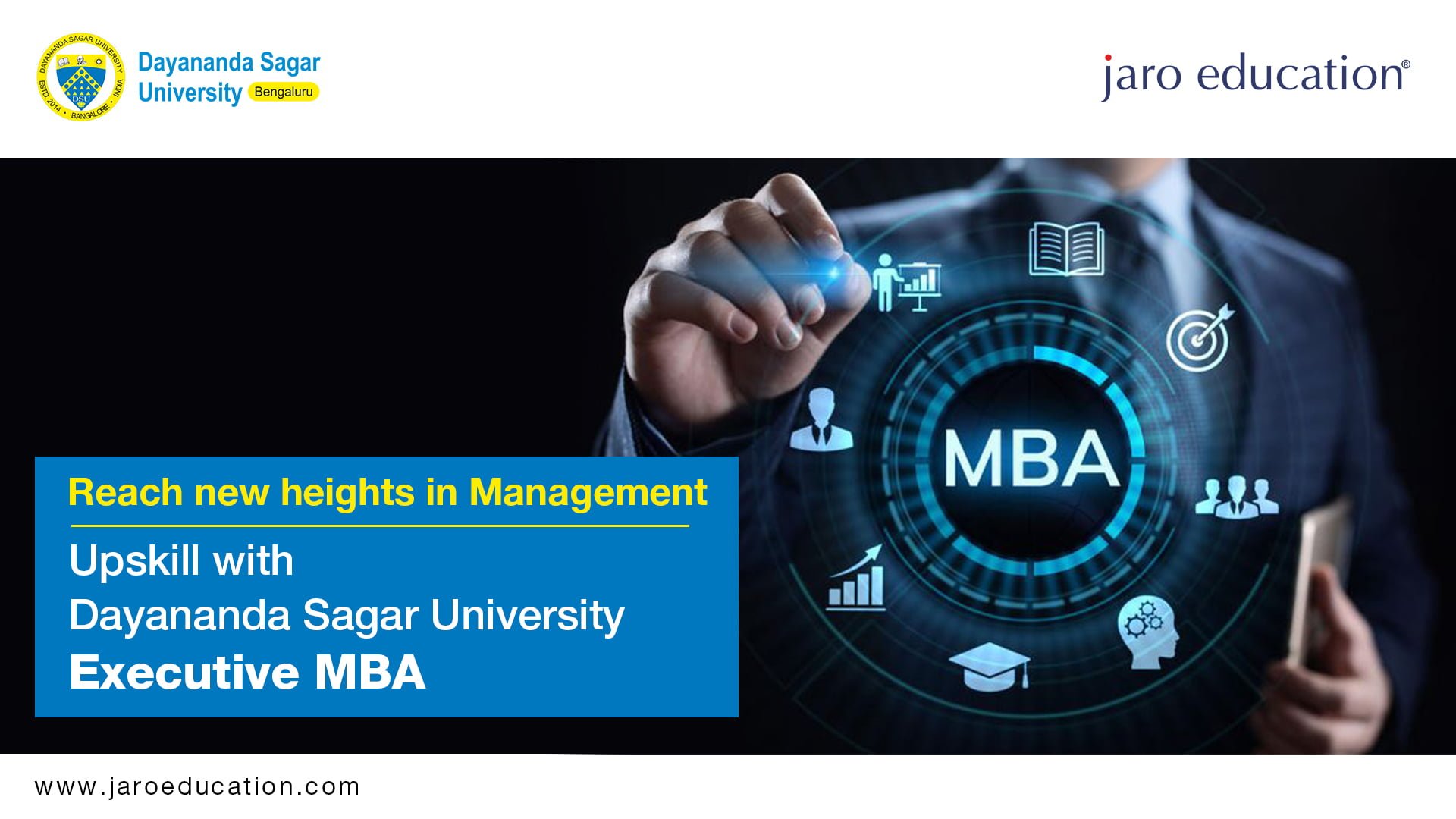 DSU Executive MBA Program Highlights
In today's competitive world, students' needs to be focused on building their career by enhancing their skills. Professionals must move in the right direction to meet up the future trends in the fast-paced corporate world.
To get somewhere in our career, we need to develop new skills. That's where the need for an Executive MBA Program comes into the picture. However, doing an MBA from a good college makes a lot of difference.
Time to select the most prominent Executive MBA program of Dayananda Sagar University. 
Here are some of the top reasons why you should go for a DSU Executive MBA.
Opportunity to get acquainted with Industry leaders

 
The DSU Executive MBA brings you a faculty of renowned industry leaders who have not only studied from top Indian and International colleges but also have a strong portfolio in their respective fields. These successful professionals will guide you through the 17-month course and make you capable of attracting better opportunities.
Helps you build cutting-edge leadership skills
The interactive course content and unique pedagogy of the MBA Executive Online is specially designed to bring out the leader in you. Through this course, you'll get several chances to lead group discussions, voice your opinion and hone your management skills.
Gives you a fresh perspective on industry-related problems
This course comes with 10 specialization options and an intensive curriculum that helps you think critically in order to solve industry-related problems in an efficient way. It keeps you updated with the current industry trends and prepares you for problems you might face in the future and how to overcome them in a smart way.
The DSU- Executive Online MBA in India ensures that you gain a fair amount of knowledge about your chosen industry and all its sectors. It helps you see the bigger picture and realize what more you can do to add value to your current job profile in order to climb up the professional ladder.
Enhances your confidence and communication skills
An MBA Executive online program from a well-known college isn't just essential for building new skills and a strong CV, it also gives you more confidence and an edge over your competitors. The DSU Executive MBA Program offers a range of activities wherein your confidence and communication skills get the required amount of boost.
The Final Thought
It's time to lead through crises with a perfect EMBA Program that enhances your skills sets and industry know-how. Whether you are working professionals or fresh graduates looking for a growth opportunity in your career, pursuing a new age Executive MBA Program can seamlessly start the journey into leadership. 
The DSU- Executive MBA program has UGC Approved rigorous pedagogy with a mix of live classes, contemporary learning modules like Business Analytics, Entrepreneurship & Innovation, and so on. Participants will get exposure to peer networking for varied industry experience. They will learn from the simulation-based Capstone Project using the contemporary and progressive curriculum model. The EMBA program has Accelerated, interactive, self-paced learning which allows students to learn at their own convenient timeline. 
The DSU Executive MBA offers extensive course content with quality simulation and excellent guidance from top-notch faculty. Up your managerial levels with an Executive MBA from DSU. 
This program will make individuals ready for tomorrow's businesses and leverage real-time opportunities. 
To know more about this EMBA program, register on Jaro Education's platform and subscribe to our blog. Professionals can effortlessly stay in the loop with our world-class platform.