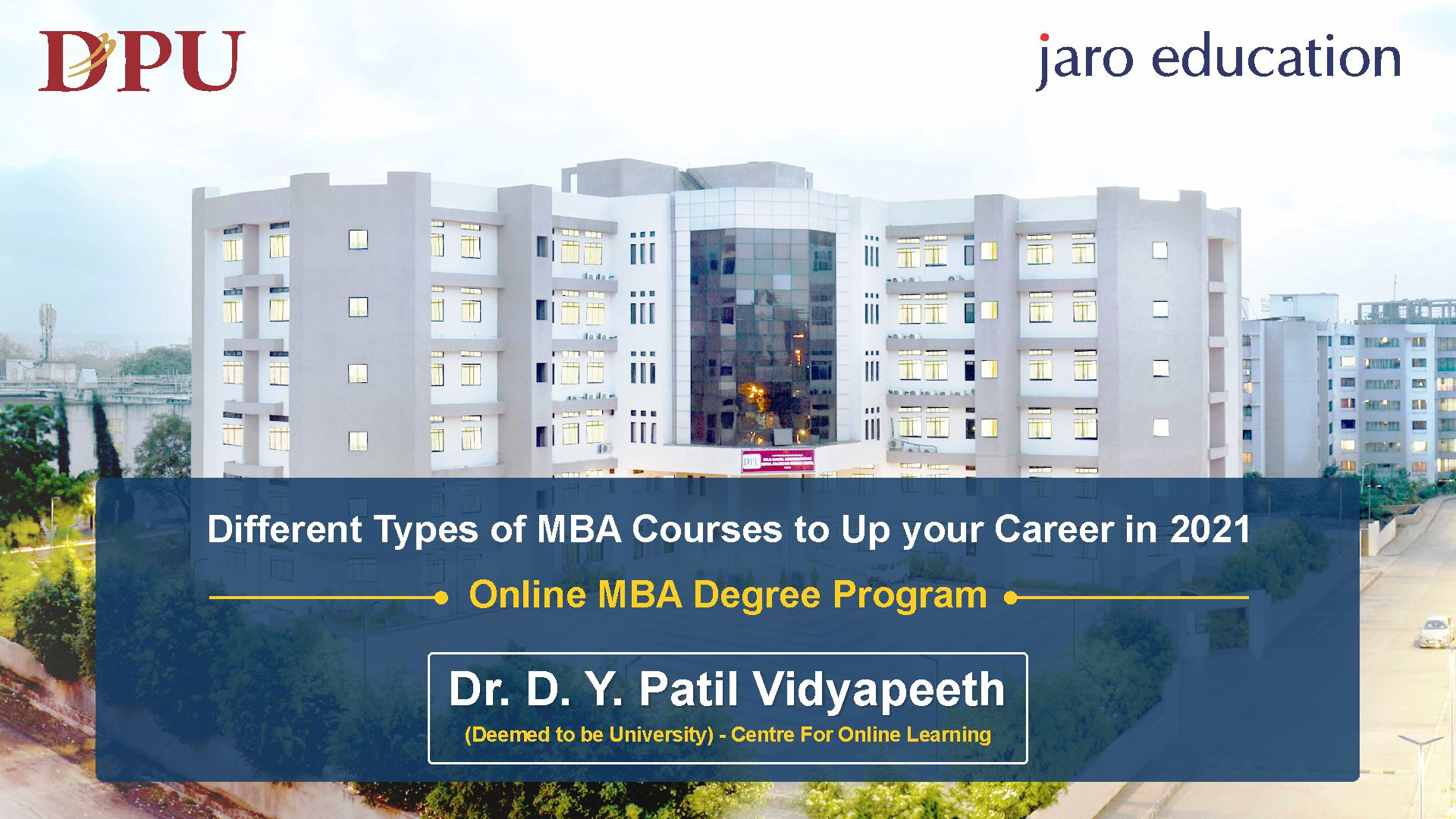 Different Types of MBA Courses to Shape Your Career in 2021
Introduction
A Master of Business Administration or MBA is a highly demanded post-graduate program in India. The two-year management course is a gateway for aspirants to diverse job opportunities in the business world. In the last two decades, MBA courses have gained popularity, and their importance is increasing every day. It is because an MBA degree has become a necessity to get a managerial-level job. Therefore, a significant number of B. Tech, B. com, BBA, and other graduates choose offline or online MBA courses for their post-graduation. 
Types of MBA Courses
There are different types of MBAs a student can pursue after completing their bachelor's degree. Usually, the MBA is a two-year course further divided into six or four semesters. Furthermore, several private institutions offer a one-year MBA program as well. Fresh graduates, working professionals, or candidates with a few years of experience can go for an MBA program. Some institutes prioritize experienced candidates as they have a better understanding of the corporate world. Out of all other types, online MBA, distance MBA, and part-time MBA programs are suitable for candidates who want to pursue an MBA course while working. 
A full-time MBA is the conventional form of an MBA program. Almost 60% of all MBA aspirants every year join a full-time MBA program. The duration of these courses is two years, during which a student gets exposure to various managerial skills and concepts. A full-time MBA course focuses on developing core skills to transform you into an efficient professional who can deliver high-quality work. These days, management institutes also offer experiential learning opportunities such as internships and industry-level projects.
Part-time MBA programs are the more flexible and balanced form of full-time MBA courses. These programs enable you to achieve your career goals while completing your higher education. A part-time MBA program is further divided into two types.
Lock-step part-time MBA

Self-paced part-time MBA
In a lock-step part-time MBA, your learning process throughout the course proceeds in a step-by-step manner wherein each step has a fixed part of the curriculum. However, in a self-paced MBA, you are free to decide your pace of learning and schedule lectures per your preferences. 
In the ongoing pandemic, when everyone is stuck at home and education institutes are closed, online education has dominated the Indian education sector. The influence of online education on higher and professional studies introduced the online MBA programs in India. An MBA in the online mode enables a student to pursue a professional master's degree from the comfort and safety of their homes. MBA online courses offer the most flexibility, let you design your schedule, and allow you to manage different activities. With an online MBA, you can determine your learning pace.
Executive MBA or EMBA programs are ideal for working professionals. Personnel who prefer to work and learn simultaneously often go for Executive MBA courses. The duration of an Executive MBA program is two years or less, but they are considerably faster than conventional part-time and online MBA courses. The Executive MBA classes are generally held on weekends, which makes them more suitable for working professionals. Personnel who join Executive MBA programs aim to develop their leadership, communication, management, and strategy skills.
As the name suggests, distance MBA programs are for candidates who are unable to attend regular classes on-campus but aspire to complete a professional master's degree. Along with online MBA programs in India, distance MBA courses are one of the most preferred alternatives to full-time MBA programs. Distance MBA programs have the same curriculum and course duration as that of a full-time MBA, which makes the degree equally valuable. Along with this, almost every management institute offers the same campus facilities and benefits to distant MBA students that a full-time MBA student enjoys.
Conclusion
If you have come this far, you will have a good idea of different MBA courses you can pursue. Whether you choose a full-time MBA course or an online MBA course, each has its unique advantages and will add value to your career. All that matters is what type of course you choose and with what specialization. However, note that online MBA courses in India are popular as they offer flexibility, save time and money, and guarantee quality education. To advance your career today, enroll in the Online MBA Degree Program – Dr. D.Y. Patil Vidyapeeth (Deemed-to-be University) Centre For Online Learning (DPU-COL).