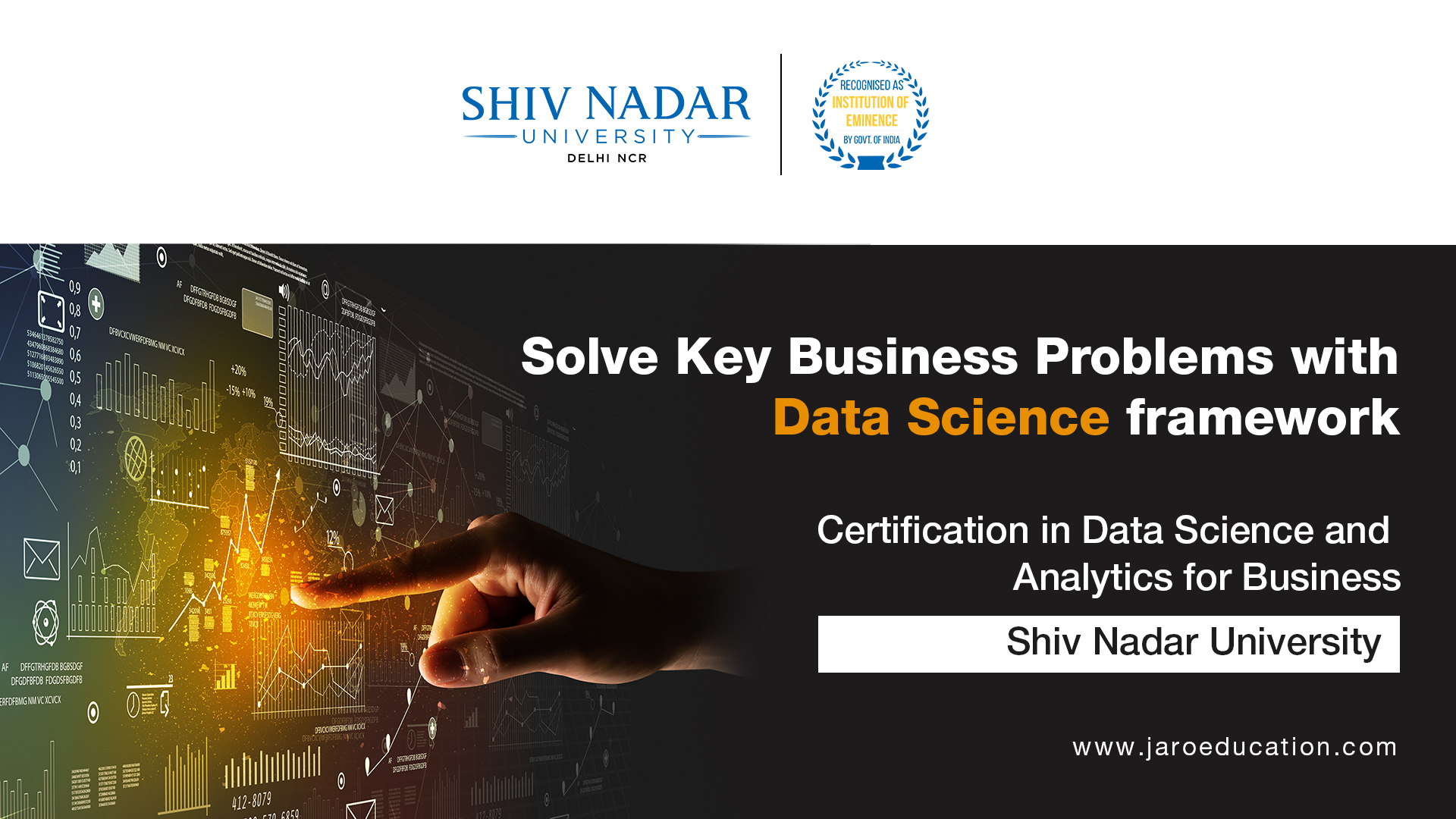 Data Science Frameworks To Solve Business Problems
Data science is an integral part of the business world. Many business organizations utilize data science frameworks in different ways for industries such as manufacturing, finance, deployment, and retailing. The demand for data analytics and data science is increasing, with companies expanding their scope and operations each day. 
Data scientists focus on gathering quantified details on any issues that occur in different business operations. They study the data to find problem areas and prepare suitable solutions. For the best career prospect in this field, get a data science certification course from a reputable institute, and pursue your career with valid credentials. 
Course to Take for Data Science Learning
The Certificate in Data Science and Analytics for Business program – Shiv Nadar University is among the best in the country. Through it, you will learn everything about the various aspects of data science and hone your practical, technical, and soft skills. The top researchers and expert faculty teach different aspects of data analytics and data science frameworks. 
Opt for training in data science with Shiv Nadar University-DSAB Program and watch your career flourish in no time!
Types of Business Problems Data Scientists Handle 
The following are the common business-centric issues data scientists focus on solving. 
Businesses deal with many types of persistent problems. Data scientists use better techniques, such as big data-based analytics, to develop customer demand forecasts. Candidates learn how to create analytical prototypes and solutions with the right training program.
Prototype of New Services
Companies notice problems when they are trying to provide new services that can improve the consumer journey. They also need help handling internal resources. Data scientists can utilize Machine Learning techniques to track compliance breaches before they occur and create retail chatbots to stimulate sales funnels of customers. 
New startups or those with zero data science experience require the support of data value exploration. They have high amounts of data but fail to understand what they entail or how to progress.
After that, they find it challenging to translate the gathered information effectively in their operations. Data scientists are better at this task due to years of experience and training and can create insightful solutions quickly. 
Businesses need support in understanding what and toward whom they should target their service. Statistically, 14% of SMBs die out quickly since they disregard customer demands. Here, data scientists are useful for conducting demographic segmentation for target consumer analysis and marketing. 
Through the Certificate in Data Science and Analytics for Business – Shiv Nadar University, you will learn how to create statistical models for target audience segment features. You can use the model to detect distinguishable features in each dataset. 
Crisis-oriented Problem Solving
Multiple businesses do not recognize problems on time. Sometimes, they focus on other aspects of their operations instead of risk areas. Statistically, 13% of small businesses stop performing well and fail because they lose their focus.
Here, data scientists are better equipped to find out and identify issues and their sources. They use proven techniques such as factor analysis to break down their operational processes into factors, identifying the main problem areas quickly.
These professionals have to contribute to the constant revamp of business operations. It is useful for maintaining a high quality of work output over a long-term period. 
As a data scientist, your work will revolve around modifying the current data science project your company is handling in multiple turns. 
How to Convert Business Problems into Data Problems via Data Science Frameworks
The best courses for data analytics and data science delve into the process of gathering insights based on analyzed data. Under the Certificate in Data Science and Analytics for Business – Shiv Nadar University, you will learn more extensively how to quantify ambiguous problems into quantifiable datasets. 
As a data scientist, your work will revolve around utilizing scientific methods, models, algorithms, and processes to process insights. You will have to use the right data science frameworks to make the conversion and work on it effectively. 
The steps or data science frameworks to solve business problems are as follows.
1. Figure out your business problem. For example, your company may need to increase revenue. Statistically, 68% of SMBs suffer from outstanding debts, and almost 29% fail after constant budget problems. 
Utilize the Trouble – Owner – Success criteria – Constraints – Actors – Reference (TOSCAR) data science framework. It is useful for verifying if the business problem in question is an issue.
2. Create the problem statement after gathering the necessary data during a stakeholder meeting or team discussion. Use this period or phase to figure out your current audience and their motives and interests, who are bound to increase their purchases in the upcoming quarter.
3. Utilize the Mutually Exclusive & Collectively Exhaustive (MECE) principle or decomposition (equation-centric conversion) for breaking down your problem into smaller segments. 
For example,
Total revenue = Conversion rate (in %) x Total traffic x average unit value x average basket size

Here, conversion rate = final transactions after each 100 users (visitors)/100 sessions (visits).

Total traffic = number of website or app clicks (CTRs) 

Average basket size = total items sold in one purchase 
MECE involves utilizing an illustrative overview to quantify solutions based on multiple explanation possibilities. 
Convert all the small problems in the form of datasets. 
Salary of Data Scientists
As a data scientist in the business world, on average, you can earn INR 5,34,765 at an entry-level position or INR 17,59,961 at a high experience level, per year in India. 
Conclusion
Businesses face multiple problems at a time and need quick solutions to stay ahead of their competition. So, you should get the appropriate data science certificate and apply for such jobs at big corporations. 
What are you waiting for? Contact us to kickstart your data science career today and pursue the Certificate in Data Science and Analytics for Business – Shiv Nadar University!